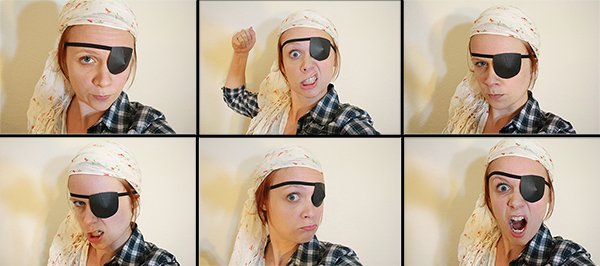 Yarrr, me hearties, it be Friday, and time for some craftin'! Next Wednesday, the 19th September, be Talk Like A Pirate Day, and ye best be prepared! Brush up on yer Pirate with this instructional video. Set sail to a tropical isle to get ye a parrot friend. And get yer pirate garments well in order. 'Tis  known to all that they as dress like pirates do talk like pirates. So gather yer stolen silks and torn velvets, stitch yerself a sailcloth vest, pull on yer big black boots. And an eye patch! Ye must have an eye patch! 'T'will make yer "YARRR"s more fearsome and yer "HAHARR"s more hearty.
——————————————
What ye'll need
Materials:
card stock, black as the inside of yer eyelids on a moonless night
elastic, black as the ink of the dreaded giant squid – ye'll need enough to wrap 'round yer head (or the head of the scallywag who's to wear the patch)
Tools
glue
stapler
binder clips – y'know, them wee metal snappers ye landlubbers use to hold piles of parchment together
pair o' hinged knives ("scissors")
pencil
pirate eye patch template – number 16. under "Paper patterns and templates"
Yarrharr, now we be ready. Let's get to craftin!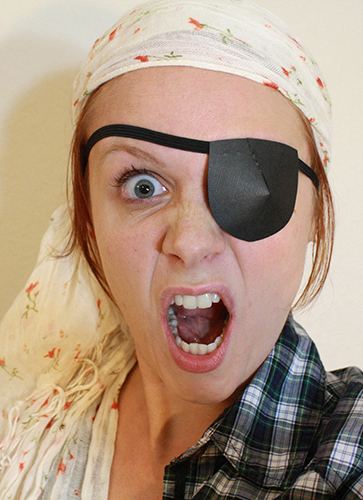 ——————————————
Puttin' it t'gether
1) Print out yer template, carve it neatly out o' the sheet o' paper and trace it onto yer black card stock. Be sure ye trace the dotted line down the middle onto yer black card stock as well. ('Tis easy to do if ye fold the paper template in half and trace the line that way.)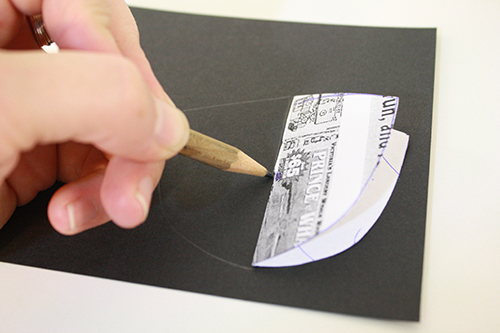 2) Carve the shape carefully out from the black card stock.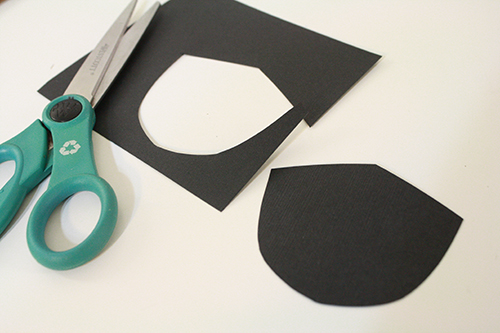 3) Cut along that center line ye traced, so yer patch has a slice down its middle.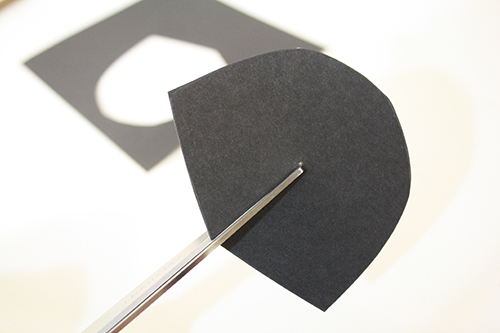 4) Now the top of yer patch has two sides, two flaps. Fold ye one flap over the other, till the top of the eye patch is a straight smooth line. 'T'will cause yer patch to bump up and outward in its middle, so it'll curve round yer eye and not irritate ye. A pirate crew is constant irritation enough, no need ter add more discomfort. 'Tis why we wear those silken undergarments, too. And since they flap so nicely in the sea breeze…
Then spread some glue between the flaps to hold 'em together, an' wait while it dries.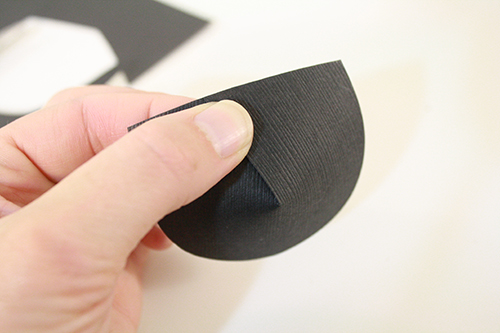 Ye can use them metal snapper clips to hold yer paper in place whilst the glue hardens.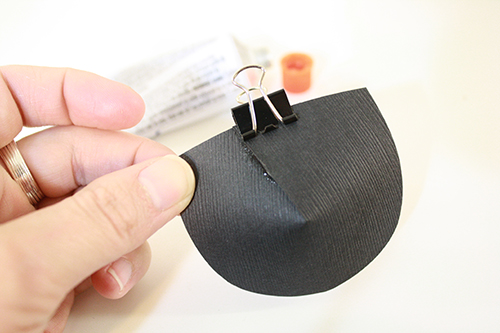 5) Now ye must make a second paper patch, just like the first. This time, though, carve it out a wee bit smaller than the first, cutting a wee ways inside the line.
Cut down the patch's middle, fold it over and glue it, so 'tis twin to the other one (but for being that wee bit smaller).
'Tis to show you easily how it's done that I've carved my second patch from brown paper, but could be carved from the same black as the first, if ye wish. 'T'will not be seen when the patch is done, so ye can make it any colour ye like.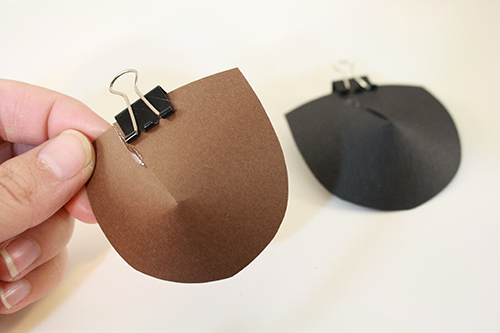 6) Whilst they dry, gather yer elastic and place it 'round yer head. Cut a piece that goes right round yer head, with a wee bit of overlap.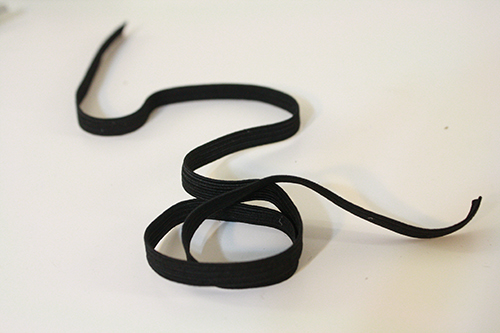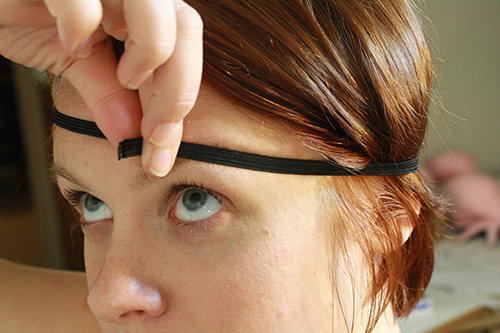 7) Take yer fearsome stapler and staple the elastic to either side of yer smaller paper patch, with the elastic on the front side of yer patch.
TAKE NOTE: Be ye certain to staple the elastic so the staple's back side (where two metal fangs do poke through) shows on the outer side of yer patch.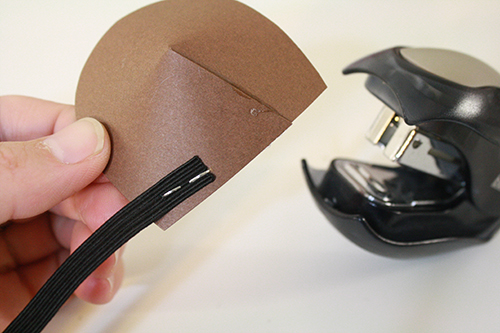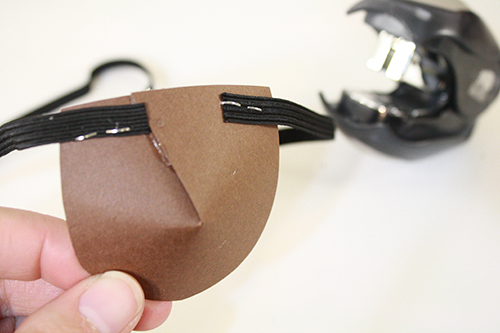 8) Now cover the front of yer patch with glue, all about the top side.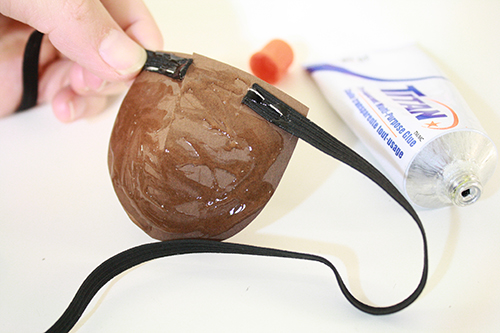 9) Take yer larger patch and lay it atop the smaller one, matching up the edges. Hold the two together, or do clip them 'round the edges to stay put whilst they dry.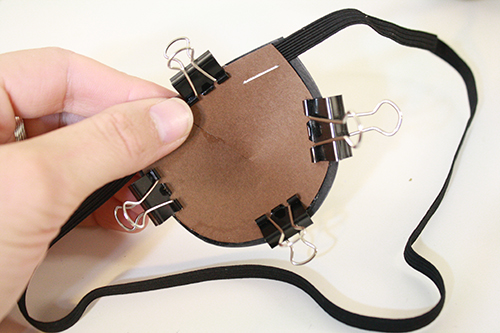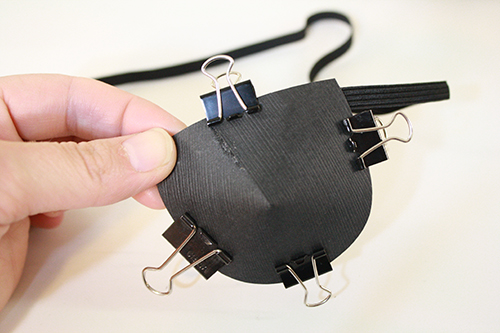 10) Let it dry full and proper, fer a pirate must never have a sloppy eye patch!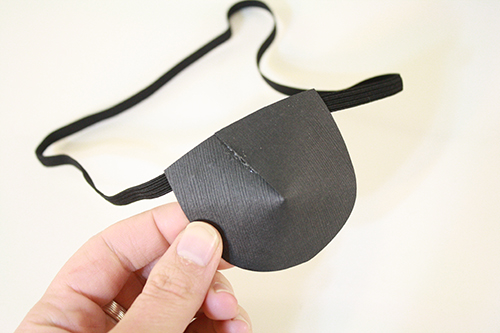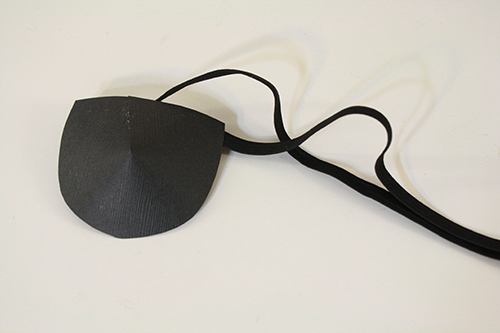 Then wear yer patch with all yer other pirate finery. Shiver yer timbers, hoist the mainsail, plunder an' pillage an' pirate it up! Practice yer pirate speech, and be ye afeared of nothing save a pirate's greatest foe, the dreaded space octopus!

And when Talk Like a Pirate Day is over you can just wear your eye patch around the house for kicks. Because eye patches are sexy. Until you bash your shin on the coffee table for the fifth time.