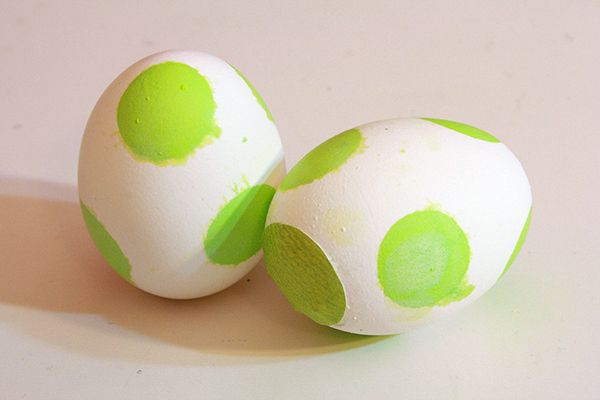 These dyed Yoshi eggs could be an adorable addition to Easter festivities, a Mario birthday party or various other occasions. Make other colours of polka dots for other Yoshis or for generic dinosaur eggs. Hide treats or even wee plastic dinosaur toys inside!
This tutorial will show you how to make nice round polka dots with dye, while keeping the rest of the egg its original white. It also covers how to pour out the egg's insides through a small hole in the bottom (if you want to fill the egg with treats, rather than hard boil it), and how to seal up that hole again at the end. It's like a 3-in one tutorial! With baby dinosaurs!
This is a special bonus tutorial I've posted for my supporters on Patreon. It pairs well with the soon-to-be-posted public tutorial for a Piranha Plant basket. And maybe a nice dry white wine. 
To become a supporter and gain access to this tutorial, simply head over to my Patreon page and pledge any amount you wish – you'll be charged that amount for each full tutorial I post (not including bonus tutorials like this one), which happens every other week. Any pledge of just $2 or more per tutorial will get you access to sweet bonus content like this!