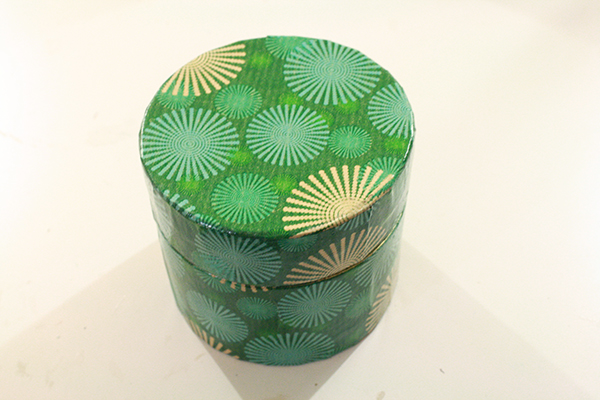 I've started rubbing my hands happily at work anytime we use up another roll of packing tape, because it means I have a new craft supply. I positively pounce on the empty cardboard tabe tubes before they can hit the recycling bin. They come home with me and are turned into darling little paper-covered boxes. They're wonderful for gift giving, storing jewelry or other small items, hiding those little spring-loaded peanut-can pop-out snake things in… (Anyone else remember those from childhood? What the heck do you call them?)
This project has been tried and tested and proven to be a wonderful any-season bit of crafting. By which I mean, I started the tutorial in December, because gift boxes are handy right around Christmastime, but I'm only getting it posted now, but guess what, these boxes are just the right size for some fancy Valentine's chocolates, or a plethora of those horrible chalky candy hearts! (Stay tuned for more on that topic next tutorial…) Later on there's Easter chocolate, and birthdays and anniversaries get scattered throughout the year, so I say just make a couple boxes and tuck them away for whenever they're next needed.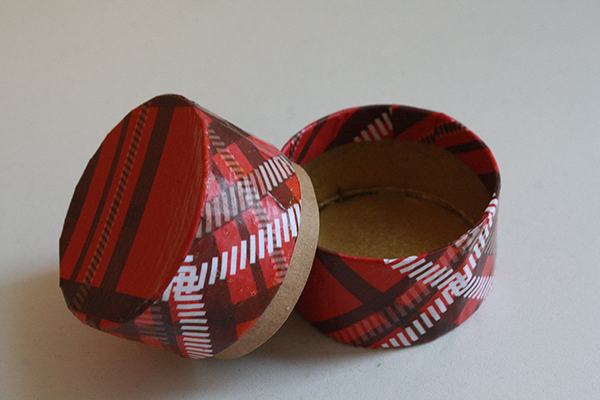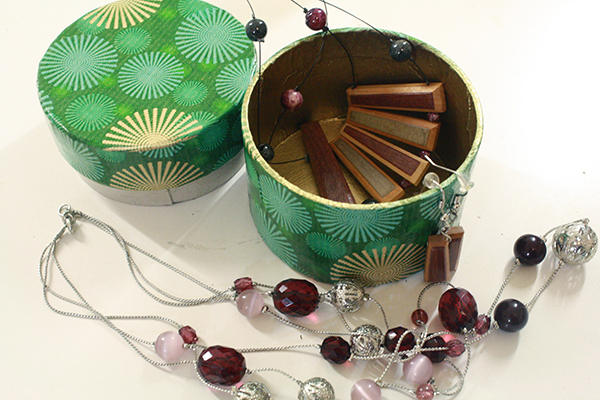 ———————
What you'll need
materials:
2 empty cardboard tape rings – the thick cardboard rings that are left when you use up a roll of packing tape or duct tape. Your two rings MUST be the same size around (the do not have to be the same height however).
leftover wrapping paper
cardboard – medium thickness, so it's pliable but not super flimsy. Something like cereal box cardboard would work
white glue
[optional] stronger glue, like Titan gel glue, which is my favourite glue for just about anything
[optional] acrylic paint to paint the inside of your box, covering up the cardboard and giving it a more polished look
Mod podge or varnish (or you can probably get away with just using a coat of white glue over the finished box – it dries clear)
———————
Check that the cardboard circles match the size of the rings as exactly as possible – they should rest on the cardboard right without sticking out past the edge and without falling inside. Trim or re-cut if necessary to make this happen.
From the photos, you'll note that I did steps 5 and 6 all at once. That works fine if you're using thinner paper, like wrapping paper. For thicker paper, I'd separate the 2 steps to make it all a bit less finicky and glue-coated.
It may be easiest to do this in segments, applying glue to part of the ring and then laying the paper down, then applying glue and paper further along, etc. all the way around.
In the photos, I did this step way back at the beginning, which is why there's no paper on the box lid. Ignore this. I realized later that it worked better to do this step here at the end. The photos below are from a second box I made where I did it in this better order (though with cardboard that was a bit too stiff).
I tried spraypainting the inside of some of my boxes, which can be tricky to do without getting any on the outside, but for some of my boxes I decided I liked that look. It was gold spraypaint, so it looked kind of neat having a spatter of it on the outside of the box. On another box, I did the spraypainting before putting paper on the box's exterior. This kept things very tidy, though then the paint doesn't cover up the folded-over paper on the edge of the box's bottom. Experiment, choose what works best for you.
Try different sizes of boxes if you have different sizes of cardboard tubing available.
You could do a whole set of stacking boxes of different sizes:
———————
You can glue a couple of cardboard rings together to make a taller box bottom or lid.
You can also ignore the lid half of this tutorial to do an open topped container, say for pens, or to make a (non water-holding) vase.