RAWR!!!!!
That seemed an appropriate way to start off this post. Anyway, this week I'm going to talk about a game. All this wedding planning combined with all the other stuff I've committed to doing lately is, well, I'm not going off the deep end or anything, but I might be dipping my toes in a bit.
To relax, I've been playing some iOS games in the evenings before bed. Pocket Frogs, Bejeweled, stuff like that. And a game called Go Home Dinosaurs, which is absofreakinglutely adorable.
Fair warning: my friend Sean Baptiste is part of the team behind this game, so I'm kind of biased towards it. I want to like it. And I do anyway. I find it similar in many ways to Plants vs. Zombies, though for me Dinosaurs has had more lasting power as I feel it changes things up more engagingly as you play.
Anyway, one of the real selling points for me is that it's full of adorable dinosaurs. Who are jerks, actually. You play some prehistoric gopher dude, and you're trying to hang out and have a nice barbecue, and the dinosaurs get all up in your grill (pun intended) trying to steal your nice delicious steaks. And you have to stop them.
One of the basic and most insidious dinosaurs is this funky little green dude who's pretty much all mouth and teeth, and gets bigger and harder to kill over time. Playing this game kept giving me an urge to make plush dinosaurs, so I decided to try my hand at this dude. (You can find the game on Steam and you can get it for the iPad in the app store.)
Fire Hose Games (the developer for this game) did produce a factory-made plush of this guy, and he's pretty darling. But that plush has its mouth closed, and I really wanted to try making him with his mouth open, since that's how you see him in actual gameplay. Plus I wanted to challenge myself to find a way to make that work. Turns out it just took 40 minutes of needle felting and a sore hand.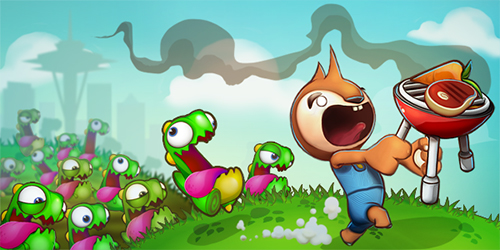 So, here he is! First, he was a sketch and then some pattern pieces:

Then, he was a green felt shape with a big toothy hole.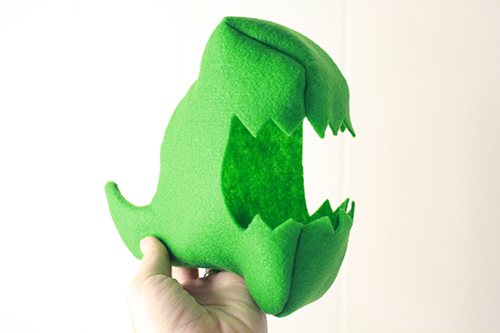 Then things got a little complicated: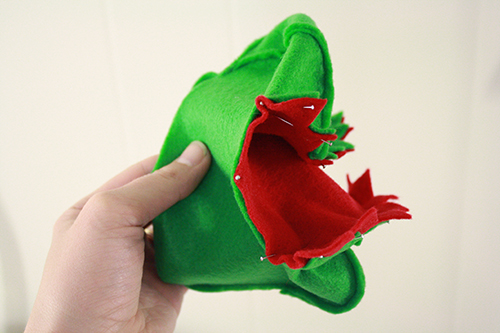 Which brought us to this: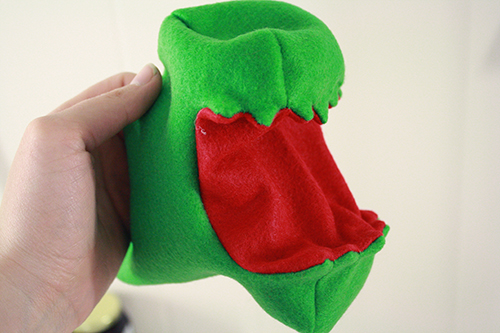 And after that there was a bunch of stuffing and some strategically placed stitches, and then a whole lot of needle felting which made my hand sore and I was so busy needle felting and nursing my hand and needle felting some more that I forgot to take pictures. Which is a shame, because the before and after shots of something with this much needle felting are pretty cool to see. Alas.
But anyway, LOTS of needle felting happened, then he got a tongue (with pipe cleaners in it to help it hold its nice flopping, lolling pose),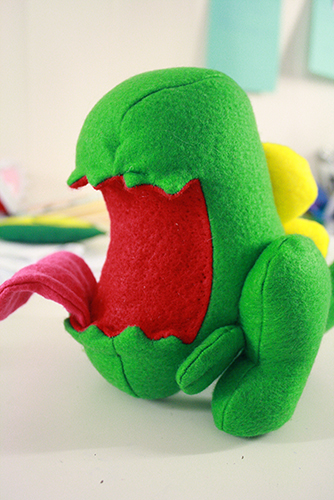 and some crazy eyes,
and then he started making a run for the meat in the refridgerator every time I turned my back.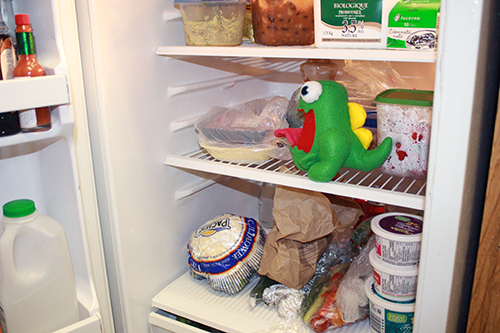 He certainly does like his bits of cow.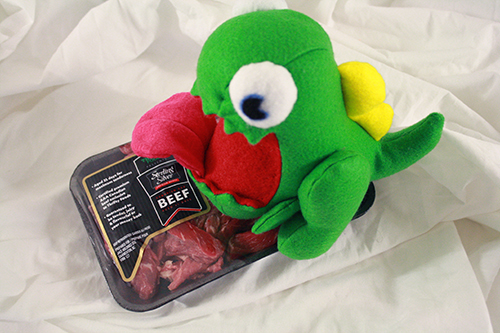 All was not entirely perfect. If I were to redo this guy, some pattern adjustments would need to be made so that top yellow spike could be situated much higher up, at the back of his head. I entirely missed the fact that he has little yellow toe spikes too, until it was too late to go back and add them in properly. Ah well. And I think his eyes should be a wee bit bigger and his teeth also need to be proportionately larger to his mouth. Overall though, as a first try, done-in-one-evening project, I think he came out rather well.
I'd still also like to figure out a way to do this kind of wide open, inverted mouth thing without it requiring 40 minutes of needle felting (which also absolutely requires the mouth to be made of felt). And make it generally more concave. But I think that will take some more experimenting and time. A project for later, then…
And speaking of future projects, I might have to try my hand at plushifying the game's bright pink triceratops sometime, too.
Anyway, try the game out if you haven't already, it's quite a lot of fun. And it is FULL of adorable dinosaurs! Who are jerks. Hey, it's an imperfect world.
RAWR!!!!!