About the blog
When I was a kid, out shopping with my mom, she would constantly assure me that she could make pretty much anything and everything we saw in stores, and probably do it better. It drove me nuts.
Today I do exactly the same thing.* I don't have a daughter to inflict it on though, so I share my creations with the internet. Drop by every Thursday for new craft ideas, and full tutorials approximately every other week. Opinion giving, snarking and random tangents will also be featured.
*This delights my mother. You`ll see her stopping by regularly to comment on my posts, and complaining if they`re late.
About the blogger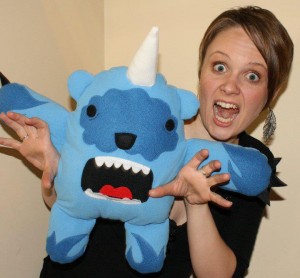 I'm a twenty-something-approaching-30 on Canada's drippy west coast who crafts, plays video games, reads, crafts some more and does other stuff when time allows. Usually I also hold down one of those coveted but dreaded "day jobs," cuz it pays that other dreaded thing called "rent." At the moment my day job is a pretty fun one – I nanny a rather charming 2 year-old. Among my larger projects, I'm the Prizes & Sponsorship Coordinator for the annual fundraiser Desert Bus for Hope. I tried out being Superwoman`s stunt double for a while, but the spandex chafed.
I have a very loving & patient husband (who dabbles in tabletop game design and app-making, as well as being a member of LoadingReadyRun), my very own crafting lair (I hear some households call this room the study) and crafting supplies positively coming out my ears. I also have a BA in creative writing, stuffed into a corner of a filing cabinet somewhere.
So stick around for DIY fun! Feel free to share your opinions, ideas and improvements. Just follow Wheaton`s law, and happy crafting.
~Tally
————————————————
Want to send me a baby elephant? Have a crafting question or idea? Have any other questions/ideas/random tangents? Post a comment, or email me at [email protected].
Do you do lots of crafting already, and want to be part of the next Desert Bus for Hope Craft-Along? See our general Craft-Along information here (scroll to the bottom of the page for the Craft-Along FAQ), or email craftalong@desertbus.org with your questions, comments or craft proposals.