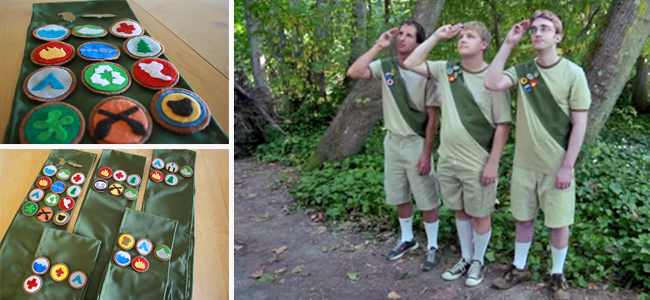 I was never in Girl Scouts or Girl Guides or (obviously) Boy Scouts or Cub Scouts or any of the various youthful North American scouting groups there are to be in. I know that Boy Scouts carry pocket knives (well so do I, thanks very much) and Girl Scouts sell cookies, and that the Girl Guides (Canadian) sell cookies too, but not in the delicious variety of flavours offered by their American counterparts.
So when Graham asked me to make some Scout sashes and badges for last Monday's LoadingReadyRun video update, I had to do a little research. And I prefer visual research. So my research was basically this: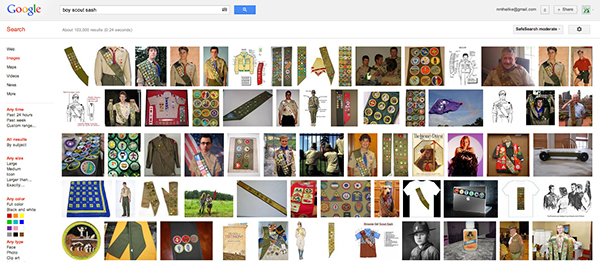 And this: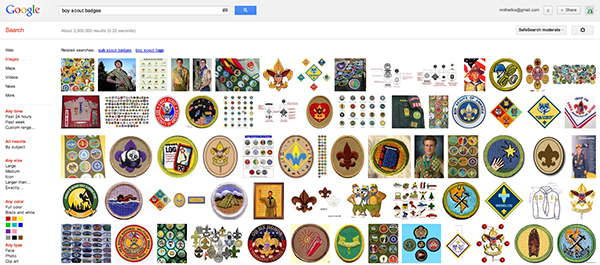 And then I got started sewing.
The sashes themselves were suuuuper easy – they're just long rectangles with one straight end and one angled end. Like so: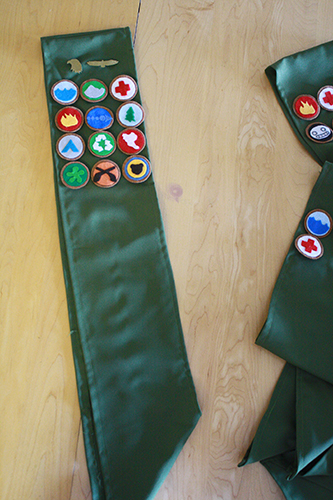 So that was about 10 minutes of pattern creation, followed by cutting, pinning, sewing, ironing, pinning, sewing, ironing, pinning, sewing, multiplied by five, and voila, all done. Then on to the badges.
Graham's direction on this was along the lines of "And if you have time to add some sort of badges, that would be awesome." So I basically got to do whatever I wanted, which is my favourite kind of project. Those Google image searches turned up all kinds of possibilities – I was looking for ideas that I could simplify effectively and easily. There were a number of odd badges that showed up though, like some of these: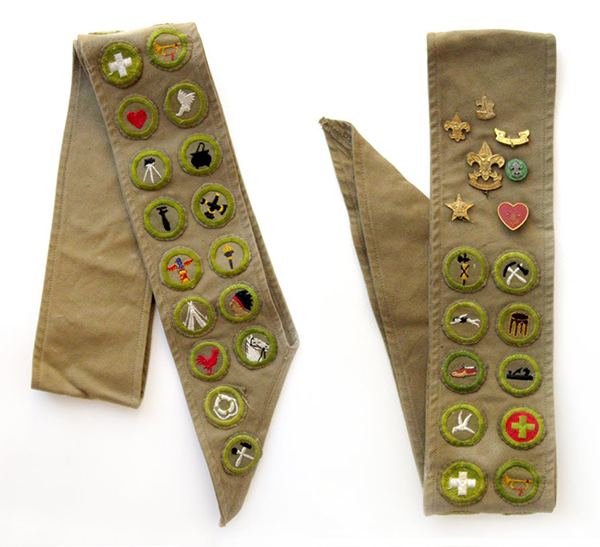 After discussing some of the curious details of this sash on Twitter, I realized that it is a way old version – what Etsy would adoringly call "vintage." Which I suppose helps explain a few things, like why there's a badge with a full-on stereotypical Indian Chief on it. (Bottom right in the image below.) Um. Mystified as to what that is supposed to represent. Finding an arrowhead? Visiting the site of Custer's Last Stand? Being able to recite the names of all the native tribes that were forcibly removed from your particular region?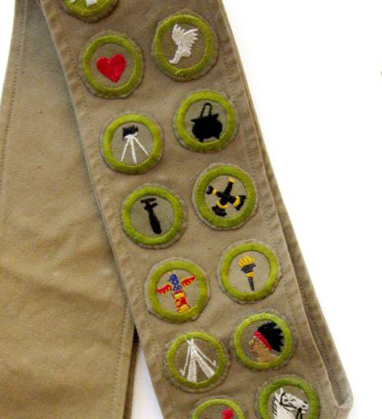 I suppose one could actually, y'know, look this stuff up, but it's much more fun to make it up. I decided that the heart badge must be awarded for successfully making love in a tree (that requires skills, y'all! Balance, stamina, coping with one's fear of heights, sufficient diplomacy checks to convince the object of one's affections to take part in the whole uncomfortable adventure in the first place…), and seeing the cauldron I was fascinated to learn that Boy Scouts award badges for potion-making (cooking, I know I know – that's so much less interesting though). I'm still not sure about the winged foot. Is that for helping the mailman? Getting a paper route? Winning a fight with a winged deity? Winning a scrimmage against David Beckham? The jury's still out on that one, though I used it for the LRR sashes anyway (easy image to replicate).
For the LRR scout badges, I figured I had time to give each sash 4-6 badges, with several extras for the scout leader's sash. I wanted several of them to be repeated from sash to sash, and for most of them to be very very simple. I also wanted to give all or almost all of the sashes one special "in-joke" type badge, something related to LoadingReadyRun history and memes. Both for my own amusement, and because I knew people would enjoy spotting them.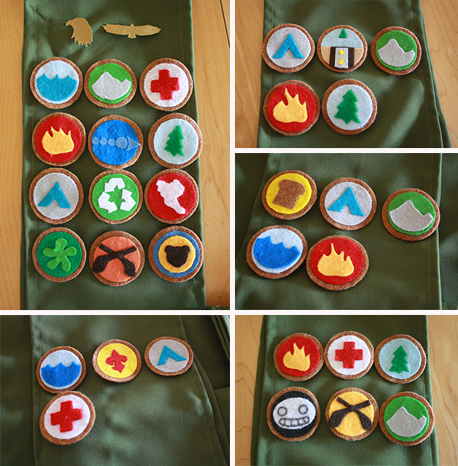 Along with a bunch of generic  outdoorsy and copied-from-Boy-Scout-sashes stuff, there's a LoadingReadyRun logo badge, a bear badge, a Desert Bus bug splat badge, a Desert Bus logo badge, a Toast badge and a Creepy Doll badge.
I saw suggestions from viewers that the pine trees were the Desert Bus air freshener, and someone suggested the blue tents were a symbol from I-don't-remember-what video game. This was not my intention for those badges, but really there's no reason they couldn't be those things, and it's fun to hear what people make of the various images.
Even as I was making them, I did think it was a bit weird including the badges with rifles on them (pulled from actual badges I spotted online), but they were really easy shapes to make and I had a very tight deadline on this and was running low on ideas.
For actual construction, the badges were all made of felt, with the different pieces stuck together using that wonderful HeatNBond I've employed for so many of my tutorials (the first one being the fleece sad panda mask). Except that I didn't bother sewing the pieces together afterwards this time, because oh my WORD do you know how long that would take?! For this kind of use, ironing-only with no sewing works fine. Instead of gluing them to the sashes (again, sewing them down wasn't happening due to time constraints, plus for simple one-time-use costume pieces like this it's simply not worth the time required), I glued safety pins to the back of each badge and pinned them on, thinking that this way they could be removed and the sashes used for other costuming purposes later on if need be.
Below: badges in construction. My desk is like a page from one of those I Spy books.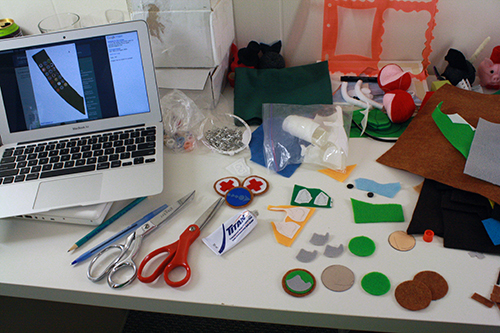 You may also have noticed the little eagle pins at the top of the scout leader's sash. Those were made by printing out small line drawings of eagle shapes found very quickly and easily online. I printed them onto cardstock, cut out the shapes, and covered them in gold embossing ink and powder, then applied heat to melt the powder, glued a safety pin to the back and voila! Gold pins. From a distance, it totally works.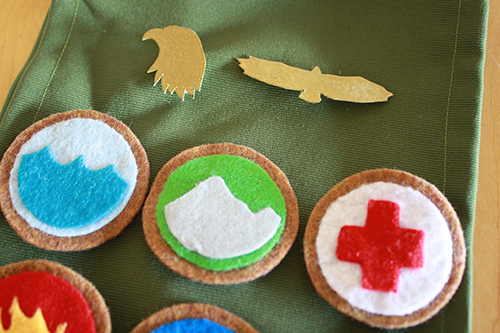 The rest was up to LoadingReadyRun and their video-making magic! From what I hear, this video's "magic" involved a large company of mosquitoes and copious amounts of bug spray.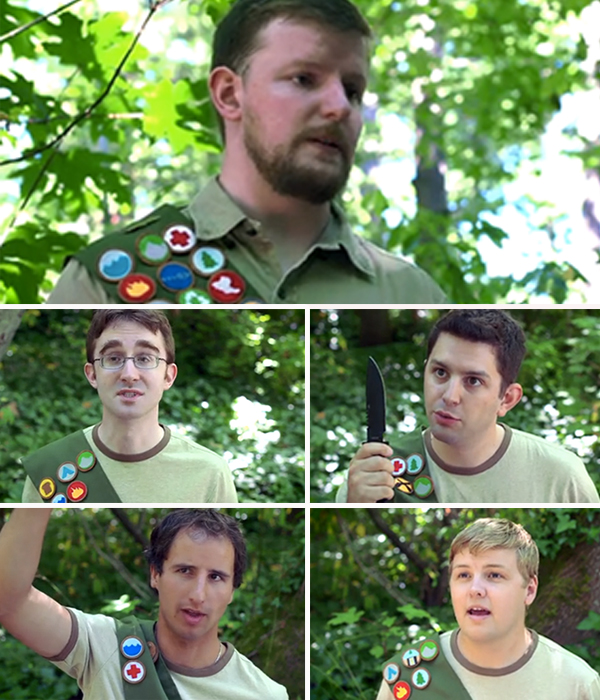 Note: I have been made aware that many scout uniforms have changed recently, such that sashes are no longer used at all. And that sashes for many scouts were only worn for special occasions. However, I'm fairly certain what LoadingReadyRun was going for when they decided on sashes for the costuming in this video, was something iconic and clearly recognizable, and relatively easy to put together. Sashes do rather meet all those requirements.

———————————————-
In other news of the week, Craft-Along updates have begun pouring in, with pictures of projects in progress and projects completed and on their way to Desert Bus HQ. We are getting some phenomenal stuff in this year! Keep an eye on the Desert Bus Twitter account (@DesertBus), where there will be updates, pictures and links to Craft-Alongers' blog posts to intrigue and enchant you as Desert Bus approaches.