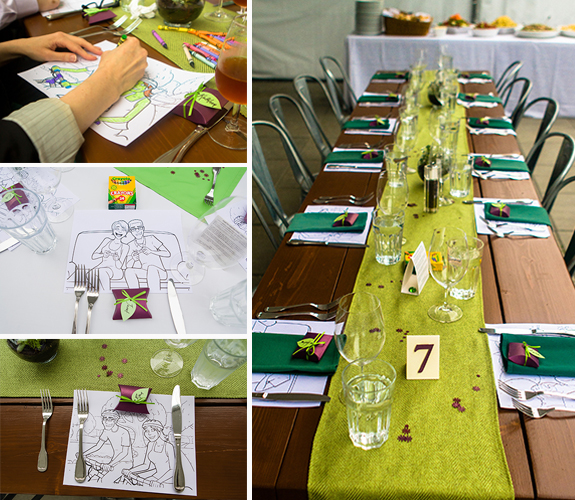 All photos in this post are the wonderful work (and copyright of) Andrew Ferguson. See more of his photography at goldengod.net.
The colouring sheets are the work and copyright of Ash Vickers.
———————————
This week on the blog, it's wedding details! I've got a couple of posts to show you guys some of the craftsy and DIY bits of our wedding. There weren't that many – we kept that stuff down to a happy minimum to stay sane and in budget. We had the wedding favours that doubled as place cards and the terrarium centerpieces, and that was most of it. Our bouquets and boutonnieres were homemade, as was my dress, all of which I'll talk about in another, near-future post.
Apart from all that, there was just one other thing (and it just might be my favourite): our custom wedding colouring sheets. Jeremy and I are blessed with a huge number of incredibly creative and talented people in our lives. One of those people is Ash Vickers, a webcomic artist and all-round utterly wonderful human being, though her comic, Megacynics, might have you believe otherwise. We thought it would be nice to use some of Ash's art for our wedding, but weren't sure exactly how.
Then I was thinking about how I love getting people to do artsy, creative things, and how it would be fun to let people colour at the tables, like by having paper tablecloths. But paper tablecloths didn't seem that feasible with the mix of long trestle tables and round tables we'd be using, plus they were a little less elegant than I wanted for a wedding. That's when I thought of having colouring sheets. I proposed my idea to Ash, who happily agreed to draw us three custom colouring sheets, each one of Jeremy and myself doing something together that reflected our interests and normal activities. We chose one of us playing video games, one of us riding our bikes, and one of us feeding ducks in the park. Ash did an absolutely smashing job of the drawings. She sent us the images and we printed them out and set them at each place on the tables at the wedding.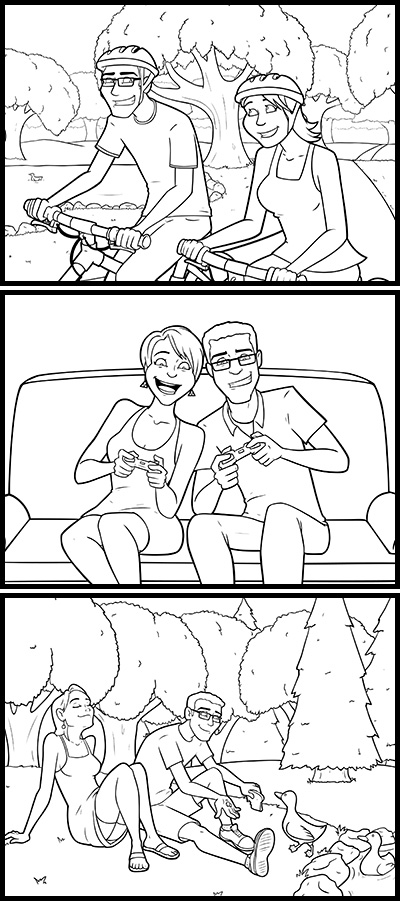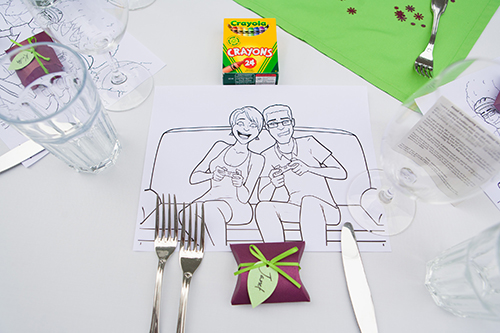 Then there was the second part of the idea. While planning our wedding, I discovered that despite never having been one of those plan-my-future-wedding-day-at-age-12 kind of kids, and despite having been to all of about 5 weddings in my life only 4 of which I can remember and 1 of which was within the last decade, I somehow had a bunch of wedding knowledge that my similarly wedding-experienced fiancé did not.
This came up a few times. Once, specifically, when I mentioned that we might want to think of alternatives to the glass-clinking tradition (where guests get the bride and groom to kiss), as I found it kind of annoying. That conversation continued along the lines of:
Jeremy: What? What tradition? [Pauses while I explain it] Well that's silly, let's just not do that.
Me: This isn't something we can just not do. People will make it happen whether we want them to or not. It's a thing people just do at weddings. We can only take control of how it's done.
Jeremy: That's ridiculous.
Me: That's weddings. And we don't have time to fuss about it, so let's make a decision!
Jeremy: Argh.
Which ultimately led to our using Ash's colouring sheets in place of the glass clinking. Like so: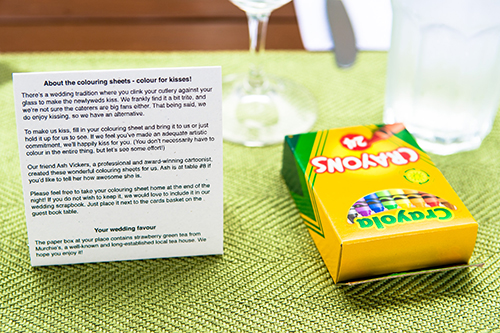 It says:
About the colouring sheets – colour for kisses!
There's a wedding tradition where you clink your cutlery against your glass to make the newlyweds kiss. We frankly find it a bit trite, and we're not sure the caterers are big fans either. That being said, we do enjoy kissing, so we have an alternative.
To make us kiss, fill in your colouring sheet and bring it to us or just hold it up for us to see. If we feel you've made an adequate artistic commitment, we'll happily kiss for you. (You don't necessarily have to colour in the entire thing, but let's see some effort!) Our friend Ash Vickers, a professional and award-winning cartoonist, created these wonderful colouring sheets for us. Ash is at table #8 if you'd like to tell her how awesome she is.  
Please feel free to take your colouring sheet home at the end of the night! If you do not wish to keep it, we would love to include it in our wedding scrapbook. Just place it next to the cards basket on the guest book table.
People seemed to have a great time with it! One of my favourite moments was looking up and seeing Jeremy's uncle – previously an MP and former Dean of Law at our local university, now president of another and quite prestigious BC university – bent over the table with crayons in hand, intently focused on completing his colouring sheet. It was delightful.
One friend brought his very meticulously coloured sheet up to us and positively slammed it on the table, saying "I've been working so hard on colouring that I haven't even eaten yet!" We tried to make it an especially good kiss.
My young cousin did three colouring sheets, but she wasn't much into kissing so she asked us to make various silly animal noises instead.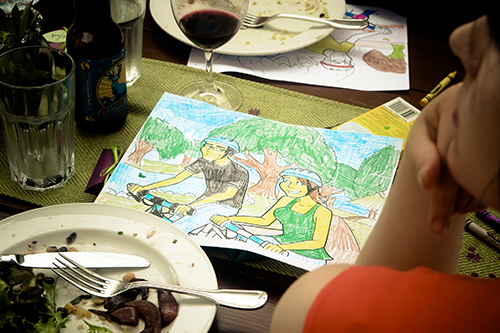 My mother finished her sheet and presented it to James and Ashley, the bridesmaid and groomsman who are themselves engaged, and told them that she'd seen us kiss plenty already, so this one was to get them to kiss.
Some of the creative liberties taken with the colouring were quite impressive. Speech bubbles were added, tattoos were given, on one memorable sheet Jeremy is coloured in so as to be wearing fishnets. One friend Hulked us both out with lime-toned skin. It was great fun and gave people something to do as they waited for food.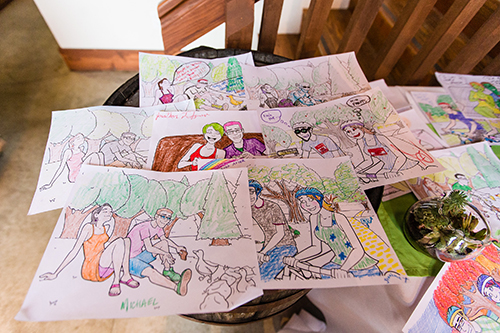 We asked people to bring their sheets up to us at the head table, so by the end of dinner we had wonderful a stack of our friends' and family's artistic endeavours. A great perk of doing this (though I admit it didn't occur to us ahead of time) was that we got to have a moment of personal interaction with everyone who finished their sheet and brought it up. We got just as constantly distracted from eating as with the glass clinking tradition, but had much more fun.
After dinner, our best man took all the sheets and laid as many as he could  out on the welcome table for everyone to enjoy.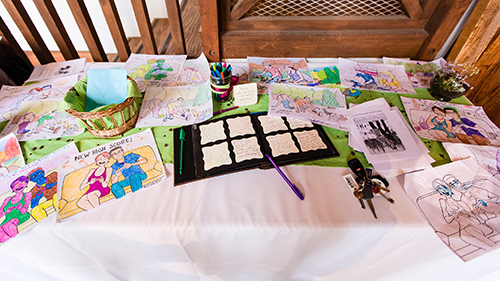 And how did those centerpieces and place card / favours work out? Beautifully!