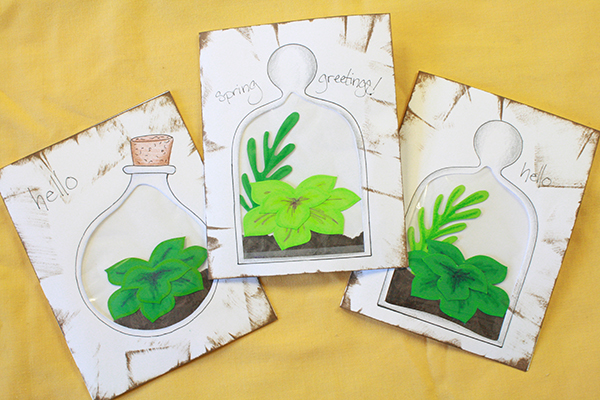 We don't really suffer a lack of greenery out here on the west coast. The colour green (as well as the colour grey, numerous shades of it in fact, I'm sad to say) is generally to be found in great abundance out here. The trick is more to keep things from growing than anything else – those who follow me on Twitter may remember my recent photo-accompanied tale of mould invading our fan-less bathroom.
But especially this year, a whole lot of people in other parts of the country are almost literally buried in snow, and green growing things probably feel a long way off. It seems like a good time of year to send a bit of surprise snail mail with something hopeful and distinctly UN-wintery – if the postman can get through the snowbanks to their mailbox, I suppose.
My grandma, who lives in the snowy prairies, fills her basement with seedlings every spring, fostering them in the frost-free warmth of the indoors for a couple of months until it's safe to transplant them into the garden. It makes the basement quite cheerful. I have a little terrarium on my windowsill that was gifted to me, and it makes me smile each time I look at it. There's something delightful about small, tenacious growing things (when they aren't on your bathroom walls), so I thought it would be nice to put such things on a greeting card in this drawn out waiting-for-spring time.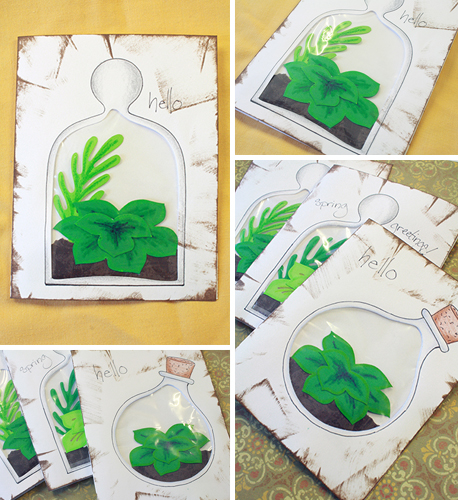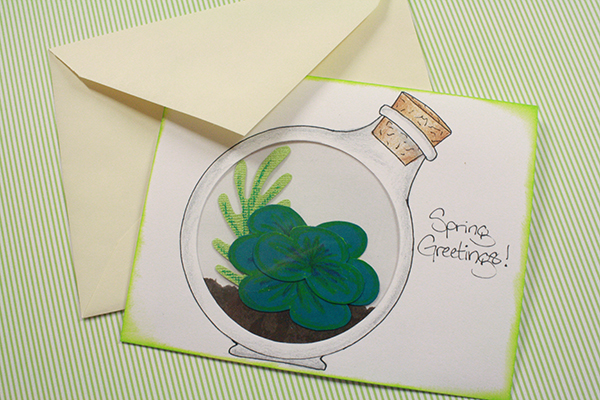 ———————
What you'll need
materials:
 card stock (plain, coloured or simply patterned, as you choose) OR pre-cut blank cards – The templates I've made are for a card size of 5.5 x 4.25 inches. You can make 2 cards of that size from 1 sheet of 8.5 x 11 card stock.
plain printer-weight paper
green card stock  – [optional] get green card stock in 2 different shades if you want to create a 2nd, ferny succulent to enhance the card
brown card stock
crayons (I used a medium green, bright green and purple, but choose whatever colours you like. Other likely shading tones for succulents could be red, pink, brown, yellow.)
a clear plastic sandwich bag or other thin clear plastic. Saran wrap / cellophane though would be a bit too thin and finicky.
fine tipped felt pen
scotch tape
glue stick
white glue  – you can skip this one if you like but you will for sure need the scotch tape and a glue stick
[optional] stamp pad in a neutral tone or a colour that corresponds with one of your succulent paper or crayon colours. I just used a brown inking pad.
envelope of a size that will fit your card
———————
Gently erase any still-showing pencil lines from the card.
Do be careful – that packaging can have rather sharp edges when you cut it apart.
If you want you can add a ferny sort of succulent in the background as well. I didn't provide a template because it's delicate enough that it would be quite a pain to cut out a template, trace it and then cut the shape out again, and it's pretty easy to just make up your own. Here's how:
I like to give my ferns a bit of darker colour along the stem and partway out the branches. For the short round succulents, I do a darker green in the center on both pieces, and then some purple or red in the very middle on each (I extend it out more on the bottom piece, since much of it will get covered up by the top leaves), and then a lighter, highlighting sort of green along the outer edges of the leaves.
Here's one I did with that thicker, packaging plastic:
Try using this technique to make cards depicting other glass objects: windows, ship or submarine portholes, fishbowls…