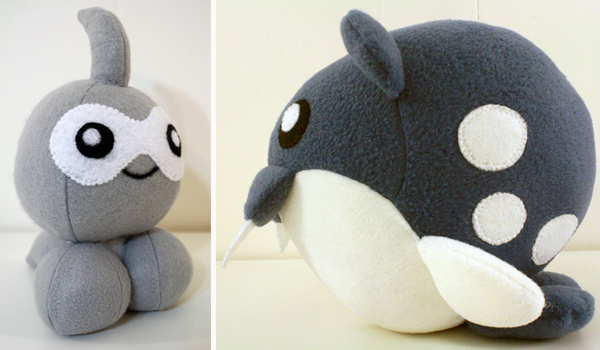 Well here I am breaking promises just two weeks after changing up my blog post schedule. I don't have a tutorial for you today – after being away last weekend, having houseguests for the first half of the week and making decorations for tonight's Doctor Who party, I just did not have time to prepare a how-to pst. It's been a great week, but super busy. I promise I will make it up to you by posting two tutorials back to back in the next two weeks, but for this week, I'm simply going to show you some Pokemon.
Or "teh Pokemans," as my boyfriend is fond of saying. These were both commission pieces I did over the last few months, one Spheal and one Castform. I missed out on the whole Pokemon craze myself as a kid (I mean, I remember it, but I never got involved in it – not having cable or any close friends who were into Pokemon had a hand in that), so I was totally going from Google images and no inside knowledge on these.
Here's the main reference image I used for the Spheal. I generally reference one or two main images, but do a general Google image search for the object or character, and just browse through that for a while to get visuals from different angles, and a full sense of what everyone everywhere thinks the thing looks like.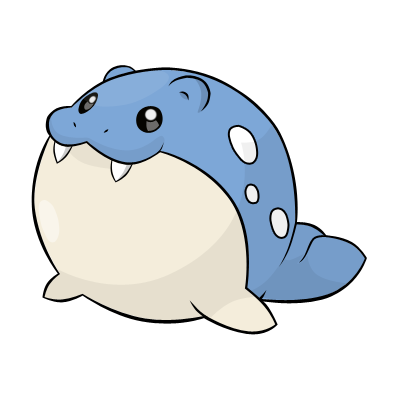 The Spheal was a right bitch in pattern drafting, I'll tell you that. He turned out adorably, but only after I redrafted the main body pattern 4 times, and sewed it twice. And that was after just sitting and staring at the paper for about an hour, trying to figure out how in heck I was going to make this work. It was the sort of feeling I used to get doing my math homework – you know there is a solution, but you've no idea how to find your way to it. Luckily this was more appealing to me than an algebra problem, so I did eventually work it out.
(I don't have any photos of the making-of process for the Spheal; I was too busy going crazy trying to make it work to remember to take pictures.)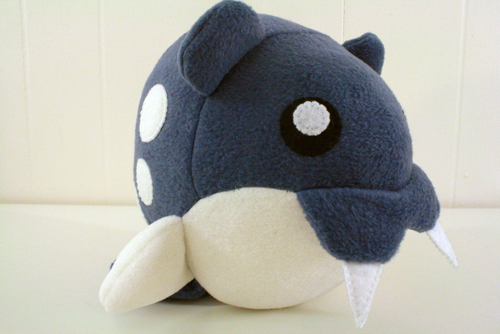 I know, you wouldn't think a sphere would be so difficult a shape to make, and it isn't really, but when it's a sphere that needs to have a little round tummy piece and therefor can't just be a series of wedges sewn together, then things get messy. I could, I suppose, have just appliqued the white tummy on top of a basic blue sphere, but that would have felt like cheating. And it would have presented its own set of problems, appliquéing onto a rounded surface. I had to figure this pattern out!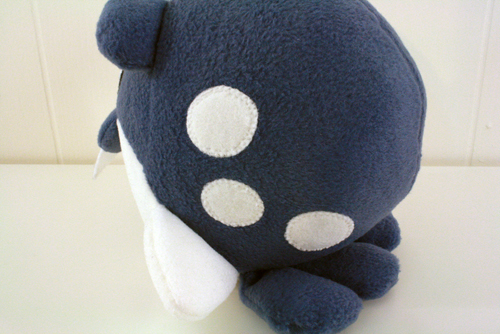 And, of course, I eventually did, and the Spheal looked pretty darn good. I'd like him to have been a little larger  & rounder across, but I was generally satisfied. The seam ripper came out a couple of times, as it always does, but the sewing itself wasn't too arduous once I got that pattern sorted out. And the Spheal was finally finished and (being a big round object made of soft fleece) delightfully huggable.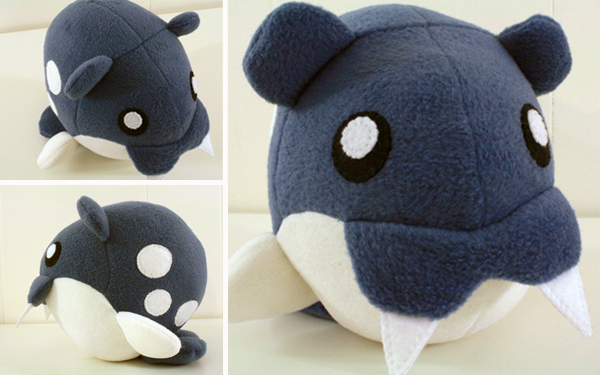 I also made a Castform plushie recently, which was significantly simpler. It's basically a large ball (the head) on top of three smaller balls, one of which has a tail. Oh, and a little fin thing on the top of its head.
This was my reference image: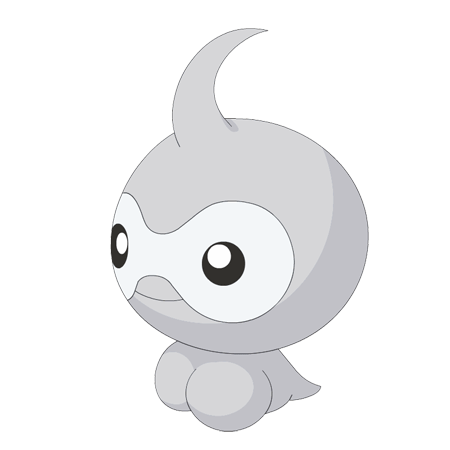 This was totally opposite from the Spheal experience; the project was straightforward enough that I actually managed to sit down and make this entire plushie in one single sitting (several hours, but only one work session), which is remarkable and practically unheard of for me. That's what working on a tight deadline does for you, I suppose. Also, absolutely nothing went wrong, which I'm sure I'll pay for somehow later.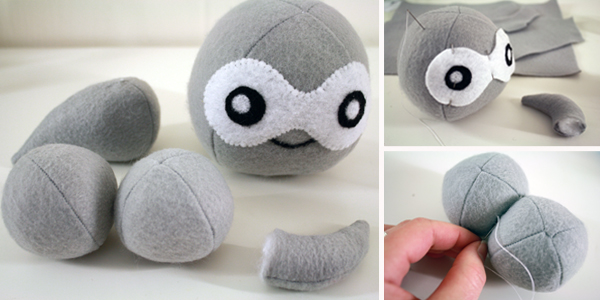 This plushie was one of the first times that it occurred to me to simply needle felt the pupils in place (feasible since this plushie was made all of felt), rather than sewing them on, which just didn't look quite right on something so small. I also needle felted the mouth on, which worked beautifully.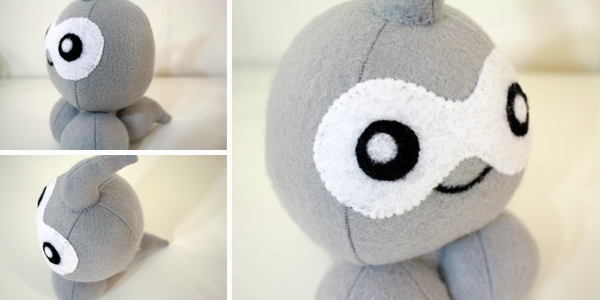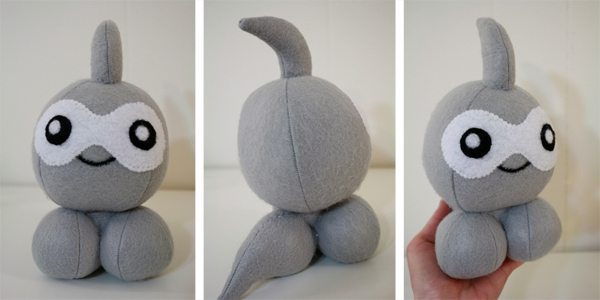 And those are my ventures (thus far) into Pokemon territory. I suppose the next thing will be to make round Pokeball tote bags for the Pokemon be housed in.
——————————————
Edit: It seems this is a Pokemon-themed week in general, because I just got an email from someone who used my recent felt spheres and felt pigs tutorials to make these absolutely darling felt Bulbasaurs. You can read more about them over in the Crafters' Gallery.