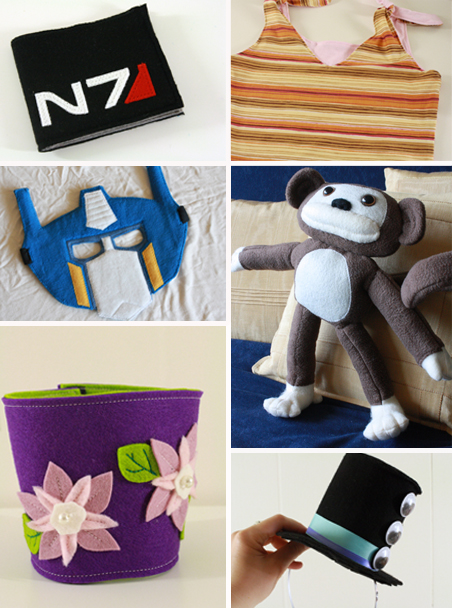 Recently on Twitter, a couple people brought up the idea of doing a post that sums up all the things I've made in a given period of time: "Tally's tally" of crafts, as it were. While fun, I thought this might be a bit too much like bragging. "Look at all the stuff I made in a day!" Then I thought about it some more and realized several things:
"Look at all the stuff I made today" is exactly what my Twitter feed says on numerous days, so I'm already bragging anyway.
After spending all weekend pouring my time and energy into creating things, I damn well want to show it off and have it appreciated a bit.   2.5. I am vain of my crafting and I like bragging about it.
I've switched to a new format of posting tutorials every other week, and posting less extensively descriptive "here's a thing I've been working on" or "here's a fun idea" posts on the alternating weeks. However, I've been making so much stuff lately that even with an opportunity to showcase some of it every other week, I will never be able to post about it all.
If people don't like these posts, they are not obliged to read them. They may go look at internet cats instead. Here, I'll even give you some links, because I'm a good person like that.
Maybe it will inspire other people, and other feebly noble sentiments to mask my desire to just brag about the the stuff I've been making.
And that's how we come to this first Tally's tally post. I've no idea how often I'll actually get round to doing these sorts of posts, but last weekend was a ridiculous fervour of crafting chez moi, which I termed Operation Make All the Things. I also managed to sleep in, attend a friend's party, do some errands, sit by the ocean for half an hour and play some Mass Effect 3. You'll have to take my word for it that I'm really not always this productive. I'm just in a bit of a panic to get things crossed off my to-do list so that I can do my own Desert Bus Craft-Along piece not at the very last minute this year, and prepare for my PAX panel that I just learned got approved (more on that later, most definitely, but for now I will tell you that it's titled For the Love of Making: geek arts and crafts, involves several wonderfully talented panelists and is going to be entirely awesome. I hope. I really really hope. I'm working on making it so.)
So last weekend (which I consider to include Friday evening) I made these things: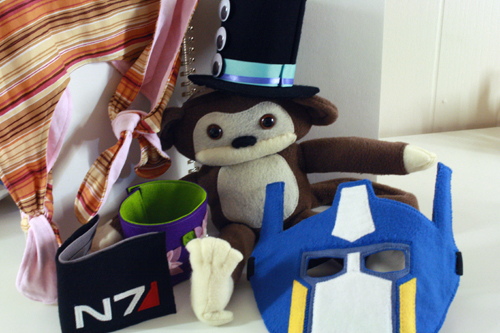 I also made a secret thing that I can't show you because it's a gift for someone who might see it here, but it turned out very well & I'm very excited to see how the recipient likes it.
Anyway, the first non-secret thing was this monkey, which I actually only finished on the weekend. He's a commission piece for a friend, and I'd already constructed the body and head. I just had to attach those two things, attach and shape his mouth and nose, stitch in the finger and toe details and add his tail.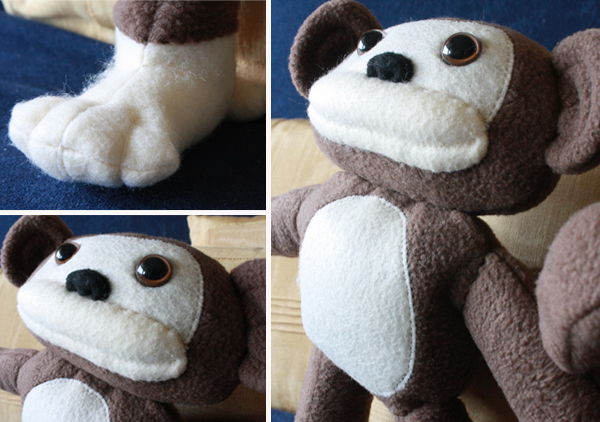 Next I made another fleece Optimus Prime mask at 87% the size of the original (which is in my Etsy store) – another commission, and the buyer needed it to be child-sized. I've previously posted a tutorial covering the basics of making other masks with this same technique, but here's a new tip for kid's masks: instead of sewing the ribbon right into the mask, make two buttonholes on either side of the mask, then attach ribbon (or better yet for kids, elastic) by looping it through the button holes and sewing it to itself. This way, if the mask is outgrown (or if the ribbon or elastic wears out), you can make it fit for a while longer by cutting the ribbon/elastic away and replacing it with a new piece, without any damage to the mask.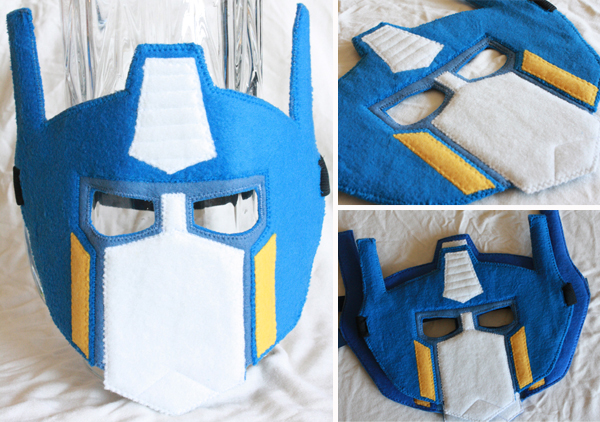 This Mass Effect 3 N7 wallet is a part of my gift for my Reddit Arbitrary Day gift exchange recipient. I wondered about the wisdom in posting a picture of it, since it hasn't been sent yet, but frankly the odds of my gift recipient seeing this are probably slim to none, and they wouldn't know this was for them even if they did see it. The wallet is made from black wool and coloured wool felt, with the N7 logo appliqued on. I'm super stoked about how well it turned out. And I'll have to do a tutorial for felt-wallet making sometime in the future, because it's dead simple, can be embellished with any sort of theme or design, and is a functional gift for just about anyone.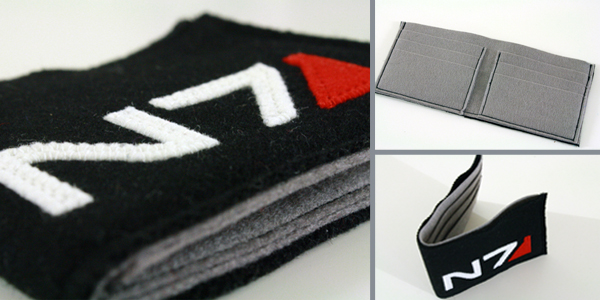 The coffee cup sleeve is also a gift for someone (again, safely someone who doesn't read this blog), and was also made with wool felt. I'm a fan of this very simple way of decorating with felt: cut out petal shaped pieces, pin in place, sew straight line along middle of each petal. Do the same for leaves. Add pretty bead to middle of flower. It's much faster and simpler (and neater, too) than stitching all the way around each petal and leaf, plus it allows them to pop up a little bit from the surface of the sleeve. And because it's felt, no raw edges to worry about! I'll also do a coffee sleeve tutorial at some point, as it's another simple, easily decorated, good-for-lots-of-people gift idea.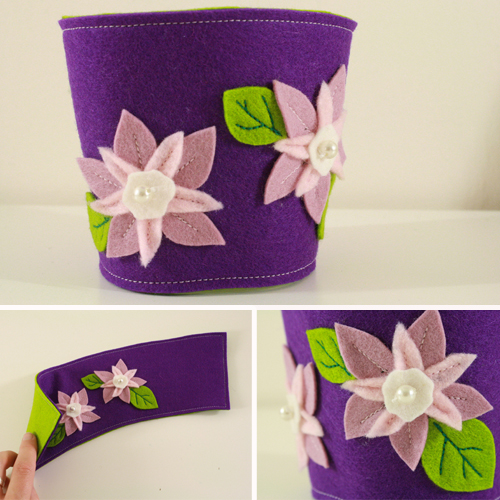 On Saturday night our friend had a belated housewarming party with a hat theme. Basically, you wore a hat in order to be let in to the party. It was a great idea – nobody wears hats anymore, but it seems everyone has a nice hat or two hanging around, not getting worn. I, of course, decided idiotically to add to my crafting load by making a new hat for the occasion. Or rather, a fascinator in the form of a miniature top hat. With googly eyes on, because they're fun and I'd never seen a top hat with googly eyes on it before. And they matched my googly eye earrings. Which just may be what this Friday's tutorial will be about… spoilers!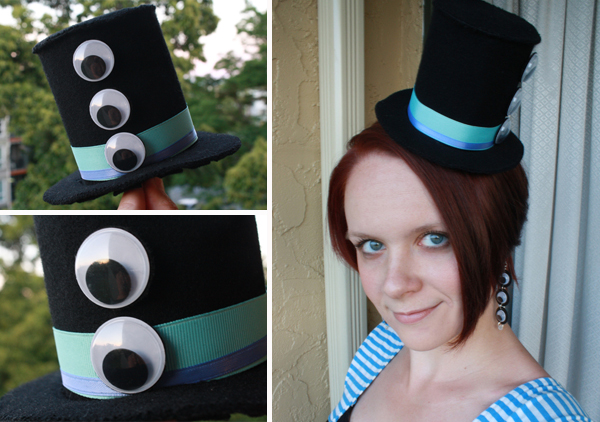 And lastly, while I was out doing my errands I did a quick browse through Jacob (a clothing store), and noticed some really cute shirts that had ties at the shoulder. And of course, I thought, "I could make that…" I went from there to the fabric store to pick up some felt for a super awesome secret project that I'm really excited to tell you about… later. Because right now it's still secret. (Kind of. If you read the post-comic remarks here, you'll get a serious clue.) But it's awesome. Anyway, of course I checked out the remnant sales while at the fabric store, and saw this fun striped piece of stretch cotton, and thought of those shoulder-tie tank tops… and of course bought the cotton and went home and started on a dress with those shoulder ties. Except I decided to attempt a dress that is entirely reversible. On the weekend I got the top part done, and this week I finished the rest of the dress, and it was a success! You can wear it either side out! I'm thinking of making (maybe even selling) some simple shirts and tops that are reversible like this, so you can have a two-in-one practical black skirt and a you-love-the-colour-but-it-only-goes-with-one-top-in-your-wardrobe funky coloured skirt guilt free, without taking up extra closet space! It's going to be brilliant.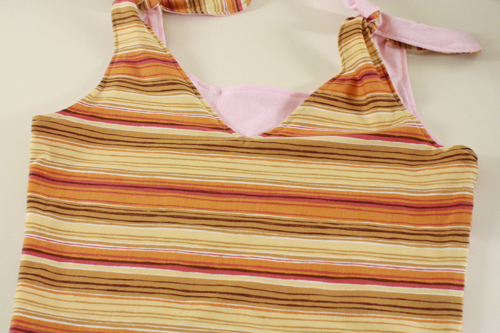 I think the pink side in particular might benefit from a brown or orange belt around the middle – will have to look for one.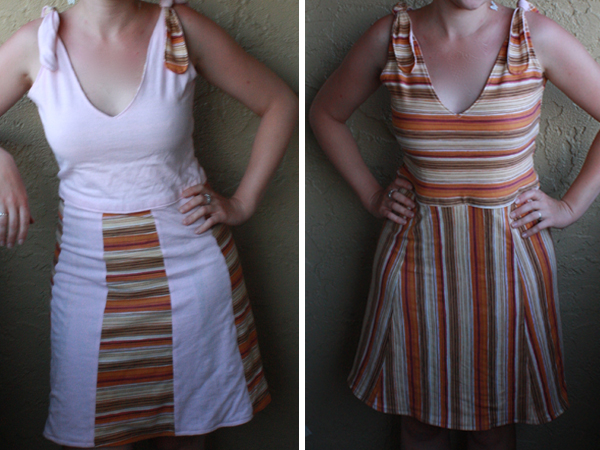 Except that wasn't the last thing, because right as we were getting ready to go to bed on Sunday night, Jeremy (who is taking a summer art education course in painting to finish off his elective courses) was getting his things together for the morning and realized he needed something to safely pack up his paintbrushes in, having bent one up a bit in his bag last week. He totally wasn't trying to make me do a sewing project late at night, but of course I went "I can solve this!" anyway, and whipped up a little felt case in about ten minutes. Several of his classmates commented on it the next day, and one of them liked it so much she asked if I could make her one as well! Viral marketing, I suppose?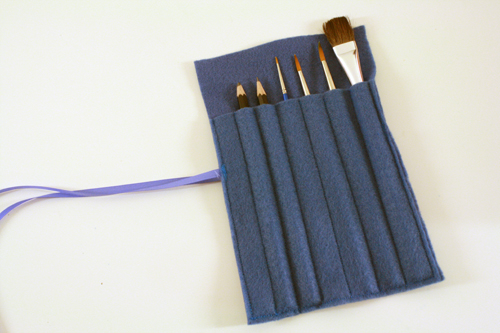 All in all it was a very productive weekend. It got me nowhere near the end of my full crafting to-do list, though, so I'm hoping for another outrageously productive weekend to come. And then after that I'll run away to Tahiti and lie on a beach doing nothing for at least a week.*
*Not an accurate depiction of true future events, but personal fantasies are an important part of life.