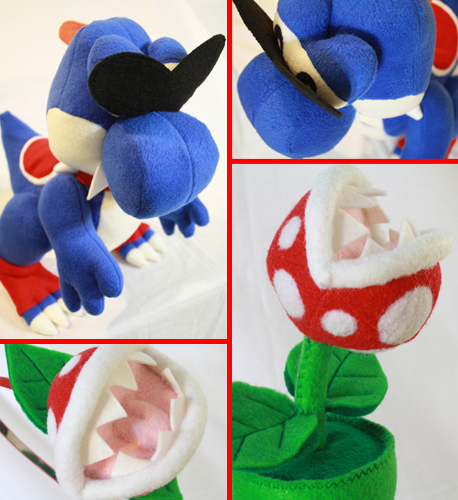 If you examine any given person's childhood, you can find some way in which it was lacking or "deprived." (Note that we're talking in an entirely superficial, first-world-problems kind of a way here.) There is not enough room in on person's childhood to contain all the game-playing, book-reading, movie-going, tv-watching, toy-possessing or adventure-making out there.
One of the things that my own wonderful, adventurous, filled-to-the-brim childhood lacked was Mario. Apart from playing it at friends' houses a handful of times, I never got my hands on the game until I was an adult. (Consequently, I absolutely suck at it.) I did have a vague familiarity with the world and characters of Mario, though, and when I finally played more of it as a 20-something, I found the whole place absolutely charming. It's colourful, bright, outrageous (seriously, what the f**k is wrong with this derpy little princess who can't do a damn thing for herself?) and even full of music that doesn't drive me gradually into a violent frenzy the way so much retro video game music does.
Recently I have gone beyond these simple introductions to the game world of Mario, and done a little Mario-themed crafting as well. Did I mention the wonderful bright colours and chunky shapes? It's great stuff for crafting with.
Boshi plush
The first big Mario project was a Boshi doll. This one, I confess, I was not familiar with and had to Google. Turns out Boshi is Yoshi's rival, a blue loner yoshi that wears sunglasses and a spiked collar. Why did I set out to make something I hadn't heard of? Because that was the request of the gentlemen who won last year's Desert Bus auction for a custom plush made by yours truly.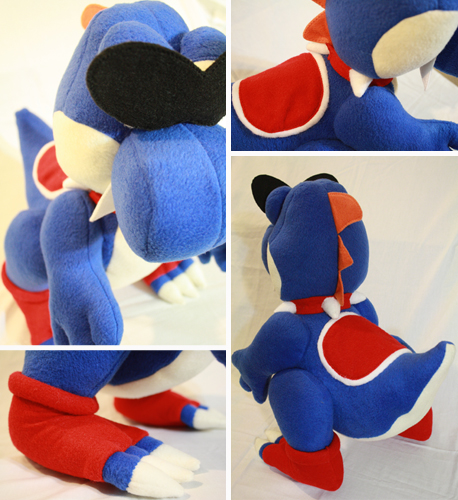 This was the initial image he sent me, the first time I ever saw a Boshi.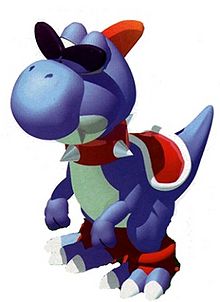 It looked deceptively simple, as far as turning it into a plushie was concerned…
Well to shorten what became a ridiculously long crafting story, the feet came together just fine, the body was easy enough to make, but the head took two full construction attempts to get right, and I kept making the arms too long and in the end remade the darn things three times.
The head and the body are also practically the same size. And nearly the same weight, which as you can imagine presents a bit of a top-heaviness issue with balance. So I stuffed a bag of those glass "dragon tears" (glass rocks, basically) into his bum. Which helped.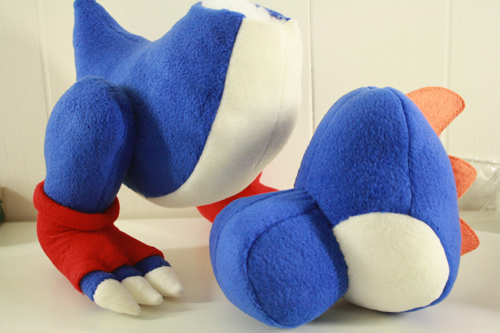 So I attached the legs to the body, and the body to the head, and at first things were looking good…

But turns out he just plopped forward all the time. Couldn't stand up on his own. Awkward.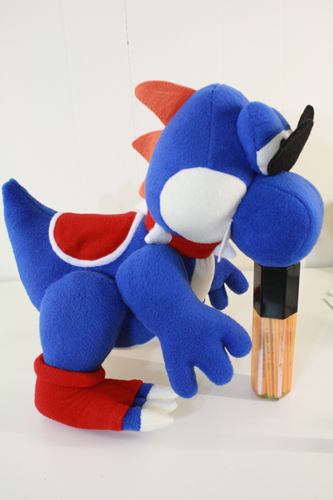 I ended up removing the legs and stitching them back on again at a steeper angle. And he still wouldn't stand up. It was actually my friend Paul who solved it for me, when I took Boshi to the LoadingReadyRun office to film the Daddy Ashton Craft-Along video for Desert Bus for Hope. At that point, I'd pretty much given up and decided that Boshi was simply not going to able to stand on his own, and that was that, but Paul started messing about with him and got him to balance way back on his heels. Paul pointed out that if I redid the legs again at that far steeper angle, Boshi ought to be able to stand up on his own.
So I tried it, and… victory!. Thank goodness! He took a bit of balancing, and didn't stand up (ahahaha) to being knocked from behind, but he did stand on his own two legs at last.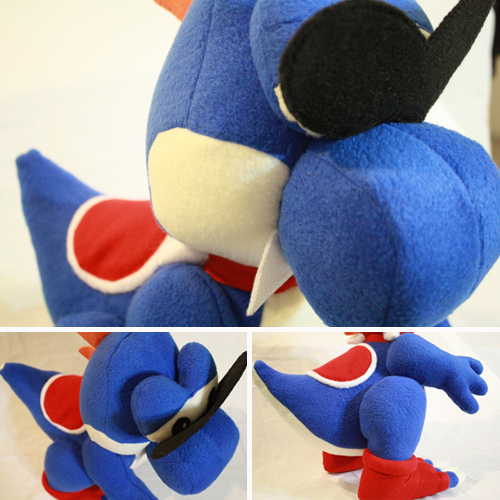 The boyfriend and I had a bit of fun with him and our other stuffed animals before shipping him out to his new owner.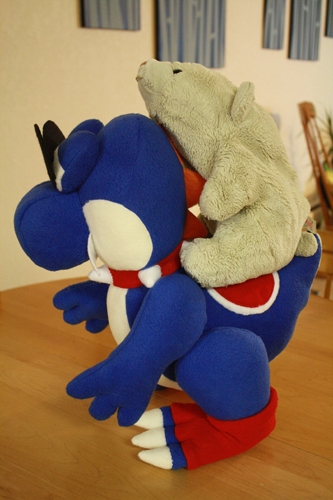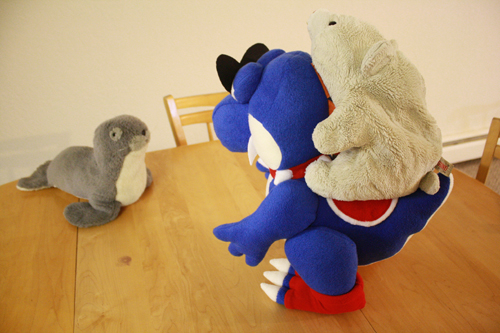 Piranha Plants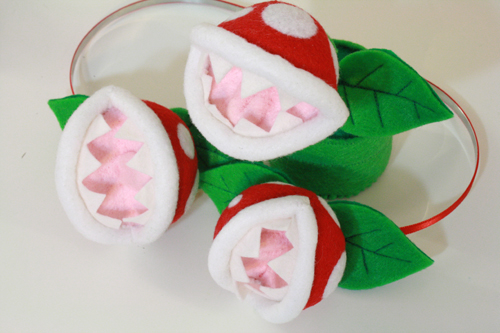 The second Mario project is one I just completed – a Piranha Plant hairpiece. After all that falderah with fascinators at the royal wedding (and in every second Etsy bridal shop), I started thinking about making some unconventional headgear. Because if a little blue blood means you can wear a family of game hens on your head and have it called fashion, then why not a felt octopus? Or a Piranha Plant?
I started out with the felt octopus, wearing it to the Calgary Comic Convention in April, and got so many compliments on it that I decided oddball fascinators needed to become a more frequent part of my life. So I started on a Piranha Plant fascinator to wear to PAX.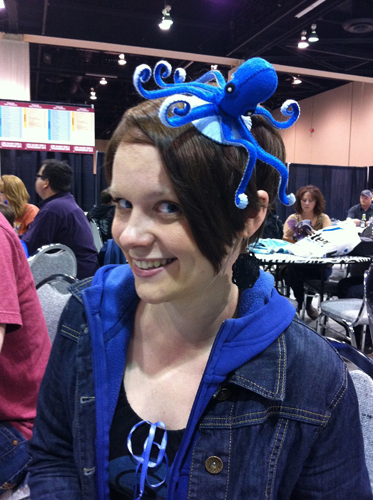 Ok, first of all, a couple years ago I utterly failed at a Pacman pillow thing I wanted to do, because do you know how tricky it is to make a sphere with a chunk missing from it, but have the rest of that sphere keep its shape? I mean, once you figure out a way of doing it, it's not so hard, but figuring out that way is a pain. In. The. Butt.
I did some major Google image searching for other handmade Piranha plant stuff, but as far as clear examples of plush Mario-eating plants there wasn't a huge amount to go on. So this was one of those times where I just decided to heck with it, I'll try something out, and it worked. The key? That same needle felting of acrylic felt that came into play in my recent spherical pigs post. Needle felting is awesome, y'all.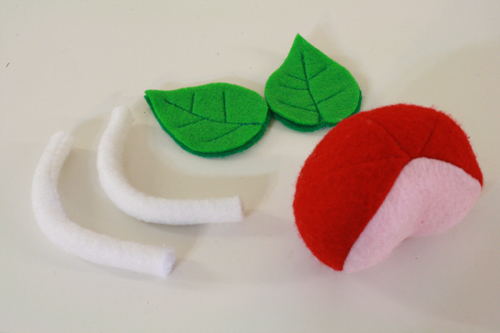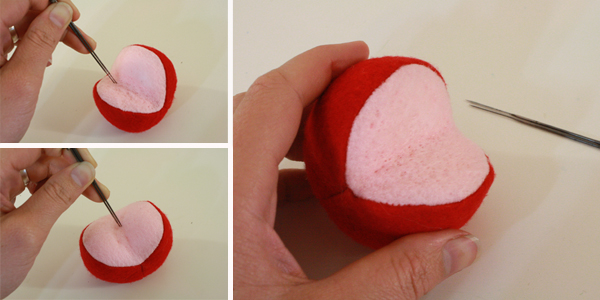 And then there were a bunch of other steps and a lot of finicky hand stitching, and a headband got involved, and voila!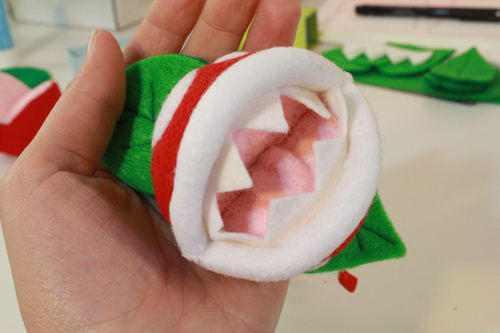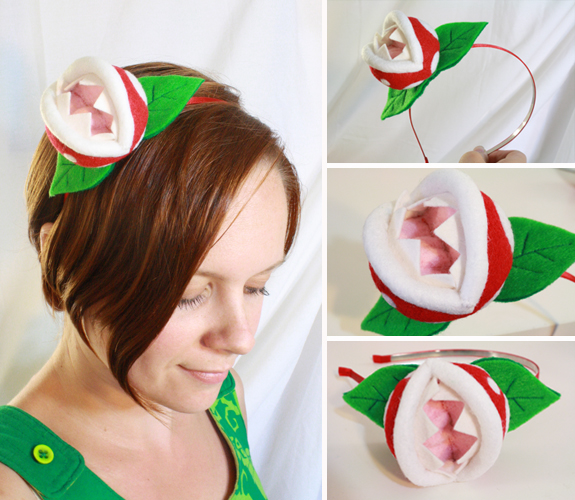 For kicks, I also made one that's simply a potted (or piped?) Piranha Plant, a nice little desk plant that never needs watering: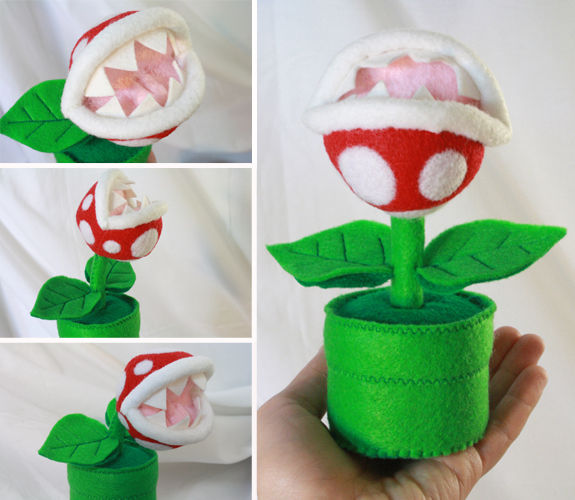 You can find a couple of these in my Etsy store (at the time of this posting, anyway), should you also feel a need for a bit of geeky decor.
So that was my crafting foray into the world of Mario – thus far very enjoyable. While making the Piranha Plants, I realized that a green one of those suckers turned upside down, with the opening facing downwards, is about the right shape for a Koopa shell, so that might be happening in the future…
Have a great weekend, everyone! Do something fun and creative!