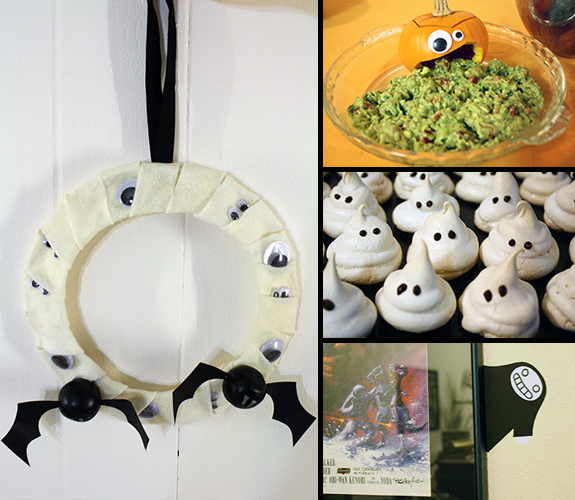 I must apologize for the fact that it is currently Monday, not Thursday, and this post was meant to be up on Thursday. It's been a crazy week just passed and it's only going to get worse as we get closer and closer to Desert Bus. Speaking of which, there are going to be a lot of exciting announcements on the Desert Bus site this week, so check in every so often, and keep an eye on the Desert Bus Twitter and Facebook feeds! One thing I will tell you now is that the Craft-Along items will be posted on Friday, for you to gaze upon in wonder, drool over and plan to bid on. There are so many amazing items this year, and even if you can't afford to bid on things, see if you can't stash away $10 or $20 or $30 for the event, because we'll be doing a bunch of donation drives where you can donate and be entered to win some really really awesome stuff.
Ok, moving on to the actual blog post, this week's (er, that is, last week's) post is going to be a straight picture post, showing the decorations and foodstuffs I managed to throw together for our Halloween party last Wednesday. We categorically did not have time for this, nor was it a great idea to have a party mid-week, but as our friend (and a fellow Desert Bus planning crew member) Kara said a while back, "I miss Halloween!" There's never enough time anymore to do stuff for it, but dammit I like dressing up and having parties. So we did. Even though it was a terrible idea and we didn't have time. And everyone had fun, and in the spirit of special holiday times, I didn't even strangle our friend Kathleen for showing up covered in craft herpes (translation: glitter). Amazingly, while she did attempt to rub glitter on other party-goers, very little of it actually transferred to our apartment itself. And when I saw her a couple days later it appeared she had managed to remove the shimmery covering from her own self. I'm convinced she'll be trying to clean glitter out of her bathtub for months, though.
So, here's what we had for decorations. First up, Creepy Dolls! Someone pointed out on Twitter recently that they were incredibly appropriate for Halloween decorations, so I made a little garland of several of them to hang on the snacks table, and taped several more up around the apartment, peeking out from behind picture frames and mirrors and potted plants. One was positioned in front of the toilet in the bathroom, to creep people out while they peed.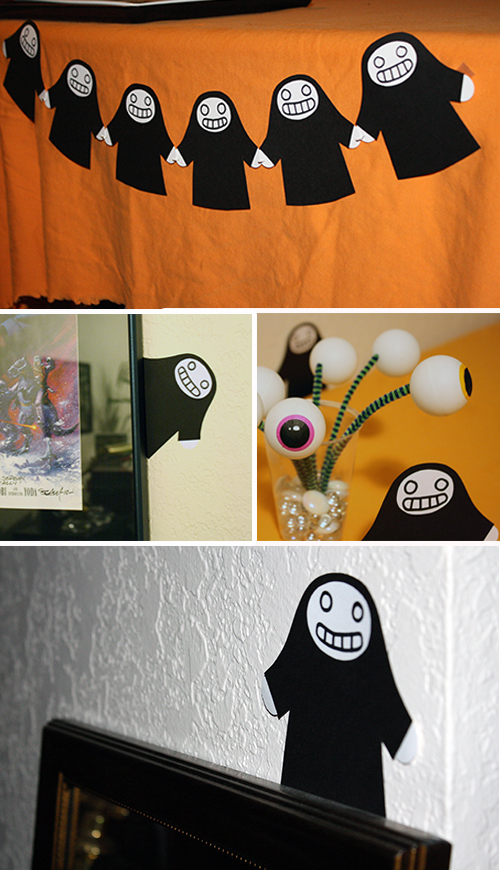 All around the apartment I hung little black bats made from painted styrofoam balls and black paper, with little fangs drawn on with silver sharpie. I first got the idea from a site called The Sweetest Occasion, and have since seen various forms of it around the internet. It's a very simple craft that makes a great Halloween decoration.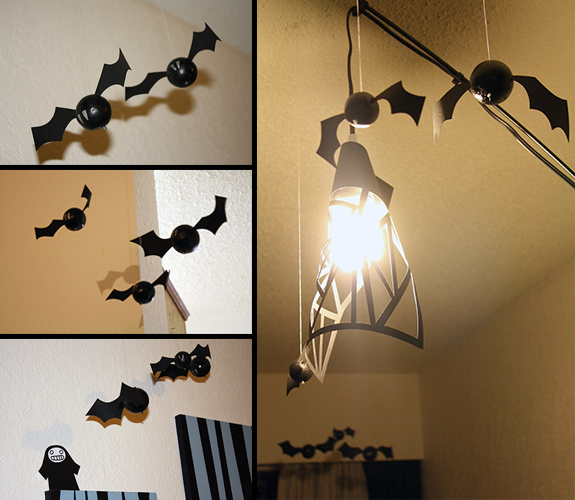 To properly greet our visitors in the Halloween spirit (see what I did there?), I used a plastic Subway salad lid, along with some felt, hot glue and googly eyes to make a wreath for the apartment door. It also incorporated the bat decorations (and later on I stuck a Creepy Doll in the empty centre of the wreath as well).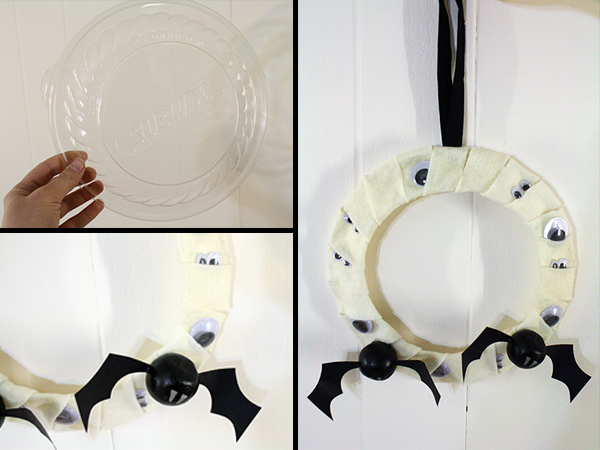 You may recall the tutorial I posted a few weeks ago for making brain (or any shaped) candles. About half a dozen brain candles were placed all around the apartment, and there was a little brain-shaped pink soap in the bathroom.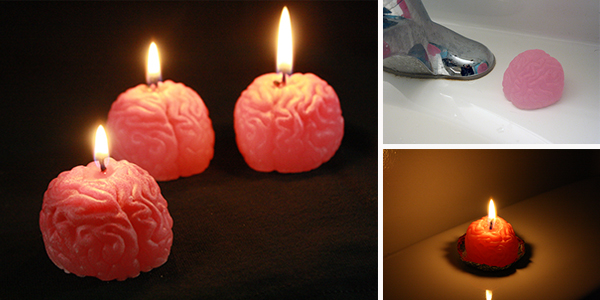 And then there were the snacks! I prepared a few, and our guests brought yet more lovely munchies. The ones I made were:
Ghost meringues (using this tutorial, but there are many of them out there, in various languages). Let me just say that I don't know what it is about meringues that gives people trouble. This was my first time making them, and they came out just fine. Between a practice run, making some for another event and making a couple batches for the party, I actually made meringues 4 separate times, without every having any trouble. It was incredibly straightforward. So don't be scared of meringue-making!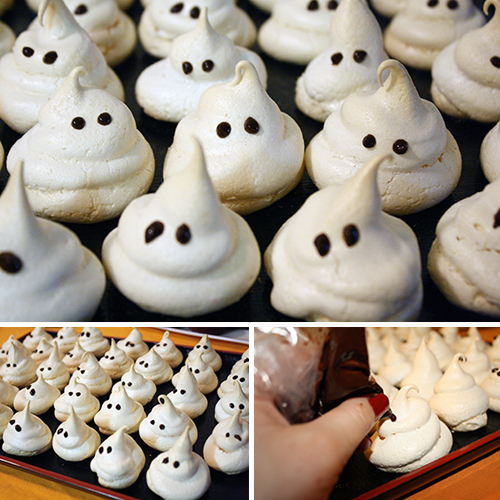 I've seen this idea in several places – carve out a pumpkin and have something spilling from its open mouth as if it's vomiting. So Jeremy made guacamole, and I carved out a teeny pumpkin, and our guests enjoyed some delicious pumpkin vomit.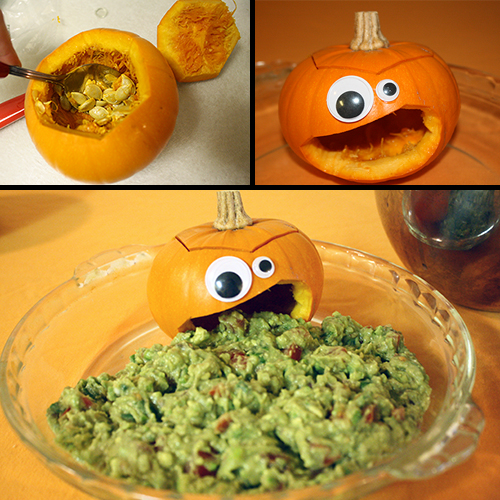 See? All cleaned up by the end of the night!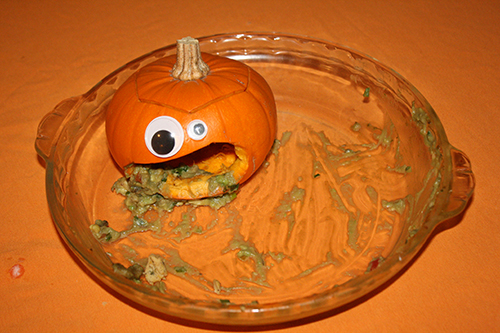 We also had two different apple ciders on hand: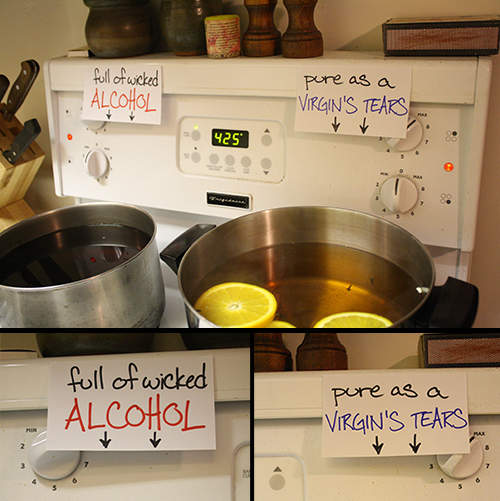 And a plate of delicious chocolate bugs. Yum yum!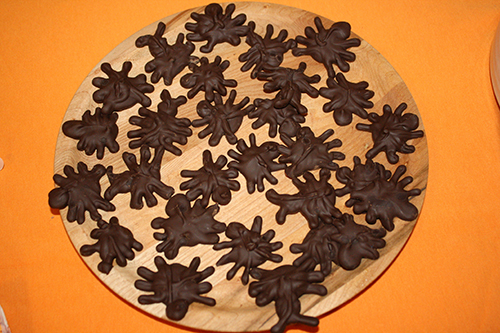 We threw some glow sticks about here and there, dimmed the lights, donned some costumes (Jeremy wore his swamp monster hoodie, and I threw together a sad panda outfit) and let the Halloween fun begin!
The piano was covered in assorted costume pieces available to guests who had not dressed up: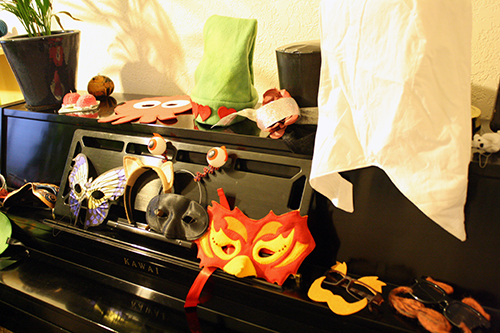 And several of our guests arrived with very impressive costumes of their own! (I unfortunately missed getting pictures of the adorable Link, very convincing Team Fortress 2 Scout and covered-in-glitter Marceline from Adventure Time who were also there.)