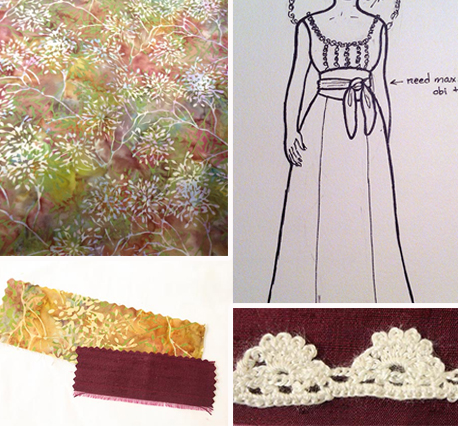 I'm getting married in June and I am so incredibly excited!!!
Seeing as the goal is to only do this once in my entire life, I'm going to take this once-in-a-lifetime opportunity to do a little blogging about our wedding plans and adventures.
Jeremy proposed on December 20th, as we perched atop the rocky outcrop of a local viewpoint located in the heart of our former and still much beloved neighbourhood. We had a sparkling view of the city at night, and could hear the ocean behind us as he pulled the ring out.
We've been dating for 6 and a half years, and living together for about 4 of those, so I hadn't thought being engaged and getting married would really change things, even though I wanted to get married because it would mean something different. And it hasn't changed our day to day lives exactly. Yet things do feel different. I'll have to ponder this some more and try to unpack it in a future post.
For now, I thought I'd share some of our early plans for the wedding. We jumped immediately into planning, because we need to have our wedding this June. Summer is the only time Jeremy's sister, my parents and various other important people can be here, and we have a bunch of reasons we don't want to wait a year and a half. So this summer it is!
Venue
I've had a few "Agh, why is this so stressful!" conversations with Jeremy and with my mother, but all in all our search for a venue (the first big thing we had to nail down) has really not been so bad. Victoria, being a beautiful tourist destination especially in summer, has a ton of wedding venues. Which is also the downside. Victoria has a ton of wedding venues. Trying to find just the right one while being satisfied you haven't missed another that might be better can make you want to pull your hair out.
There were many that were easy to cross off the list. Places clearly too big or too small for our wedding size went first. Then there were the "You want how much for 6 hours' use of your space?!? Hahahaha, NOPE" ones. There are a lot of those in this part of the world.
We narrowed it down to a couple of local wineries and cideries, and now at last we've settled on the small but beautiful Sea Cider, which also happens to produce our favourite local cider. I've posted some lovely photos of the cidery below, taken from other sites as I didn't take pictures of my own on the very gray and rainy day we went out there ourselves.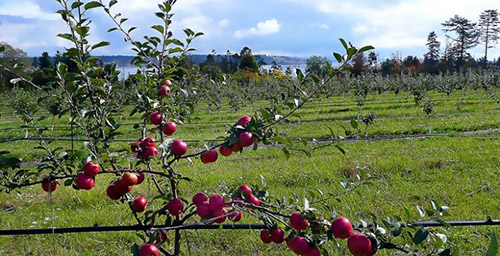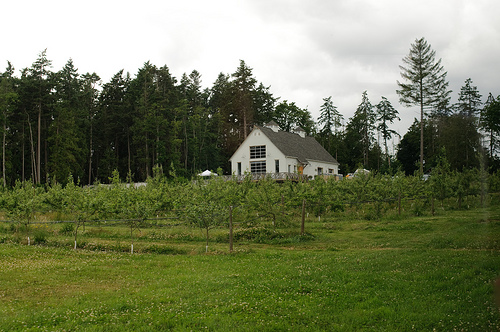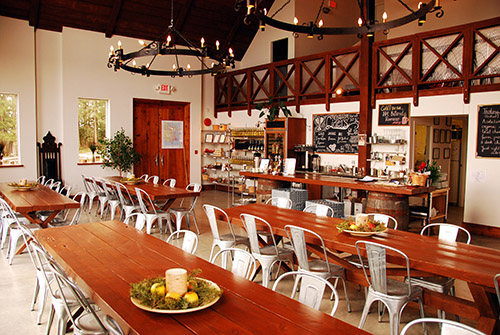 It's a lovely, cozy but adequately spacious place, bright even on a gray day from the massive window that takes up most of one wall, all the way up to the 40-ft ceiling. And when we walked in to meet with the event planner, turned out she was an old high school acquaintance of Jeremy's. And utterly delightful to boot.
Sea Cider can also easily deal with the possibility of rain. Because if you live in Victoria BC and you plan an outdoor wedding with no contingency plan for rain, whether it's in September, March, June or even August, you are just asking for trouble. Hell, you are doing-a-rain-dance-while-thumbing-your-nose-at-the-skies-and-practically-demanding trouble.
So we will be married at Sea Cider at the end of June, with Jeremy's uncle (a retired minister) presiding, and apple trees and the ocean behind us, and if it rains it rains.
Pretty Dresses!
 One of the other things we've sorted out already is the clothing for most of the wedding party. My mother, magical seamstress and maker of all things practically perfect, is making my wedding dress. It's a dress of our own concoction, but whereas I like to make up a pattern and go from there, she prefers to find an existing pattern and mess with it. Which makes some sense given that she knows how to actually make a pattern obey her will in the first place, which I gave up on long ago.
We started by talking through what I had in mind, and doing some sketching. Then we spent an hour looking through pattern books at the fabric store, till I found one that had the sort of neckline and fit through the waist that I was after. It turned out to be a costume pattern for a Lord of the Rings-inspired medieval style dress. This one: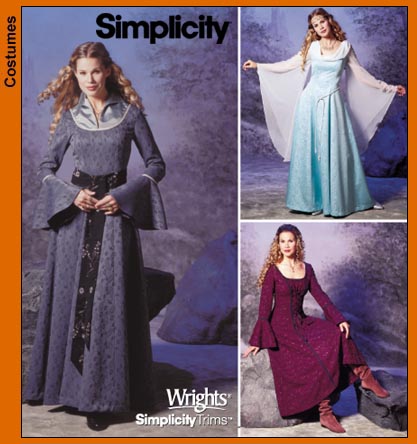 Which I find hilarious and awesome, because when I was about 14 I was obsessed with elves and Lord of the Rings and medieval garments, and certain that one day when I got married I would wear a fantastical medieval type wedding dress. I even bought a pattern for such a purpose, which I never did actually use.
My wedding dress won't actually look anything like that pattern picture above, but it gives us a starting place for some of the cutting and shaping. Here's a peek at the dress sketch my mom did of our plans: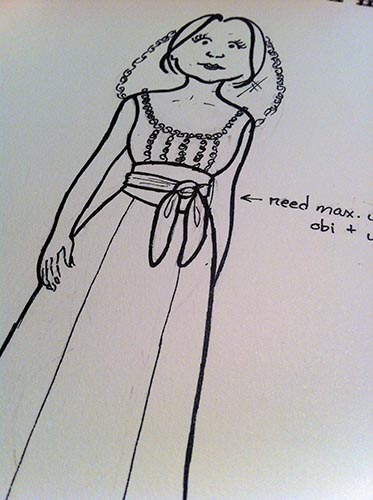 My mom also sent me (just in time for this blog post!) a sample of the silk lace she's going to crochet to sew around the neckline and onto the bodice. It is so beautifully soft!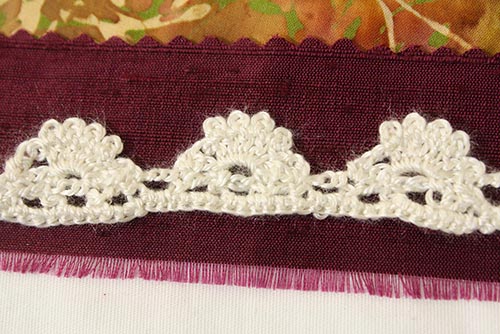 As part of the design for my dress and those for the bridesmaids, we're going to create silk obis that tie around the dresses. Mine will be white, the bridesmaids' will be plum (one of our wedding colours). This obi idea (like this) was put forward by Jeremy, and actually became the starting point for all of our dress ideas and designs.
Which brings us to the bridesmaids dresses. I do not like what the wedding industry does to bridesmaids dresses. I've only ever bought one myself, and it was a very pretty summery yellow thing for a beach wedding: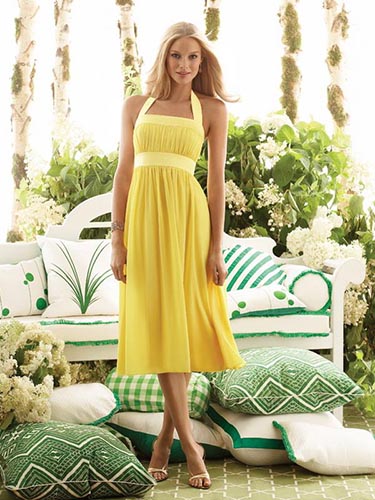 And it had boning in the sides. Which is the most ludicrously unnecessary thing for a dress like that. My interpretation: it is put in to increase the cost of the dress, make the wearer needlessly uncomfortable and ensure that you have to pay to get any alterations done by a professional (presumably at the dress shop where you bought it) rather than being able to do an easy side seam tuck yourself. It really pisses me off.
So no traditional bridesmaids dresses for my ladies. I do not wish to support that industry. Such dresses also tend to be overpriced in general for what they are, being made poorly from cheap and/or uncomfortable fabrics that don't breathe well. If I'm asking these women I love to spend money on a dress, I'd like it to be one they might actually consider ever wearing again.
Here's what we did. I have three bridesmaids, all of them with different body shapes and sizes. I sent them links to several different but very simple summer dress patterns and asked them to choose their favourite. That would be the dress they would wear – they did not have to all match. Here are a few of the pattern options I picked out (they're all quite simple, with the idea that they need to accomodate an obi around the waist or under the bust):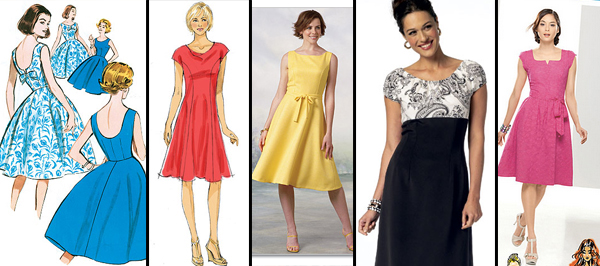 My mom went fabric hunting at her local store, and sent us photos of several cotton prints that fit with our plum and green wedding colour scheme. I then sent the bridesmaids pictures of the 3 fabrics Jeremy and I had decided were our favourites, and asked the girls to tell me if they especially loved or hated any of them.

In the end, all three ladies chose the same dress pattern, (it's one of my personal 2 favourites of the patterns as well), which I'm rather amused by. I guess they'll have matching dresses in the end anyway! Two of them also favoured the same fabric that I, Jeremy and my mom had picked as our top choice, and the third bridesmaid was not against it, so we went with that. Here are the fabric swatches my mom just mailed to me, of the plum silk for the obis, and the fabric for the bridesmaids dresses. (I couldn't get the light right last night, so the colour's a bit off in the photo):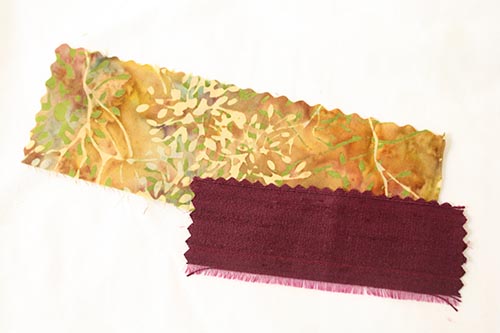 And here's how it works: We bought enough fabric for each girl's dress, as well as plain lining fabric and the dress pattern for each of them. We're sending those things to them, and instead of buying a dress in a shop, we're asking each of them to find or hire a friend or professional seamstress to make their dress, using the fabric and patterns we've picked up. And we'll make each bridesmaid a plum silk obi to go with the dress. What I'm hoping is that this means each girl gets a dress that really fits her properly and is decently made, is something she got to help pick out and might actually have cause to wear again, especially since it should be a comfortable, summer cotton dress. So far no one has complained anyway. But then my bridesmaids are some superbly wonderful people all round.
wedding crafts
And now to end this post on a crafting note! I'm not sure exactly what or how much I'll be crafting and DIYing for this wedding, since I do want to stay sane and I'm doing a lot more crafting as a semi-professional, might-turn-into-a-business part of my life right now in any case. But I have a few project ideas that I'll share later on.
For now, I'll leave you with pictures of some crafting I've done for other weddings. I made guest books for two of my friends' weddings, one years ago (the photos of which have utterly disappeared on me!) and one just last September (pictured below). And I recently had a commission to make some darling pink and white wedding narwhals for a lovely Etsy customer, which she'll be using as cake toppers at her wedding this coming May.