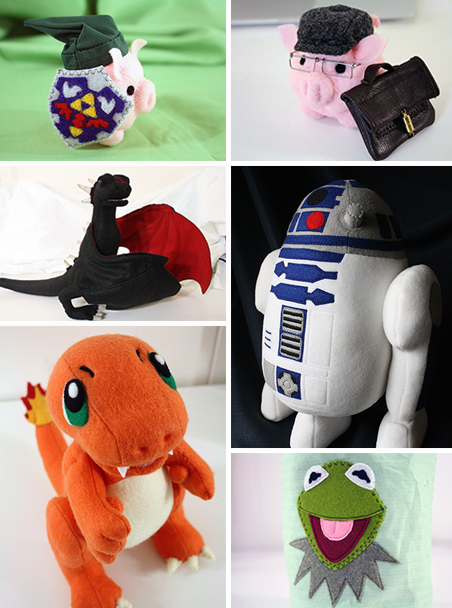 Many of the things I make I show off while I'm creating them, via Twitter and Facebook. But there are usually a number of items I can't post images of for a while, because they're commissioned as gifts and I need to wait till they've actually been given to their intended recipient before scattering their pictures across the internet. Here then, is a collection of several such items that have now been happily embraced by their new owners, and so can be shown to you in greater detail.
TLDR: Look! More stuff that I made!
——————————————
1) Kermit dice bag
A friend who adores the Muppets celebrated her birthday last month. She's also an avid D&D player, and always collecting new dice, so I combined these two interests of hers into a Kermit the Frog dice bag. This was the very first time I'd crafted something Muppet related – woo, breaking new personal ground!
Try it at home! The dice bag employs the same construction as in this tutorial, and the Kermit face was made from wool felt, appliquéd on using HeatNBond and the technique outlined in my tutorial for fleece masks.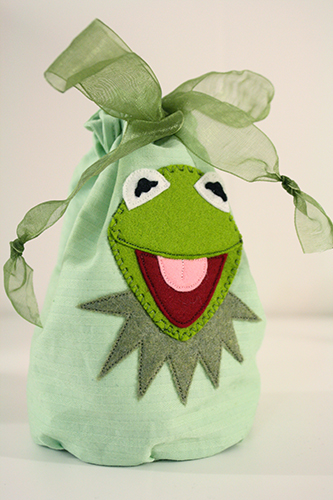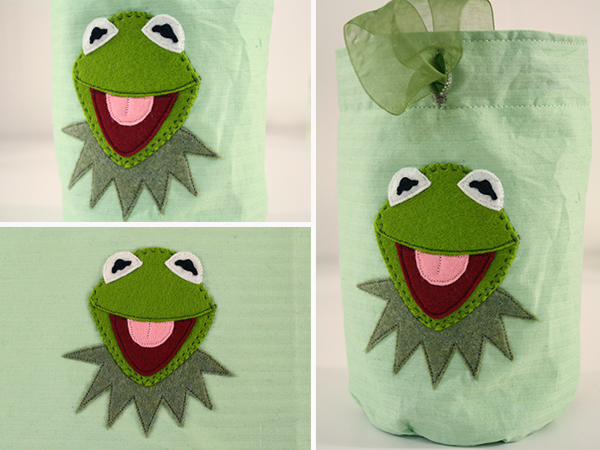 2) Piggy Link
Another friend wanted to commission one of my little felt pigs, but with some kind of special touch. He asked if I could maybe give it a Link hat and shield. My answer? Absolutely! And ohmygoshlookhowadorablehisshieldisbecauseit'ssotiny! It's a fact: the universe awards extra cuteness points to tiny things.
I also have a tutorial available for making your own wee piggies like this one. Here's part one of that tutorial, and here's part two.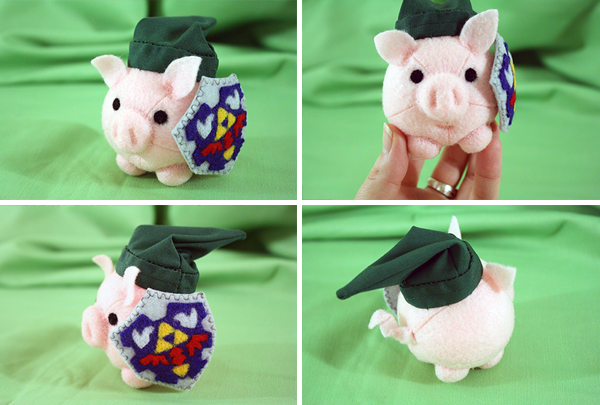 3) Piggy that looks like my dad
For his birthday, which arrives shortly after Christmas, I'd been wanting to make my dad something. But he's tough to make things for. My crafting mom makes him whatever garment items and most other things he might need or want, and much more skillfully than I could. My specialty, the thing I'm actually more practiced at than my mother, is making plushies. But what kind of plushie does a 50-something university prof need? Something dignified, obviously. Perhaps to adorn his desk.
So I settled on making one of my wee piggies, but decked out to resemble my dad. Which meant he needed a tiny flat cap: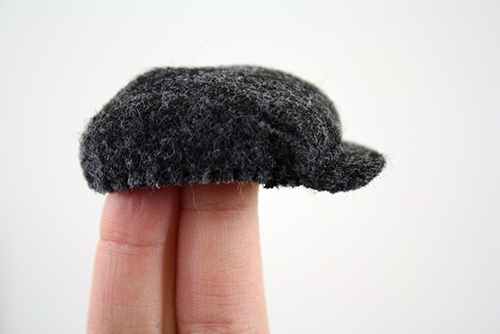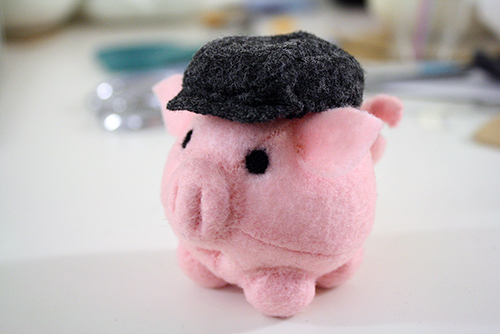 and glasses: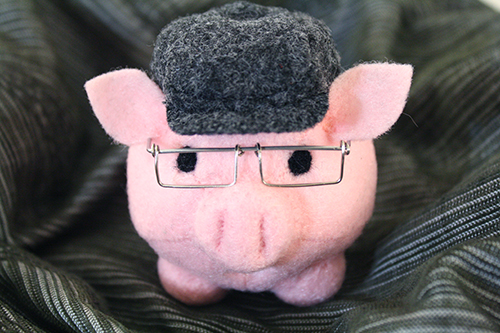 and a wee briefcase!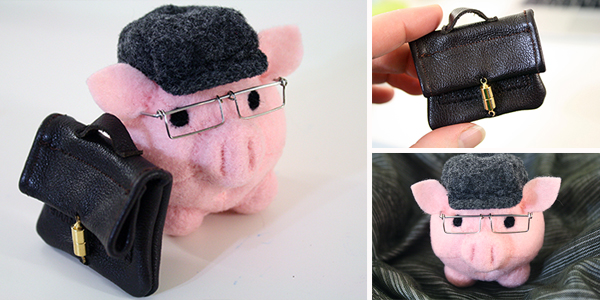 My father, after receiving (and very much liking) the pig, got my mom to help him come up with a way to mount him to the top of his computer monitor, so he is visible to my dad while he works as well as being on display for any visitors to his office.
4) Charmander plush
The friend for whom I did my very first plushie commission ever back in the day, asked if I could make a Charmander plush for his wife, with a lovely personal story about why such a plush would hold special meaning for both of them. I'm happy with how this one turned out all round, but among my favourite aspects of this project are the hands. Check out those little thumbs!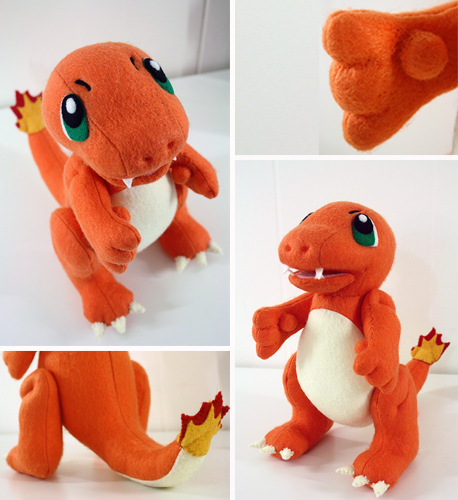 5) R2D2 plush
Following the attention received by my first R2D2 plush during Desert Bus 6, I received a commission for a second one. Given the rush in which I'd made the first R2D2, this presented me with the useful (if somewhat maddening) opportunity of going back through the mess of a pattern I'd originally created (and adjusted on the fly) and tidying it all up.
Which, it turned out, meant re-drawing nearly the entire pattern. But it needed to be done. And better to do it shortly after making the first one, when I actually remembered most of what my scribbled out and rewritten lines and notes meant, rather than 6 months later when it was all a forgotten mess.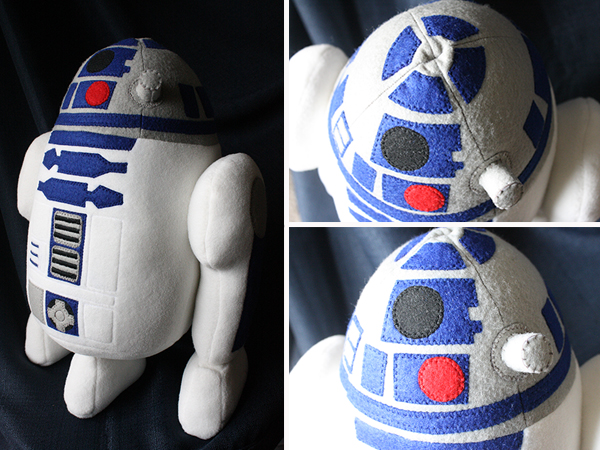 6) baby Drogon plush
And finally, also due to the one I made for Desert Bus 6, I created a second baby Drogon as another commission piece. It's always interesting seeing how each iteration of the same plushie pattern turns out slightly different. In this one, a minor skew of the neck stitches gave baby Drogon II a charming little head tilt, gazing off just a bit to one side.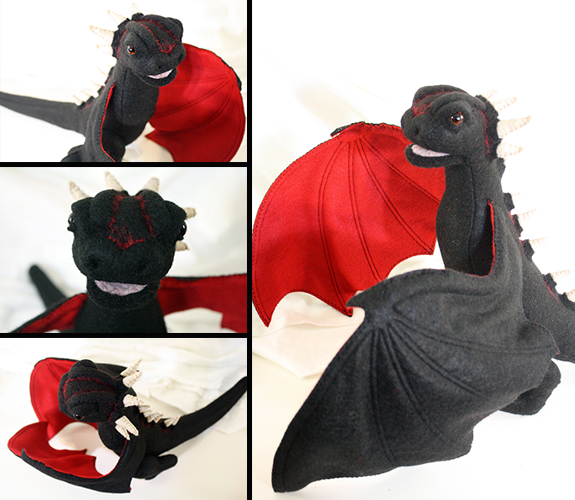 And those are my reveals for the past month's work! There will be more coming up as further commissions and gifts are completed and received.
So long for this week!