Alright guys, I have a different sort of valentine for you. It's perfect for those with a love for intellect, puns, gummy candies and the drooling, shambling, gently oozing undead.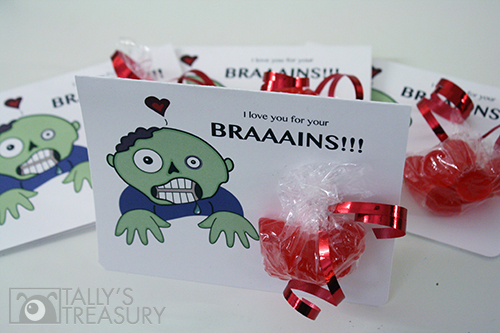 I'm woefully not at all pro-level-awesome at digital drawing, but I still think this image turned out pretty cute, so I'm posting it as a downloadable PDF for any of you who want to use it.
Below is a listing of 4 PDFs – I've made some variations to provide options. If you want to print a traditional folding card, print PDF a, which has 2 images per page so you can cut the page in half and fold each half over to form a card. If you want just a plain flat card (you can always write a personal message on the back), go with PDF b, which has 4 zombie images to a page.
I've also created PDFs of these same options – 2 images per page and 4 images per page – that say "I like you for your brains," just in case some of you have kids who want to use these at school or something. Go around telling all the other kids you "love" them, even on a silly mass printed Valentine's Day card, and you're just asking for unneeded hassling. I remember elementary school. Anyway, those are PDFs c (2 per page) and d (4 per page).
PDF a: zombie LOVE valentine – 2 per page
PDF b: zombie LOVE valentine – 4 per page
PDF c: zombie LIKE valentine – 2 per page
PDF d: zombie LIKE valentine – 4 per page
Continue on below for instructions (this really doesn't qualify as a "tutorial" given how exceedingly quick and simple it is) on attaching little bags of candies to the cards, if desired.
If zombies are not so much your thing, I recommend checking out this wonderful unicorn poo Valentine's Card, from the blog handmakemyday: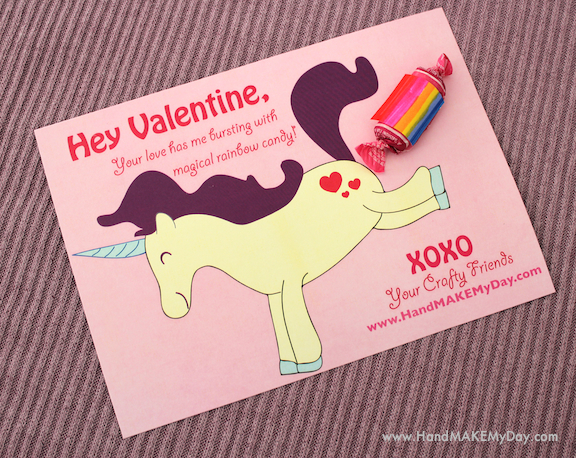 ———————————————–
What you'll need:
materials:
zombie valentine template – there are 4 options, listed above and also available as number 18. on the Patterns page, under "Paper patterns and templates"
ribbon
individually wrapped candies OR a large package of bulk candies and a roll of plastic wrap
tools:
paper cutter OR pencil, ruler and scissors
exacto knife
[optional] corner rounding tool
———————————————–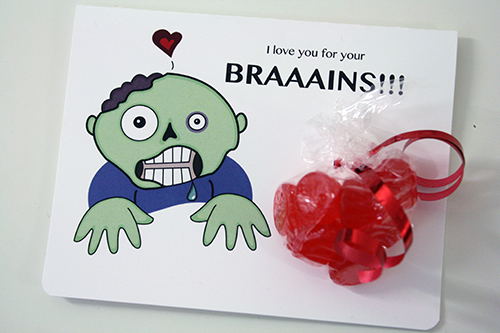 Putting it all together:
1) Get the PDF of your choice printed out on white cardstock, then slice them in half (or in 4, depending) and fold them in half if you're using the folding card option.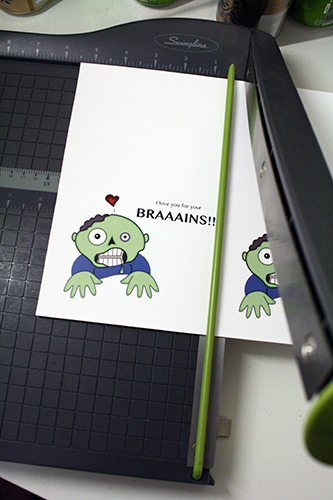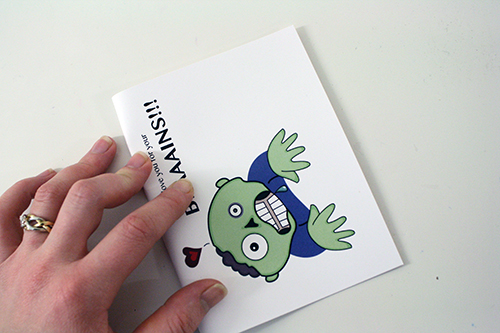 2) You can, of course, simply tape a chocolate or other wrapped candy onto the side of the card. I wanted some brain-like candies though, so I got a package of Swedish Berries, since one can pretend they look vaguely brain-like (red, gooey, have little bumps on top). They needed to be split into smaller numbers and wrapped up though, so for candies like that, just cut a square of plastic wrap, and place the berries on top of the square. Gather up the plastic wrap around the berries to form a little baggie: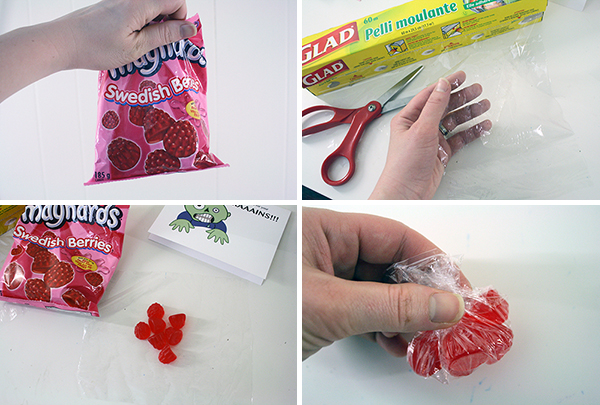 3) Going back to the card itself, use an xacto knife (with something underneath to protect your table top!) to cut two small slices in the card.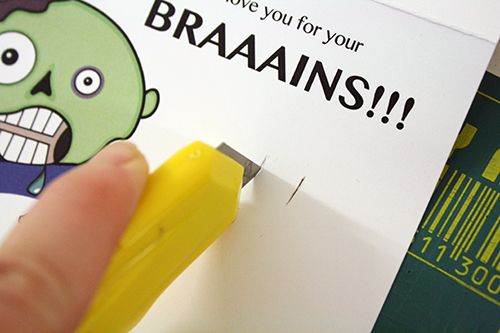 4) Cut a small piece of ribbon and insert its ends through the cuts, so the ribbon ends poke out the front of the card. Then tie them around the candies you wish to attach. Use your scissors to curl the ribbon ends.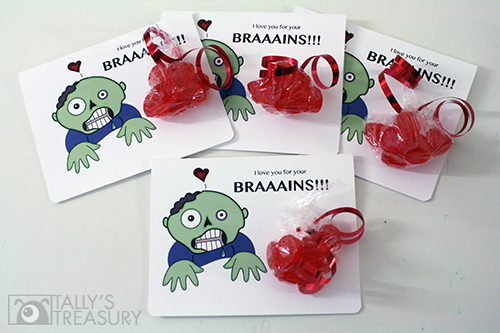 [optional] Use a corner rounding tool to trim the corners of each card. I'm a little obsessed with this practice lately, having acquired a corner rounding tool a while back. I like the softer, finished look it gives cards. But that is entirely a matter of personal taste.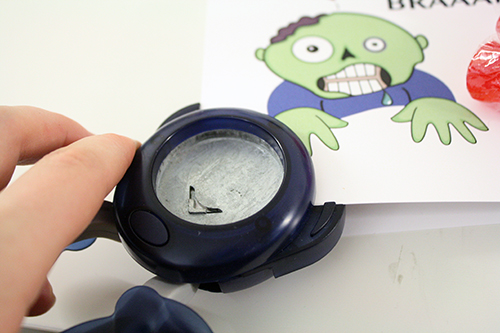 Then, come Valentine's Day, show the special people in your life how much you care!