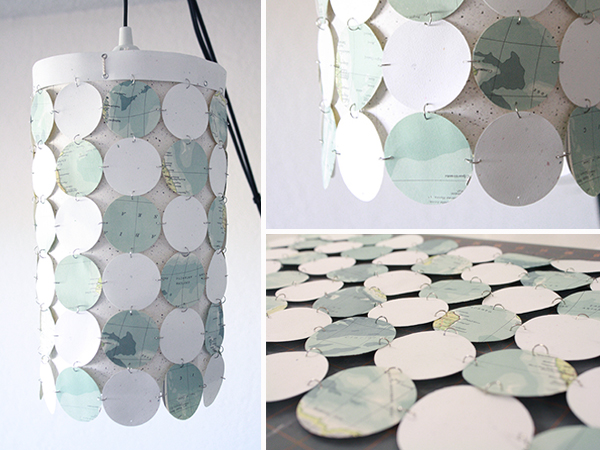 I have a special bonus post for you today – a picture post detailing the process of making a lampshade out of a bunch of paper circles!
The reason: For almost two years now, our living room lamp has been hanging bare, like a warehouse light, in desperate need of a lampshade. I've been meaning for ages to make it one. I also wanted to get this done before the end of April, to participate in this paper upcycling challenge over on jakeandmaya.com. So this is juuust in time!
The limitations & requirements: The lamp in question is a bit of an odd one, and needs a very lightweight lampshade or the lamp's arm (which is built not unlike a fishing rod) will be pulled halfway to the floor. So normal lampshades with heavy metal frames are out. It also requires a lampshade that opens at the top, to clip around the lamp's cord above the bulb. This lamp is not built in such a way that you can just unscrew the bulb, put the lampshade on and then screw the bulb back in to keep the shade in place. Not at all. Hence a homemade lampshade, made almost entirely of paper.
The materials: The circles are cut from some white-with-naturey-specks scrapbooking paper from my stash, and pages of an old (and gorgeous) atlas. I gave the papers a coat of PVA (polyvinyl acetate) on both sides first, to make it a little more durable and less prone to yellowing over time. There's a wire circle wrapped in electrician's tape and inserted inside the top of the shade to help it hold a nice round shape. A cone of paper hangs inside the shade, behind the mesh of paper circles. Metal jump rings hold the circles together and to the top rim of the shade, and metal eyelets are inserted around the top of the shade to secure the inner and outer circles of the shade together and provide a hanging mechanism for the center piece of the shade, that attaches the whole thing to the lamp itself. That center piece is made of paper, with metal eyelets along its length, and velcro on either end of the paper as a closing mechanism. Yarn and wooden beads attach this paper circle to the outer cone of the lampshade.
Construction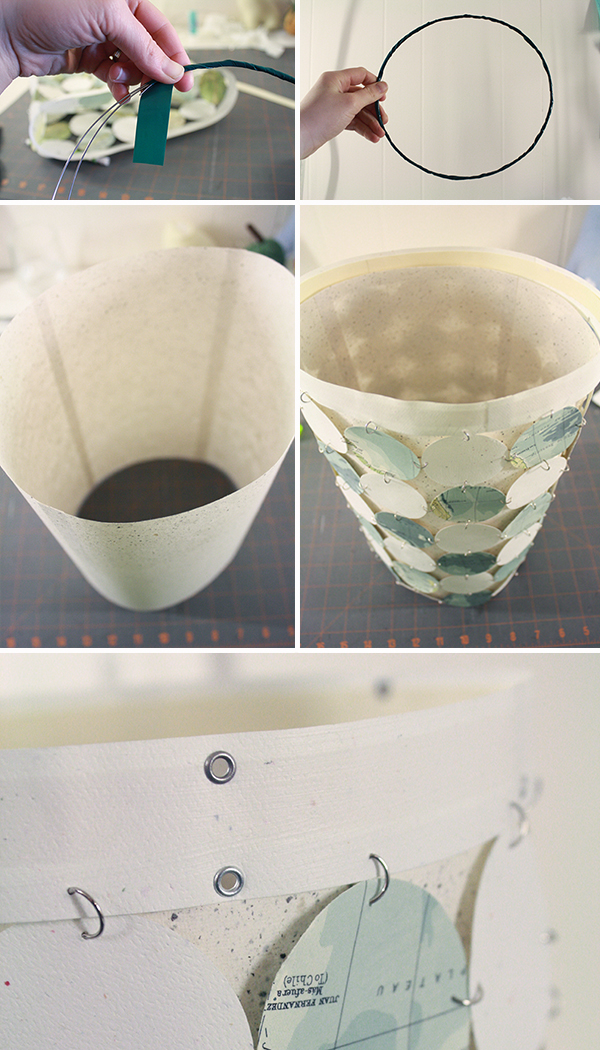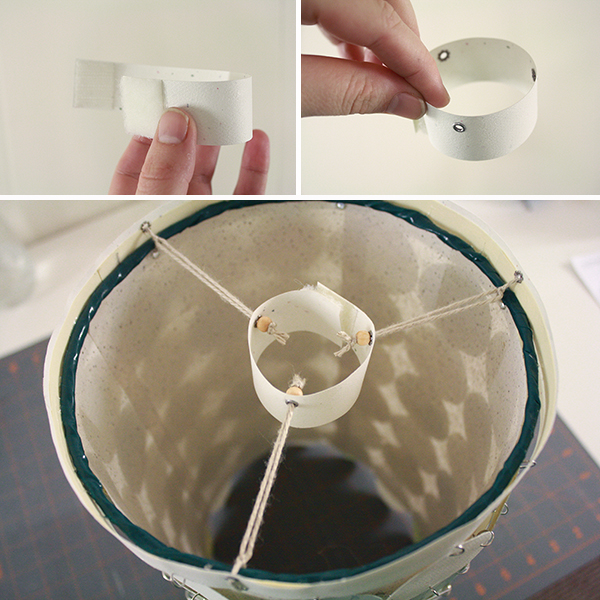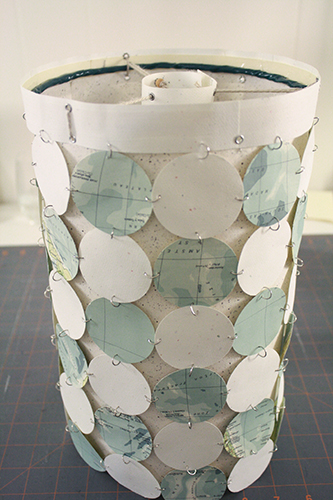 Results
In the end, my fiancé and I think the lampshade is perhaps a bit too busy for the space it's in, and I'll likely look at making another paper shade that is more visually plain. For now though, this will serve its purpose, and it looks pretty ok hanging in our living room. I'm generally pleased with the end result.