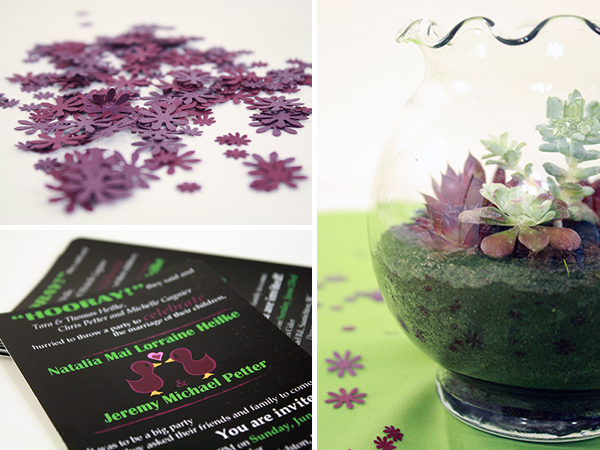 Remember how my boyfriend and I got engaged in December? And we were like, ok, we're getting married in six months, let's plan this wedding! Time went by, and in my head was this eternal concept that we were getting married in six months. Even though two months had passed since we got engaged. Finally, I remembered to apply basic arithmetic, and realized that six months minus two months equals four months, and four is rather less than six. And the sum of that whole equation is "Holy shit, we really need to get planning!" I know, I'm brilliant.
So there's been more planning going on, from cake-finding to flower-planning to ceremony-writing, and of course some crafting. Today, I'll show you a little of the wedding DIY I've been up to.
Frankly, my mom has been doing the lioness' share of the work, as she's the one making the dress, the custom lace for the dress, the veil, the custom lace for the veil, the obis, the neckties and of course her own outfit. I promise to do a post about some of the wedding attire later on.
For my own part, I've selected just a few wedding crafts, and am keeping the list small. Invitations, centrepieces, favour boxes and the guestbook are the main items, along with some other little bits like writing a ceremony program. We also have a friend of ours working on an awesome secret art project for the wedding.
Ok, time to pause for a picture! Too much wording, need more picturing. Here's one: the invitations.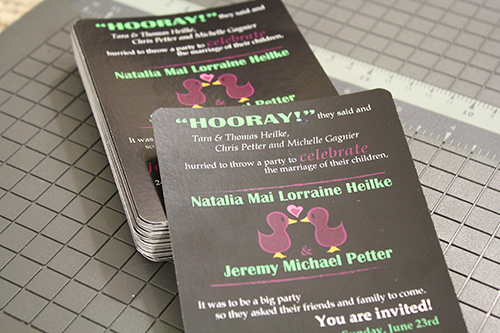 There was some kerfuffle over the invitations. At first I was (obviously) planning on handmaking them in a scrapbook-y kind of style. But I basically hated everything I came up with in my self-set parameters of must-be-quick-and-easy-to-do. It was all boring and just like everyone else and blah. Jeremy will try to tell you that I put way too much thought into this, and cared way too much about crap like "What do these invitations say about us, how do they reflect our personalities?" He's right. It was pretty ridiculous. Did that line in quotation marks make you gag too? Yeah.
In the end, based on some Google searches & inspiration from a talented fellow on Twitter who had designed his own wedding invites, Jeremy and I scrapped all the scrapbooking and worked together to create a one-piece text-based design in Illustrator with a storytelling feel.
Plain, simple, maybe not the most fascinating invitations in the world but they were quick and easy, they got the point across and they were ours.
I printed them out four to a sheet, cut them, rounded the corners, and voila: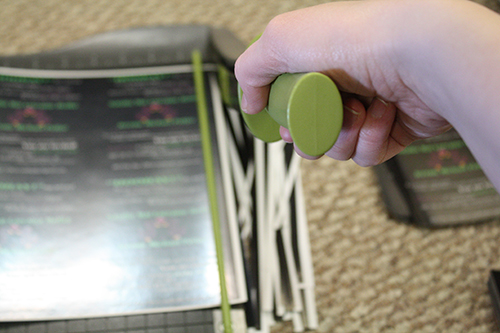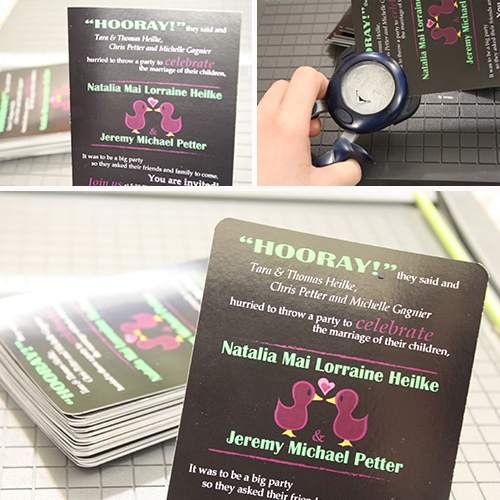 We were a little worried about what some of the older generation receiving these would make of them. Then my grandmother gave us her reaction – she loved them. "Well I've seen the same traditional invitations for 75 years," she said when I told her about our fears. "Why wouldn't I enjoy seeing something different?"
My grandma is awesome.
We also printed the little ducks image onto sticker paper, and used those on the back of the envelopes. Because when life gives you a reason to make custom stickers, you damn well do it.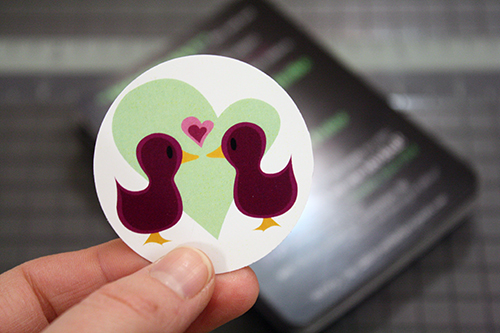 And that was the invitations. If you're not bored yet, join me for the tale of the centrepieces!
Again for the centrepieces we want to keep it simple and easy, plus low budget. We also didn't want anything physically large. It would be a pain to transport, plus then people can't see each other across the table. No good.
So here's what we decided on: succulents in glass jars (little terrariums, really), with some cloth underneath them to add a little colour splash to the otherwise white tables.
First stop: Value Village. There, I acquired a grass green twin bedsheet, which I brought home and cut up into squares. Hemmed the squares and voila…
…hemmed green squares! Bam! Bet you didn't see that coming, huh?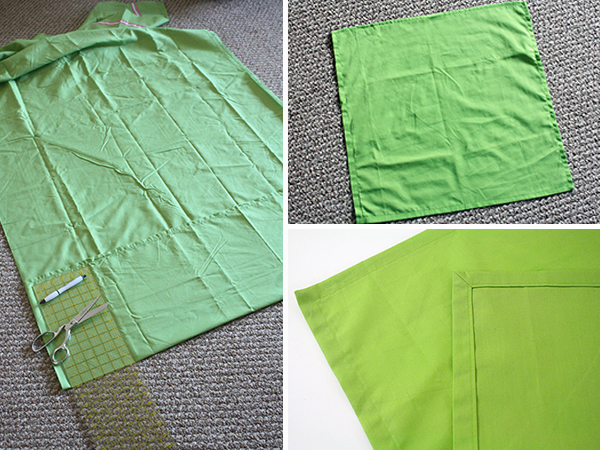 Also at Value Village, I picked up 15 matching rose bowls to use for our centrepieces. I love a good thrift store.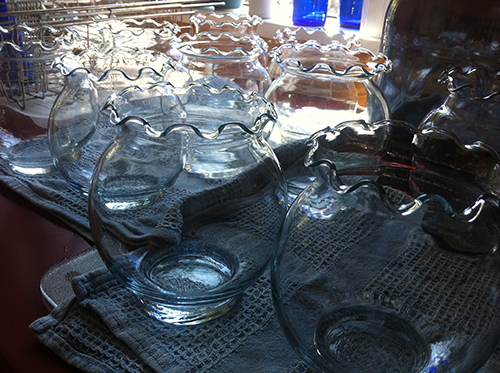 Then, on Easter weekend, I went over to my soon-to-be-in-laws' place and dug up their garden. Well, I persuaded them to dig up their garden for me. Jeremy's mom and step-dad have a gorgeous garden (actually, so do his dad and step-mom. And his grandparents. And my grandparents. And my other grandparents. You'd think we would have inherited the ability to keep our basil alive, is what I'm saying.), and they let me pull some succulents out of it for terrarium-making.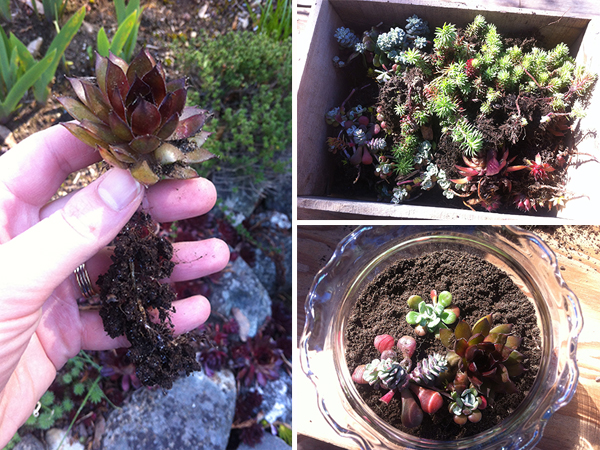 As well as the usual green ones, a bunch of their succulents had a magenta-y, plum-ish colour. Perfect, since our wedding colours are plum and green. Jeremy's step-dad showed me how to do the transplanting, and we put a selection of succulents in each jar, gave them some water, and are leaving them to hopefully grow and flourish in the two and a half months (eep!) before the wedding. I brought one home to photograph and keep a personal for-blogging-purposes eye one, but the rest are safely at my future in-laws', in much more capable gardening hands.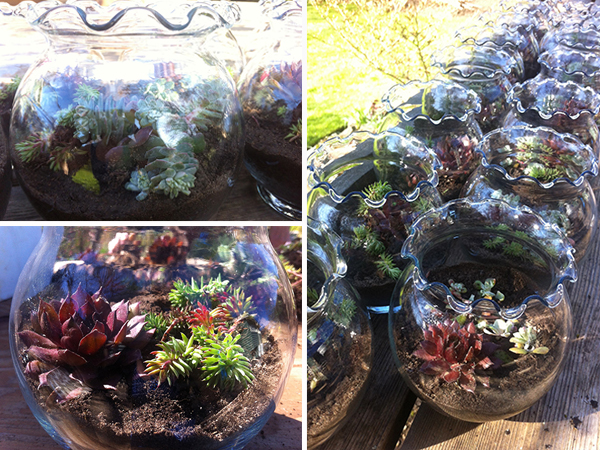 So, with the green squares and the terrariums and, oh yes, the homemade confetti! Now that wedding project I'm doing because I'm an idiot. Only someone not entirely in their right mind makes their own confetti. It's a time-consuming & dull chore, but I'm doing it because where do you find store bought confetti in plum?! And because into every wedding, a little lunacy must fall.
Anyway, here's how that will all go together: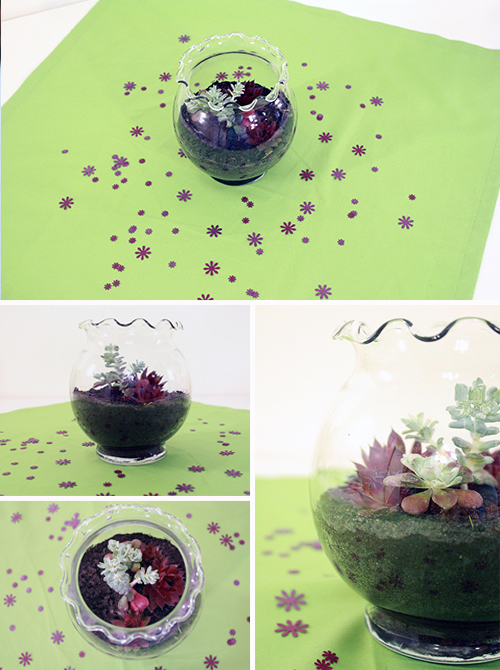 And that's some of my wedding DIY! Hope you enjoyed it. I'll wrap up with a final thought. In the world of weddings (among other things), people get a little crazy. They (myself included) get to caring too much about insignificant details. I know that in the end, this might not all look as I've envisioned it in my head. And that will have to be ok. When it comes right down to it, you don't need any of this stuff to get married, but it's fun to have. If it's not fun to have it, don't.
And if people at your wedding are judging you based on what your centrepieces look like, or how large your bouquets are, well then you've invited the wrong people to your wedding.