Happy Thursday, everyone! This week's regular blog post (which will be a tutorial for some super cute cards) is a little delayed, because I spent all my spare time this past week working on something else… a Patreon page!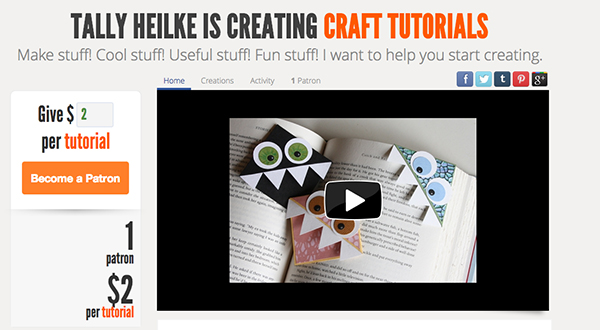 As you can imagine, these tutorials take a lot of time and work to put together, and time can be awfully hard to come by. Individual commissions, Kickstarter plushie sets, weekly blog posts and tutorial creation together constitute a full time job, and I already have a 30-hours-a-week day job.
Setting up a Patreon page is one piece of my effort to move away from doing my crafting just on the side, and start focusing on it as my daily, during-work-hours concern. The money you donate via Patreon will help me afford (quite literally, haha) the time to keep making tutorials while I also find, negotiate and work on other creative projects. It will help me purchase the necessary craft supplies, and perhaps invest in some new tools and materials to delve into even more types of crafting.
So please go check it out, give my video a watch (think of it as a bonus blog post for this week, because it certainly took more than enough time to be one!) and consider becoming a Patron and supporting the continuation of my crafting tutorials!