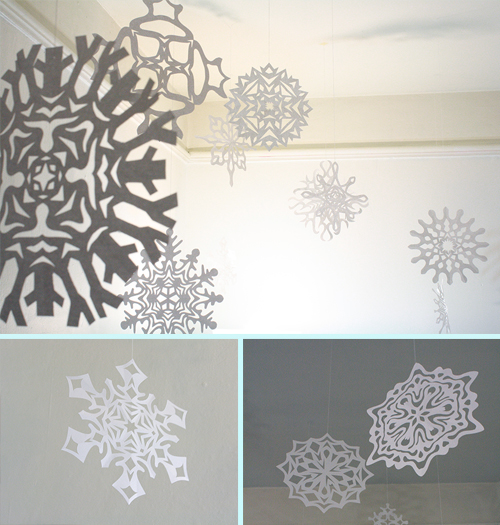 Christmas is my very very favourite holiday, and one of my very very favourite things about this holiday is decorating. The lights and decorations (within tasteful reason) are a large part of what creates the magic of the season for me.
Last year, @thatlaurachick asked me if I had any advice for hanging paper snowflakes, because that's how she wanted to decorate her home. I didn't, because I'd never really tried it before, only stuck them on windows. It had been years since I'd even made paper snowflakes. But you know me, always up to try a new thing. I was nannying at the time, so I spent several days at work making paper snowflake after paper snowflake, teaching the 2 1/2 year old the basics of the craft so she could make her own little toddler versions alongside me. (She did remarkably well at it, actually, and a few months later when she went off to pre-school and I got a new job, I heard that her teacher couldn't believe how good she was at handling scissors and admired her fine motor control. Heck yeah! Lasting influence! I kept telling her parents that stuff was useful! And boy did cutting apart bits of paper keep her occupied for long stretches of time…)
Anyway, I put a blizzard of snowflakes up in our apartment, which looked gorgeous. This year we're in a different apartment, one with high ceilings and crown moulding and lots of character (meaning it's pretty + a bit rundown + our heating bill is outrageous + there's an actual backyard with an apple tree… pros and cons), so I bought a stepladder and lengthened the threads on last year's snowflakes (to deal with those higher ceilings) and hung them back up, plus some new ones I've made this year. And voila, we have a winter wonderland indoors again. Which, for those of you living in places with actual proper winter, is lovely because we totally don't have that outside.
It's some of the cheapest, simplest and – I think – most gorgeous Christmas decorating you can do. There are two "tricks" to decorating with paper snowflakes. First, how to cut them out and make them actually look pretty and lacey and nice (my first few last year were pretty awful, really and truly). And second, how to get them really nice and flat so they'll hang flat and not all folded like they get from their creation process. Keep reading, and I'll tell you how to accomplish both these things.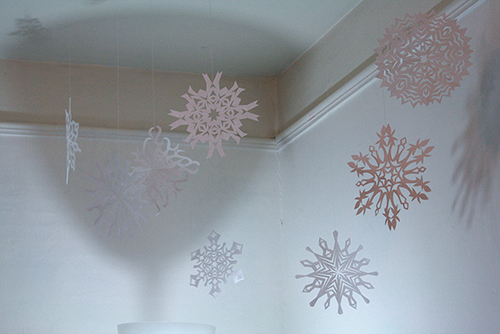 What you'll need
materials:
white printer paper
white thread
scotch tape
4 and 8-sectioned are also easier to fold evenly and accurately. But 6-pointeds really aren't that bad once you know the trick and get the hang of it.
Honesty, the 6-sectioned variety tends to be my favourite, but I still like doing some of each. Results in more snowflake variety. I say just try them all out and decide for yourself what you think works best.
Here's an example of 3 snowflakes I cut, each with a different number of folds, but using as much the same pattern of cuts as possible from one to the next:
You can see how the results vary, and all of them are nice, just different.
And then you're also ready to start cutting for the 6-sectioned snowflake.
Again, I really found it's best to experiment. If you want, you can lightly draw pencil lines onto your paper wedge where you want to make your cuts, if you're not totally comfortable just winging it.
Below are several images of snowflakes I made, showing how the cuts looked when they were folded up, and what that translated into when the snowflake was unfolded. Perhaps they will give you some ideas and inspiration.
See? Nice and flat!
Why ironing and not something else? Well, setting them under a stack of heavy books is a) less effective and b) takes a lot longer (and just to be less effective anyway). Spraying them with some kind of starch or a white spraypaint or anything else I've come up with that would actually add a stiffening element also makes the snowflakes heavier, which means they pull on themselves as they hang and then they don't hang flat anyway, starch or no.
So what I've found works best is just to iron them. Some of the snowflakes may curve inward a bit again as they hang, but most of them only do so noticeably after a couple weeks, and many of the never do at all. You can always take them down and iron them again (or just iron them again before re-hanging them next year). And oh yeah, keep them for next year. Store them flat between a couple pieces of cardboard, with all their strings hanging out one side and taped neatly to the top layer of cardboard. Easy peasy.