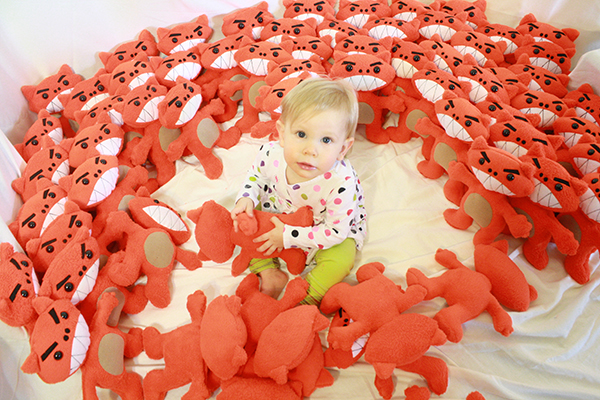 Back in the spring of 2013, I agreed to make a large number (large by the standards of things that are handmade, anyway) of plush kobolds for 9th Level Games, who were Kickstarting a deluxe edition printing of their popular game Kobolds Ate My Baby.
In December, the kobolds were finally shipped out, to terrorize homes around the world. Here's a look at what happened between April and December, at just how those 65 small fuzzy kobolds came into the world.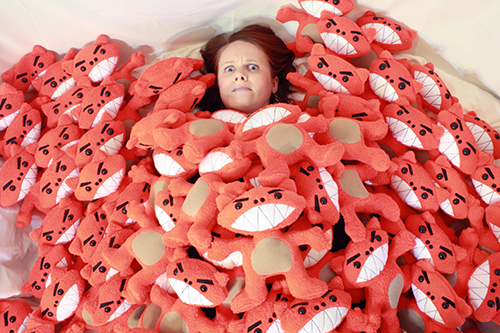 Patterns & Prototypes 
The first order of business, before any of this plushie news was even announced, was to create a prototype and have the 9th Level folks sign off on it. The first prototypes were of basic orange fleece.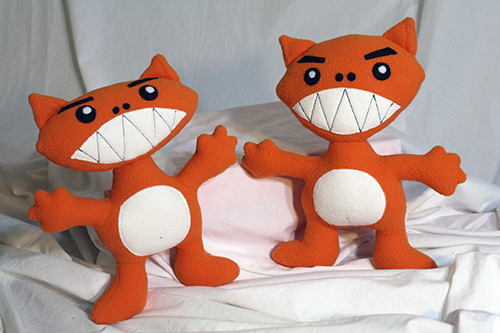 There was pattern drafting of course, and discussion of colour and fabric choices and more. I sent a number of emails containing carefully labeled photos of different coloured fleeces.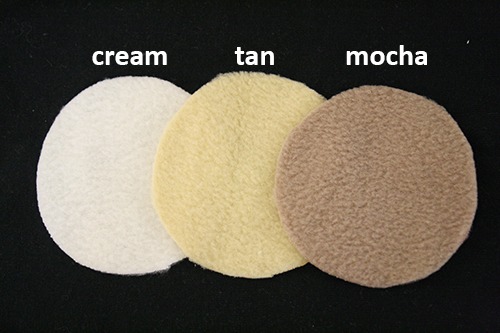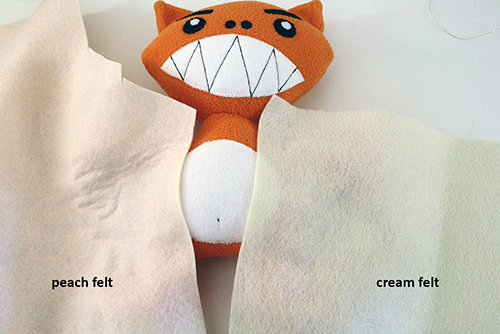 We were all set to go with something like the above plushies, adjusting to have a head size somewhere between the two seen there, and changing the tummy colour to mocha. Then one of the guys asked if I could make one plush in fuzzy fabric, just to see what it would look like. They all liked the result so much that this became the new and approved prototype.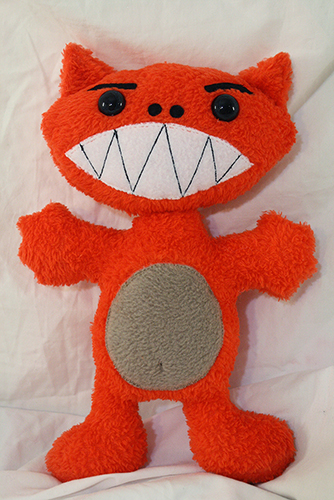 This was to create some distinct manufacturing advantages… and disadvantages.
Construction Begins: Orange Fuzz EVERYWHERE
 First there was the matter of getting more of the fuzzy orange material, which my fabric store referred to as "coral fleece" but everywhere I looked online, that phrase appeared to mean something different or nothing at all. Nor did anyone have it in the colour I needed. At last the fabric store ascertained that another of its stores in another city had just the amount of yardage I needed. (Are we supposed to call that "meteridge" in Canada? Cuz that'd be weird.) They shipped it in and the cutting began.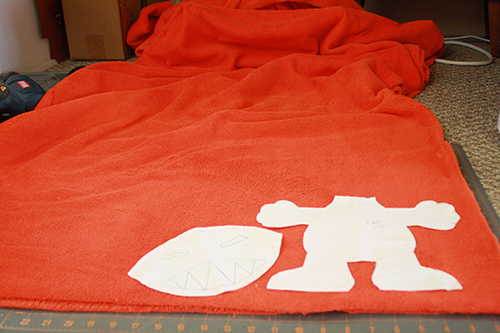 The Pros and Cons of "coral fleece" (or whatever you call this fuzzy soft stuff)
PROs
It's very very soft. Like wrap-it-around-a-newborn soft.
Its fuzziness hides imperfections, such as not perfectly straight stitching, etc. (Useful when you're hurriedly making 65 of something – every single stitch is not going to be flawless.)
CONs
Its fuzziness makes it difficult to see just where the edges are and just what in hell you are doing. Do those two edges match up correctly? Can't tell, can't see them!
It. Gets. EVERYWHERE.
Overall the pros and cons pretty well balanced each other out, but for the next few months I was picking bits of orange fuzz off of everything. If you ordered something else from me in that time and it came with a bit of extra orange fuzz attached, that's why. I'm just thankful that I did not find any orange fuzz clinging to my white silk wedding dress. Because yes, I was also using that room to prep favours and decorations and clothing for our June wedding.
There was a lot of cutting. SO much cutting. These piles are maybe a fifth of it.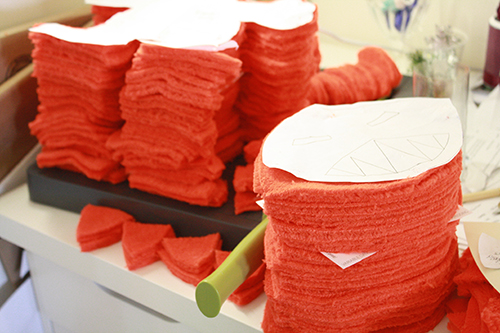 Mouths, tummies, nostrils, eyebrows, and two stray ears: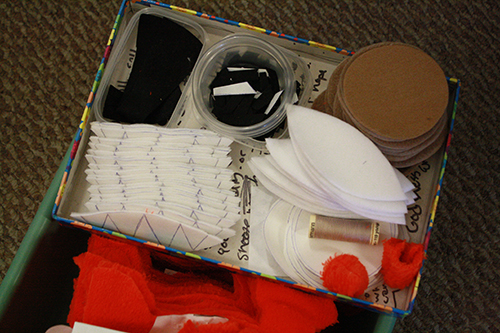 Adventures in Material Procurement
Kobold-making was very much a learning experience. I learned about what kind of discipline was necessary to make that many of one thing within a certain timeline (I didn't meet that timeline, but I did figure out where I went wrong with getting things done more quickly). I learned that even a simple pointed-oval shape can easily go wonky if not cut and sewn very precisely. And I learned that you can't just go out and buy fleece in whatever colour you like in the middle of May.
That last one really threw me off guard, though it seems obvious in retrospect. I'd only bought enough mocha fleece for a few tummies – I got sample cuts of that and two other fleeces for the prototypes, and when the guys at 9th Level chose the mocha fleece I did not immediately run back to the fabric store for more of it. This was a mistake.
When I did go back, they didn't have any. And the whole point of the tummy sampling exercise was to pick a very precise colour.
I looked all over the place and in the end I found a remnant of material very close to the same colour at Britex Fabrics in San Francisco, while on my honeymoon. It wasn't as fuzzy as the fleece, but it was close enough. 9th Level gave me the green light and I got back to cutting out kobold tummies.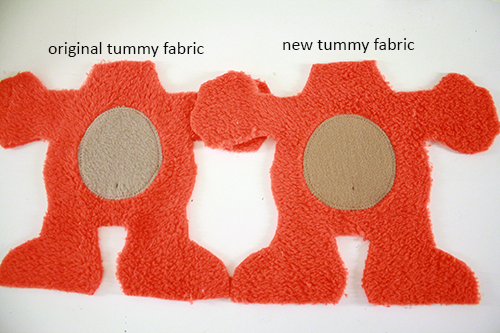 And then there was this little adventure.
I'd  ordered plastic safety eyes for the kobolds. I had enough for 15 dolls already on hand, but needed more for the other 50. I ordered them in late April from a site I'd successfully ordered from before, and by mid May they hadn't arrived. Well, Canada Post is slow sometimes. Then in late May they still weren't there.
In the end, I never did get the eyes and we have no idea where they ended up. Canada Post says they delivered them and I can tell you without a shadow of a doubt that they. Did. Not. The supplier was incredibly sympathetic and helpful in trying to track them down. I'd simply have ordered more, but I'd bought out her entire stock of eyes at that size.
We waited a while for her own order of new eyes to come in, but after more than a month they had not shown up, and I was getting antsy. So I asked if I could order eyes one size down (which turned out to be a better size for the kobolds anyway, when all was said and done). In the end, Canada Post having proved entirely useless (they basically said *shrug* – which is what tracking and insurance get you with them, apparently), the supplier simply sent me replacement eyes for no charge at all. 
So I'd just like to give a quick shout out to Wendy at Magoo's Craft Emporium, who is a wonderful lady and from whom I will order all the doll eyes I can in the future. (The type she stocks are also waaaay easier to install than others I've attempted to use.)
Original eyes on the left, smaller new eyes on the right: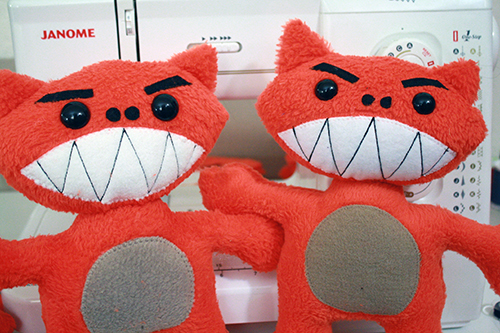 So that delayed things a good couple of months. The 9th Level folks were very patient and understanding, and I finally got my eyes and got back to construction, continuing to be
Drowned in Orange Fuzz
Seriously, it's like mold or pet hair or small children. You find it all OVER the place, everywhere it's not supposed to be.
But I fought through it (as did my sewing machine), and the bodies started to stack up.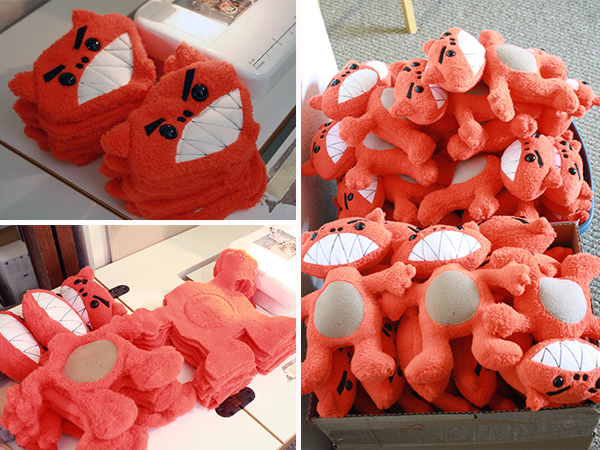 Kobold heads on a stick!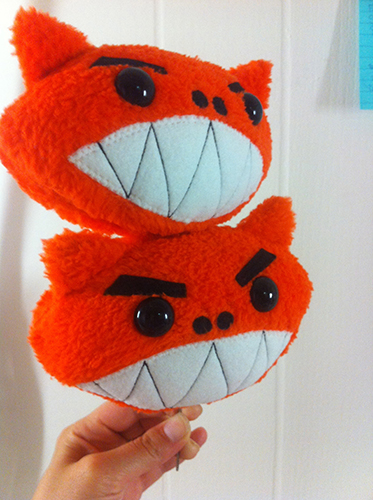 Fun fact: the first coral fleece kobold prototype was also the first to have plastic eyes, but I didn't have any on hand the right size and colour. So I took two blue cat's eyes, scraped the blue off of them with a knife and coloured over them with black permanent marker. This gave me a prototype that would demonstrate the right general look.
If you look closely, you can see the cat's eye shape and faint traces of blue in this photo: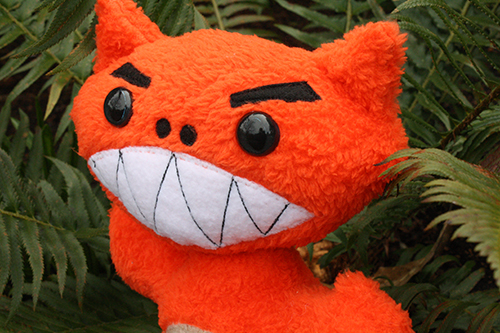 Another fun fact: plush kobolds look terrifying inside out.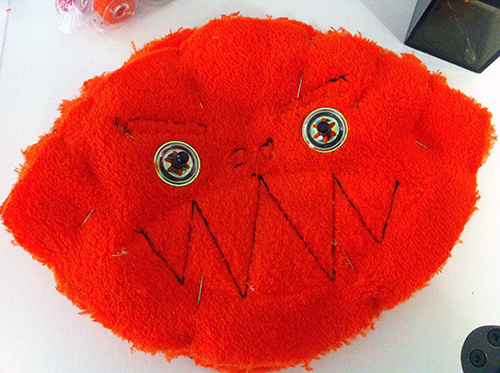 I paused in construction every so often to tease kobold pictures: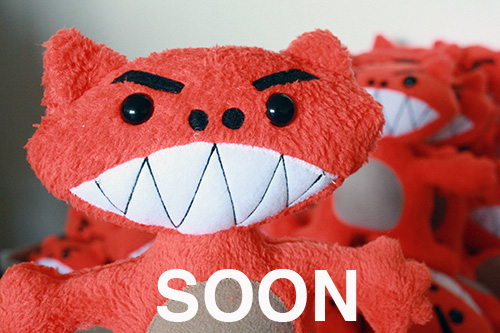 Oh, and here's what all that fuzz did to my sewing machine, and this is after I'd cleaned it out halfway through the kobolds.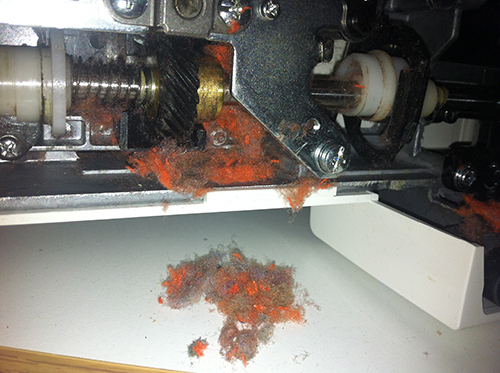 Kobolds and a Baby
And then they were done! Finally! The 9th Level folks sent me the certificates that would be shipped along with each plushie… which Canada Post was slow to deliver, so they happened to arrive just a couple weeks before Desert Bus for Hope. Which is why none of the kobolds shipped until the start of December. Thank goodness for patient and compassionate Kickstarter backers!
Before that, though, I had an inspired idea for a photoshoot with all the kobolds. I just needed to borrow a baby…
I asked Twitter for help, and local couple Paxton and Carolyn were very obliging and brought baby Sadie by for some pictures. For her part, Sadie seemed ecstatic to discover a huge pile of soft toys that she was, in fact, very much encouraged to play with. (She was less pleased about leaving them all behind when the time came, but who can really blame her?)
Sadie grabbed a kobold, gave it a good investigative shake, then moved on to the next one. The kobolds seemed thoroughly intimidated and never really stood a chance, despite superior numbers.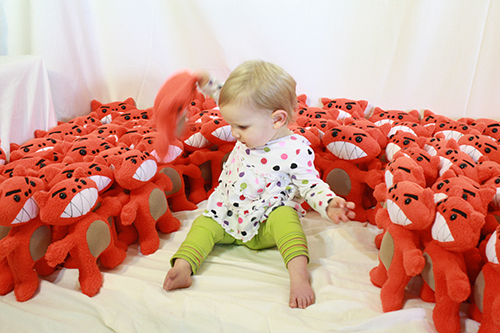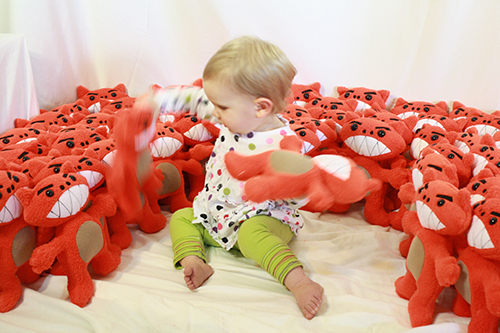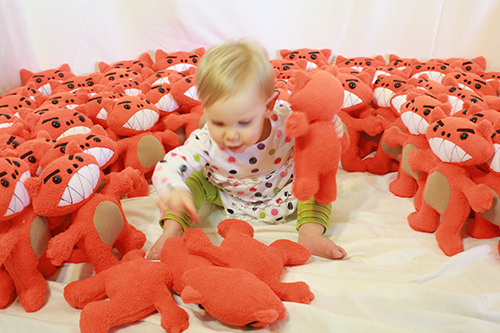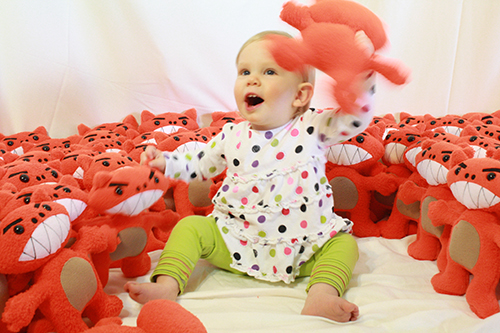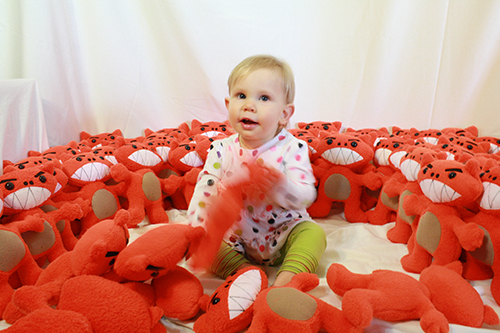 "Really, I'm supposed to be afraid of them? Of this guy?"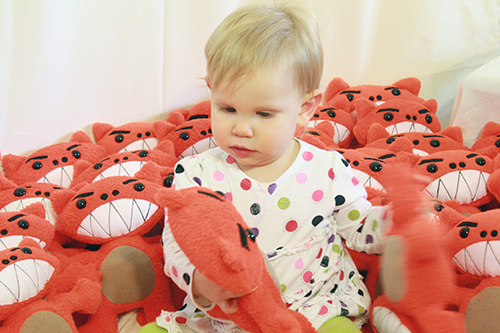 "But he's so cuddly wuddly!"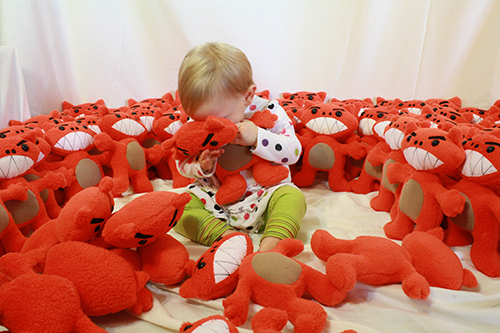 "And also quite delicious. Mm, what yummy foot flavour!"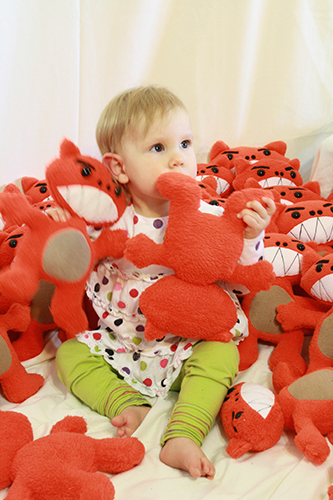 The kobolds were left stunned and somewhat dispersed.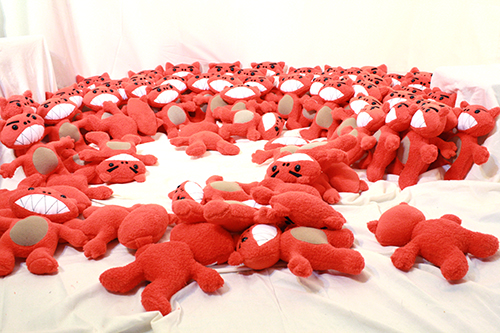 I made sure to get a couple photos of my own with all my creations as well. This is my "holy shit, I actually finished them all!" face: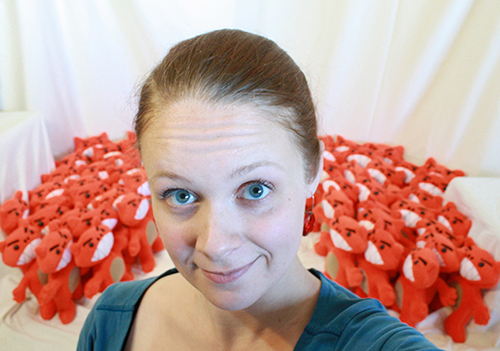 And then I shipped them all the heck out of here, to leave orange fuzz on other people's belongings!