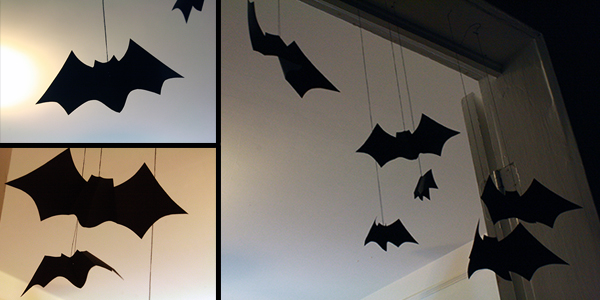 For the first time in over eight years, I'm living in an actual house that has an entrance onto the street, and windows that are easily visible from the street. This means that we might actually get trick-or-treaters this Halloween! It means that if I put decorations in our windows, people might actually see them!
And as usual, what with Desert Bus as the cherry on top of all the other events and activities I collect to keep my busy the way a deranged magpie collects shiny things, I don't really have much time to spare for Halloween prep or decorating. Fortunately, there are several costumes already in my closet (I think I'll wear the tiger dress this year), and I've found a great way to make decorative paper bats that is easy and quick quick quick!
These cutely spooky bats are nothing but paper cutouts, with three little folds to give them some shape and dimension and help them cast delightfully creepy shadows. I've created a template with bats in 5 different sizes, so you can make a nicely varied swarm. Check out the tutorial to see how these simple decorations are made!
———————————————–
 Before I get into the tutorial, I have two other announcements to make. First of all, this month I have a Patreon plushie ready in advance: check it out! I've made an adorable bat plush that is also a puppet! Your hands go into his wings to make him fly. Soooo cool!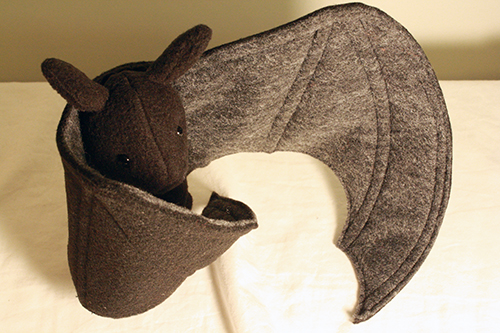 You can get yourself a chance to win this bat by signing up for my Patreon and becoming a financial supporter of this blog. Patrons who donate $15 or more per month are entered into a draw to win a monthly plushie, which this month is the bat!
And that leads me to my second announcement…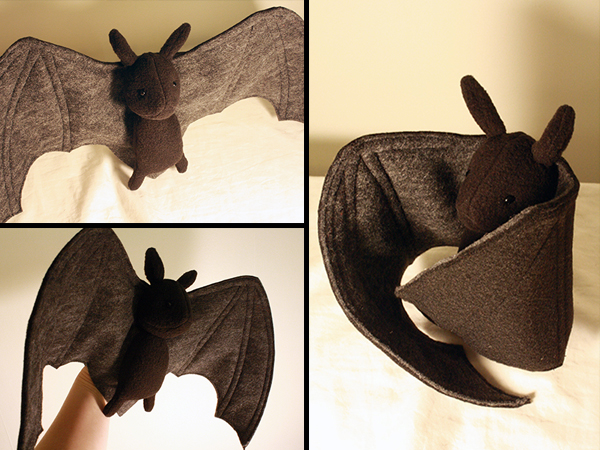 … this is one of your last chances to be entered into one of these monthly plushie drawings, as I have made the decision to stop my regular blog tutorials and close down my Patreon in January.
I'm very grateful for all the support I have received and continue to receive, both from my Patrons, my commission and Etsy store customers and just everyone who offers encouragement and feedback for my creative work. I'm not going to quit crafting, or even writing tutorials and blog posts, but I'm going to stop promising regular updates. I'll write a longer post dedicated to this later on, and there I'll go more deeply into my reasons for this decision and my future plans.
For now, I'll say that it basically boils down to this: I am spreading myself too thin doing too many things, and as you've likely noticed, I've been dropping some of the plates I'm trying to juggle. Blog updates have been irregular already for the past few months. There are some other projects I'd really like to do, but I can't find time for (spoiler: one of these is a book, which will hopefully lead to a Kickstarter sometime next year). I've been doing this blog for several years now and it's been great. But it's time for me to move along to new and different things, and keep stretching my creative abilities in new directions.
TLDR: Changes are coming! New and exciting things await! And due to those changes, this is your third-to-last chance to sign up for my monthly Patreon plushie drawing, which this month is a really darling bat puppet. ;)
And now, let's make some bat swarms!

———————————————–
What you'll need
materials:
black card stock
thread or embroidery floss (black will match the bats, but white will show less)
tools:
pencil (it very specifically must be a pencil, not a pen)
scissors
sewing needle
scotch tape
paper bats template – number 23. under Paper patterns and templates
———————————————–
Putting it all together
1) Print out the bat template and cut out the sizes you want to use. (You can download the template from the Patterns page of this blog, number 23. under Paper patterns and templates.)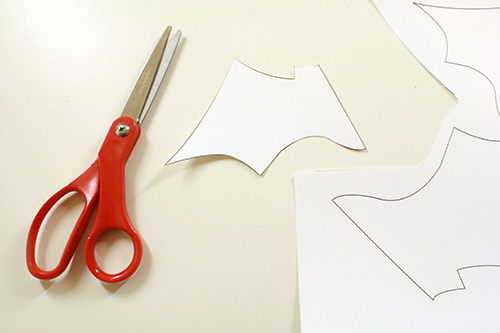 2) Take a piece of black cardstock and fold it in half, in whatever direction works best to fit the template on top of it. Line of the straight edge of the template with the folded edge of the paper, and trace it with a pencil. This is the reason you want a graphite pencil: it will show up on black paper well enough for you to see and cut out. A chalk pencil would also work if you have one, though you'll have to cut more carefully to keep the lines from showing on the finished product.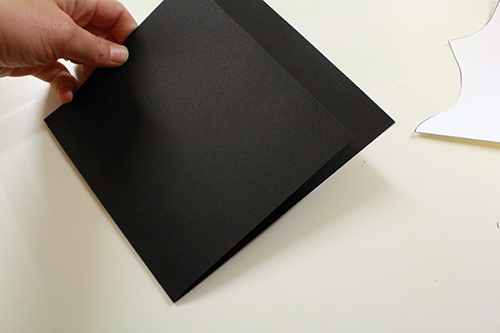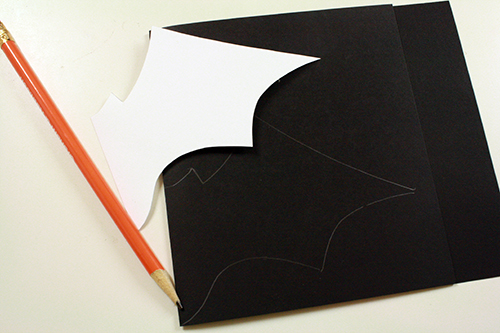 3) Cut out the shape, keeping the paper folded in half while you do.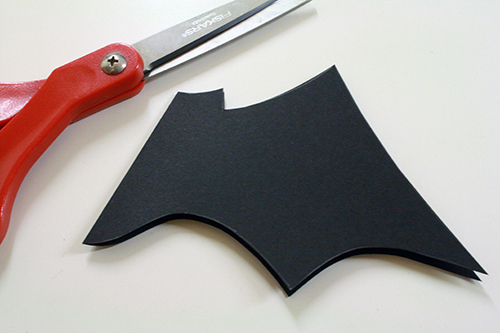 Once the shape is cut out, you can erase any still-visible pencil lines if you wish. Or just leave them – they won't show much once the bats are hung up.
4) Continue to leave the bat folded in half. Take one of the wings and fold it over, towards the paper's middle fold. Make the top of this wing fold line up with where the body meets the wing, and fold so that the top line of the wing leaves just the top bit of the body/ears section visible all the way across. Or, y'know, just do it like the pictures show – that's probably a little clearer.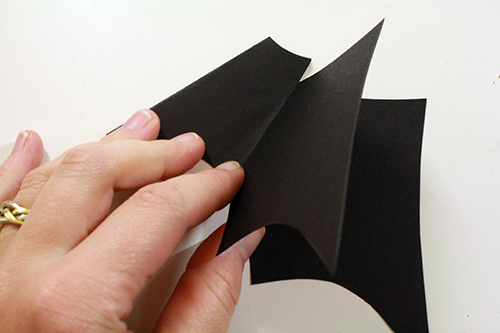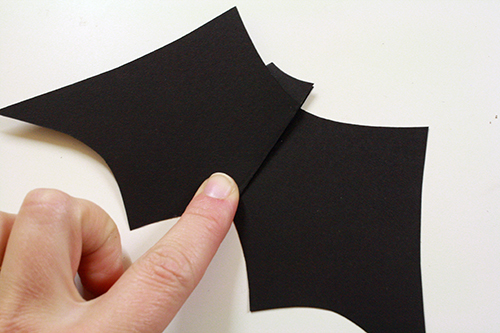 5) Flip the bat over and fold the other wing the same way, so that it lines up exactly with the first, now-folded wing.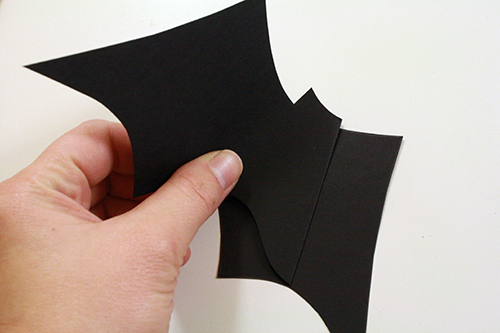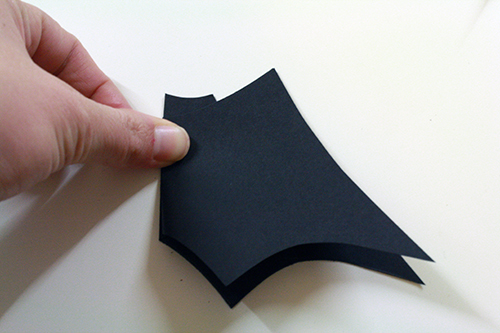 6) Unfold the bat but don't flatten it – you want the folds to be present still.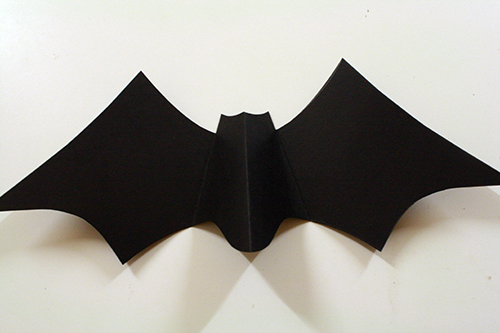 If you want, toll your thumb along each wing to give it some inward curve.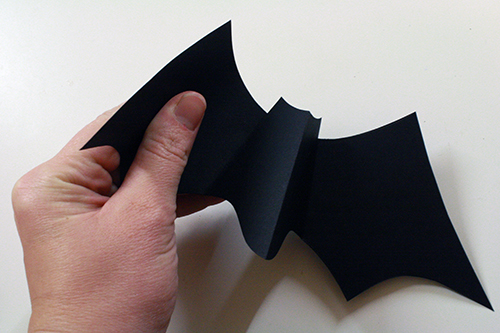 7) To hang the bat, thread a small sewing needle and push it through the middle fold of the bat, near the top. Bring the two ends of the thread together and knot them, and voila, you have a string to hang your bat by.
I realized after the fact that while black thread matches the bats themselves, white thread would be much less visible once the bats are hanging up. So choose whichever you prefer.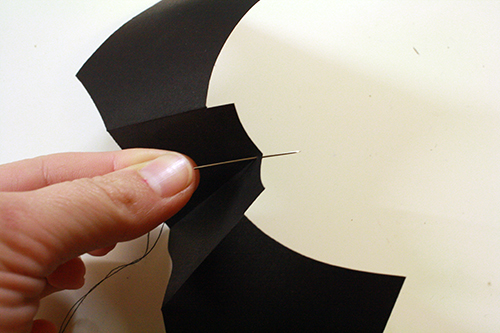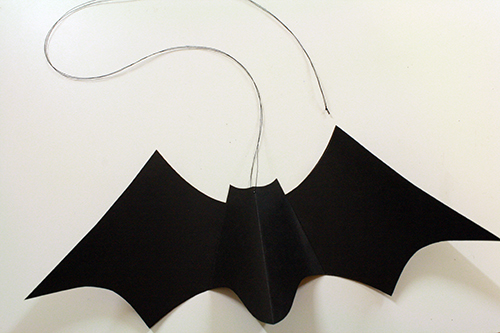 8) Hang the bats! They look delightful swooping from the ceiling, or in doorways, or over windows if they won't get in the way of your blinds/curtains.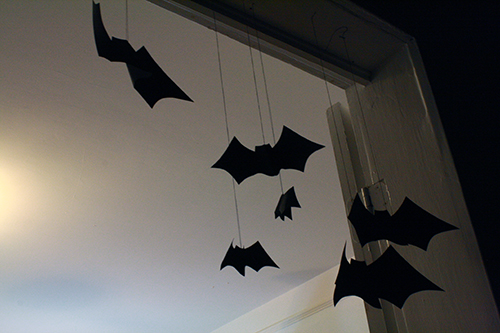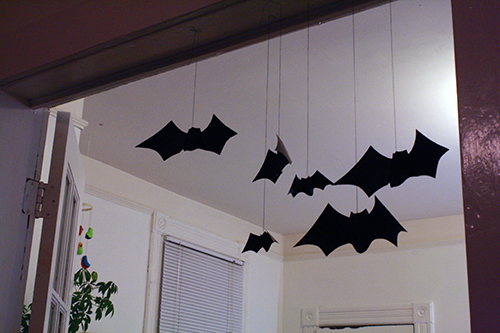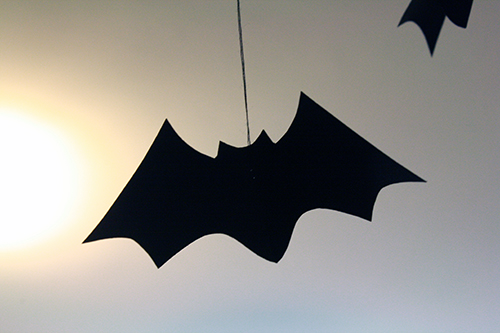 They can cast some fantastic shadows, too.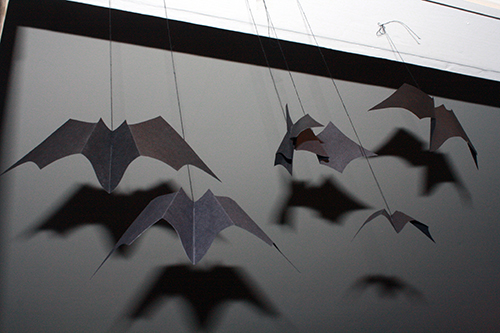 And don't forget, bat puppet!