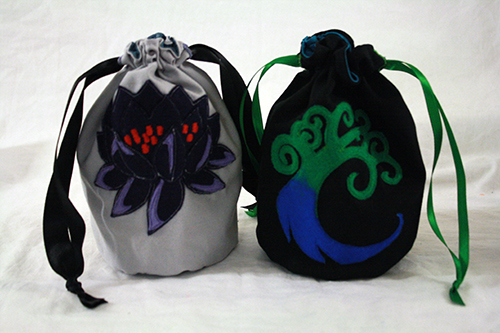 A couple of years ago I started making dice bags here and there, for fun and for sale and for gifting. I'd make them out of various scraps of cool fabric I had around, or appliqué images onto them that suited the people I was giving them to.
At the end of this post, I've linked to a number of tutorials for making your own dice bags in the styles you'll see in my photos, and for doing bleached designs, felt appliqué and so on.
Space and Bleach
Initially, I was mostly making bags of simple patterned fabric leftovers. Then I started using scraps of fabrics I'd decorated myself, like my galaxy fabric, and fabrics with little bleached designs.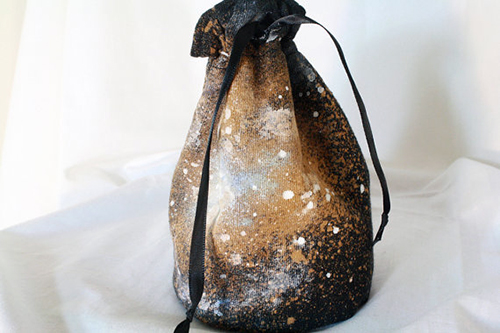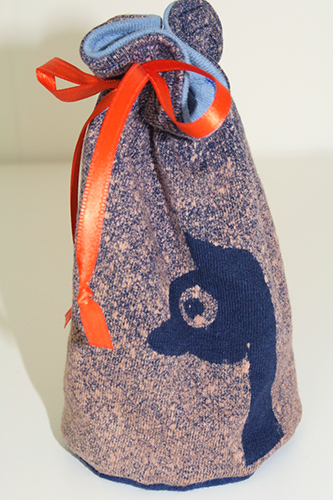 Kermit
As I got more comfortable with small appliqué work from experience on other projects, I started creating dice bags with more complicated, appliquéd felt images. This one was a birthday present for a friend who is very very fond of all things Muppet.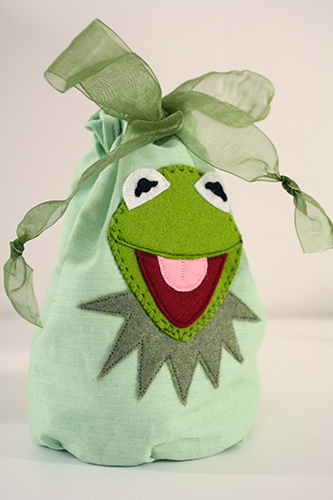 Childhood Friends
For Valentine's Day last year, I was trying to think of a small but nice gift for my husband that wasn't chocolate or some such – we try to keep our sugar intake low and we like to give useful gifts. I realized he didn't have a nice bag for his all his dice, so I made one that featured the stuffed animals who live on our bed, all favourite critters from our childhood.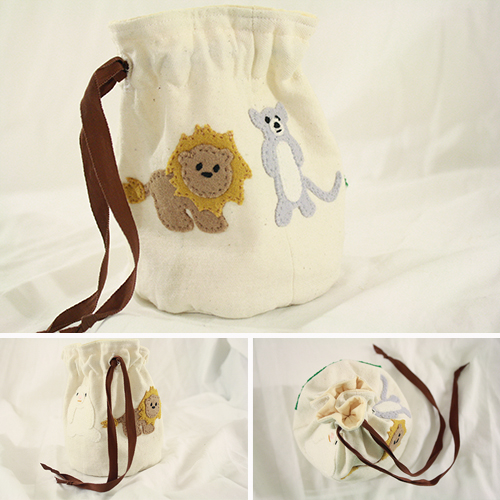 Here's a comparison of each original stuffed animal and its translation into appliquéd felt: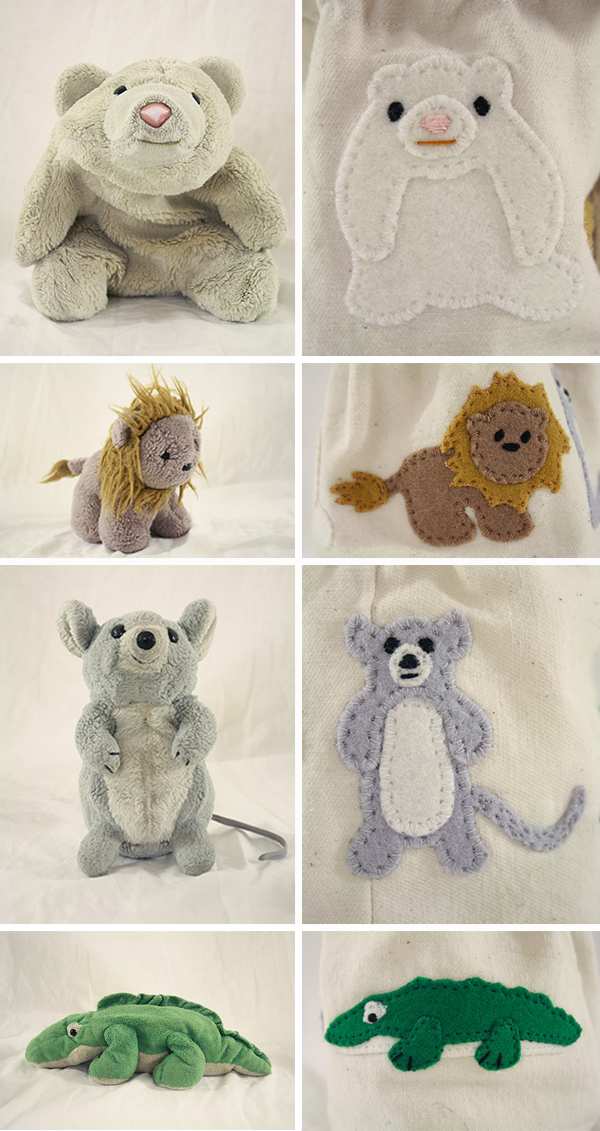 Megacynics
Sometime last spring our friend Ash came to play D&D with us, but she did not yet own any polyhedral dice of her own, nor did she have a dice bag. These were obviously things that needed to be fixed.
For her dice bag, I wasn't sure how frequently it would be used for dice as D&D is not one of her primary activities, so I made it tall so it could perhaps also be used for things like pens. Because Ash is an awesome artist, you see. This is the same Ash who draws the webcomic Megacynics, so on her dice bag I did an appliqué of her character in the comic.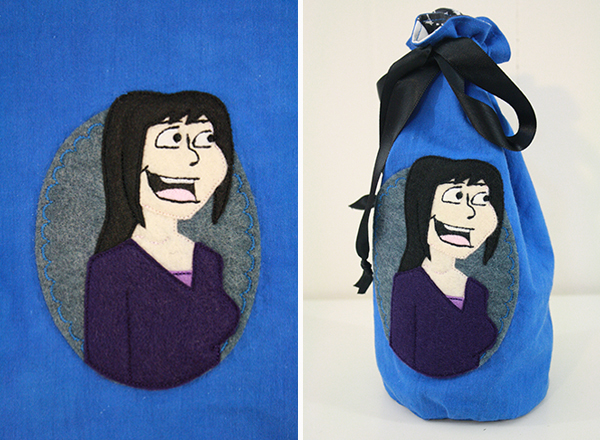 That was one of the more complicated appliqués I've done, since it required some back layers to peek out through holes cut in front layers, and some front layers to go behind the back layers in other places… it got a little complicated, but it worked out in the end.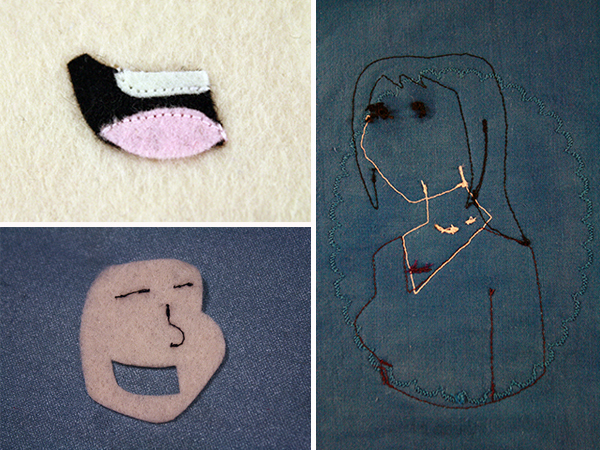 The inside was lined with Batman fabric because Ash and Batman… well they go together.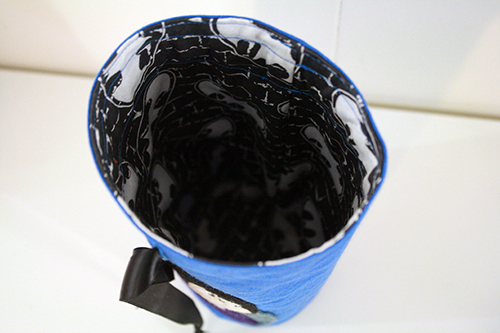 It's Not Safe To Go Alone
For a blog tutorial last May, I made a little zippered Triforce coin pouch, which you can learn how to make right here.  One of my friends bought the one I'd made and used it to propose to her boyfriend, which was awesome. (He said yes, by the way.) He discovered it was just the right size for a set of D&D dice, and that's what he uses it for.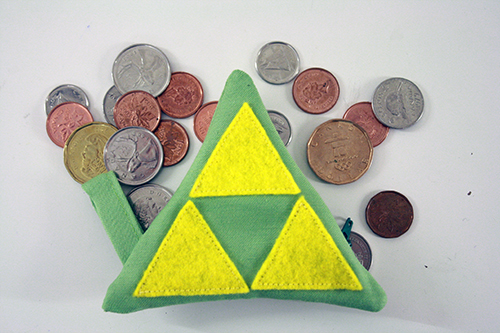 I liked the pouch so much that I made several more in various shapes and designs. Some of them are still available in my Etsy store, or you can use the tutorial to make your own. They're a great size for dice, coins, tissues, earbuds or whatever other little odds and ends you might have floating around in your bag.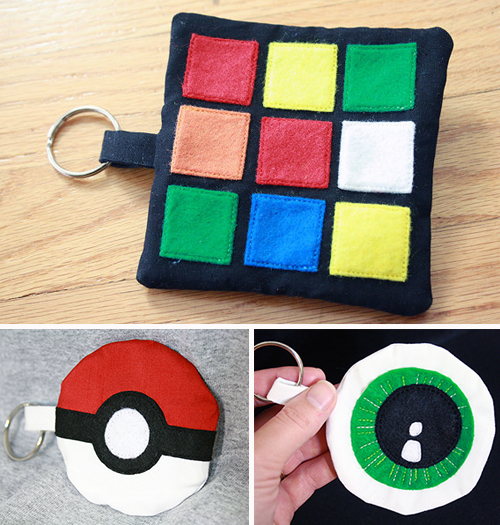 The Roman Armoury
This next bag came about because our friend Brad was visiting for the first time in a very long while, and he was to join our regular D&D game that week. He said he didn't have a proper dice bag even back home, so I decided I'd better make him one.
I went with a collection of general warrior-y gear, though I specifically used an ancient Roman bow shape, and tried to do a Roman-ish sword of sword as well, since Brad had been practicing using those particular weapons in real life.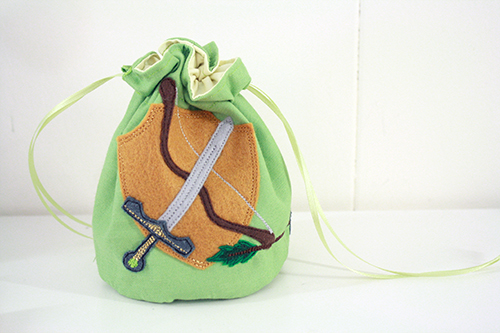 Because you see, Brad is a hardcore student of history and lives in the UK and apparently those two things sometimes create opportunities to ride around on a real horse with a real sword pretending to be a Roman soldier. Yes, that's something Brad was doing. He's is pretty badass, in an awesomely nerdy way.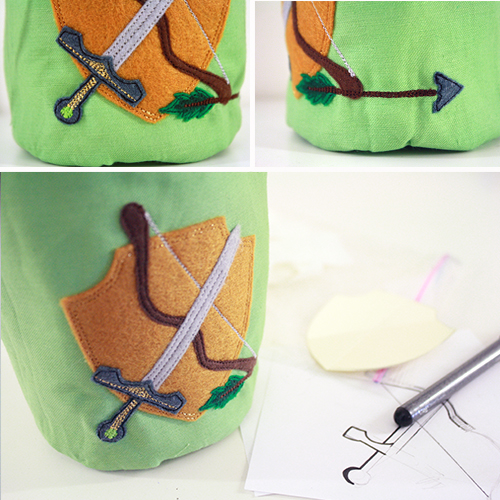 RAWR! Dinosaurs!
At the end of last summer, after getting married and being worn out from a lot of big stuff going on for most of 2 months, I wanted to do something special to mark my husband's 30th birthday. So I created a scavenger hunt and party favours for him and his friends. The favours were little bags of random goodies, and the bags had dinosaurs on them. Because dinosaurs are awesome.
I had some fun experimenting with template-making and fabric paint to create all the bags, and made some other geeky bags in the process.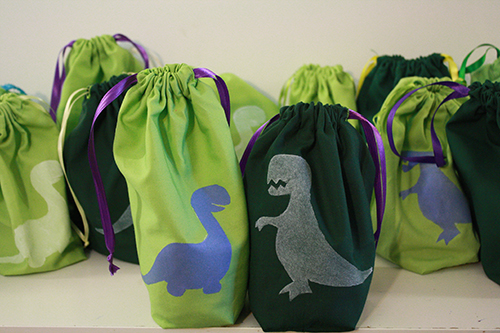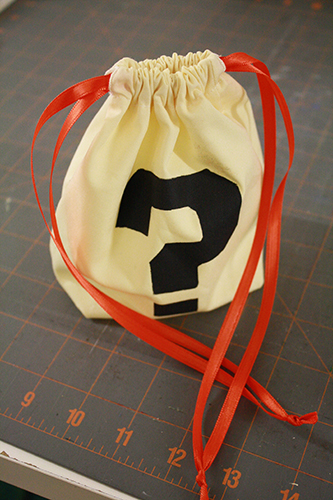 Magic: the Gathering
Then last fall, our lovely friends Mike and Tifa got married, and I decided to make them each a custom dice bag as part of their wedding gift. They're big gamers of every type, so I knew they'd find a use for the bags, whether for holding dice or MtG counters or spare board game pieces or whatever else.
They're both huge Magic: the Gathering players, so much so that they both have an MtG tattoo on their person. Tifa has a beautiful rendering of the Simic guild symbol, and Mike is adorned with the iconic black lotus. I decided that they obviously had a great love for any image they'd get permanently imprinted on their bodies, so I'd make them each a dice bag appliquéd with the same MtG object they'd gotten tattooed with.
The Simic guild symbol, although a bit of a pain to cut out, was a fairly straightforward, a print-and-trace operation. The only unusual bit was that I cut the bottom and top of the symbol from two different colours of felt, then distressed the edges and needle felted them together, making the colours look like they were fading into one another.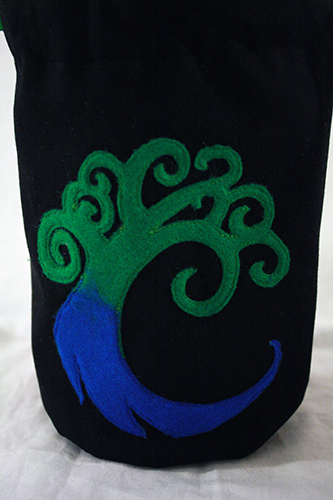 Mike's black lotus bag was rather more difficult. Here's what his actual tattoo looks like. I was using it as a reference image in tandem with the original black lotus artwork.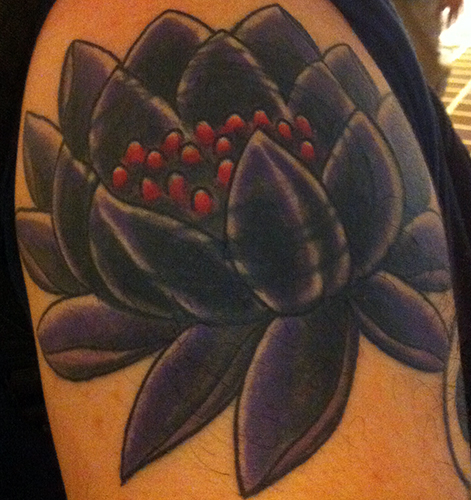 When I first sat down and had a proper, close look at this image, I had a bit of a panic attack about how I was going to translate it into felt. The shapes are fairly straightforward, but the layering of those shapes and the shading on them… those are a little more complicated. A lot more complicated, actually. In the end I just made myself start doing something, and prayed it would come out ok, especially since I was running short on time.
This was one of those times when I wasn't sure until it was completed that the final product was actually going to work. But I think, ultimately, that it did.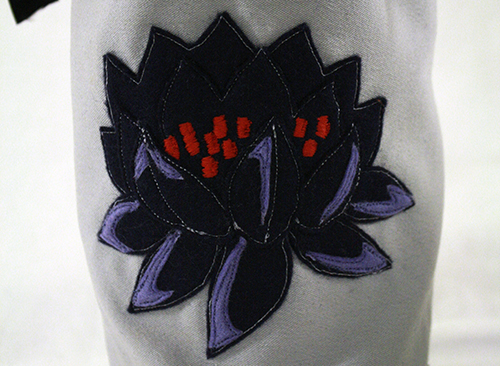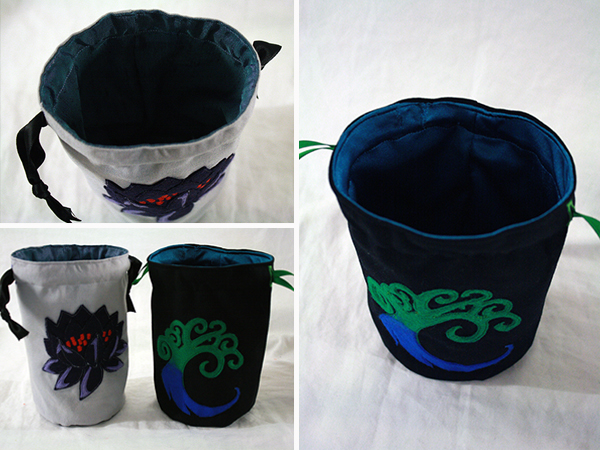 LoadingReadyRun
Sometimes it's nice to get back to simple designs. I promised one of the folks who backed me and my Extra Life team last November a custom dice bag decorated with any design he wished. He asked for one with the LoadingReadyRun logo, and LRR generously let me use their logo for this charity-related crafting. Here's the bag I created, simple but elegant.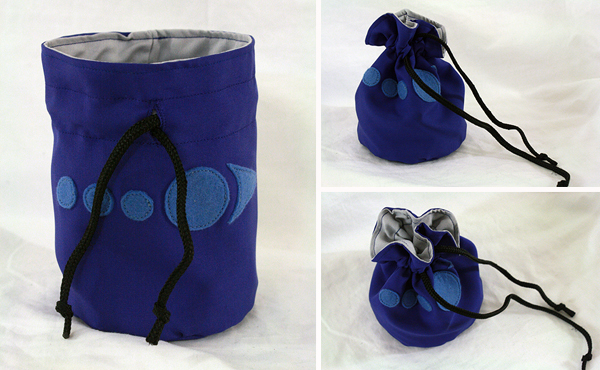 Scissor Skulls and D20s
Finally, at some point while making all these dice bags for other people, it occurred to me that I myself needed such a bag. My own dice were housed in a grubby old gauze bag, rather boring and no longer in the best of shape, and certainly no good advertisement of my sewing skills.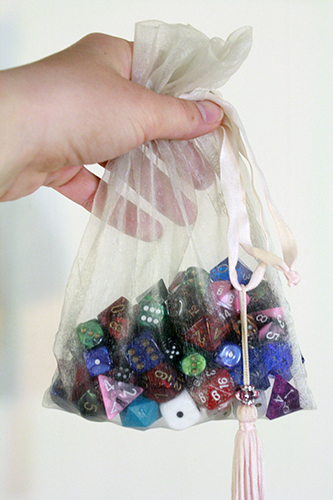 Actually, I had a lovely dice bag made by Lyndsay Peters of Dragon Chow dice bags, but because of the wonderful design on the fabric, I felt it was better used to carry my small craft supplies in my purse whenever I needed to do crafting on the go. Which was often. It frankly gets used far more often than my actual dice bags for dice.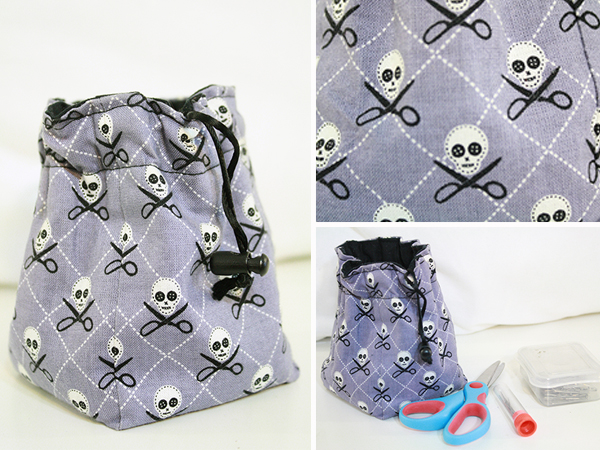 So I made myself a dice bag. I wasn't sure what to put on it, but I had a little piece of lovely green and white printed fabric I'd picked up somewhere, and I decided I wanted to use that. The pattern was busy enough that it needed a fairly simple appliqué to go with it. In the end I chose a somewhat obvious image: a D20. And I stitched all the individual numbers onto it because I'm insane sometimes. But it sure looks nice holding all my dice!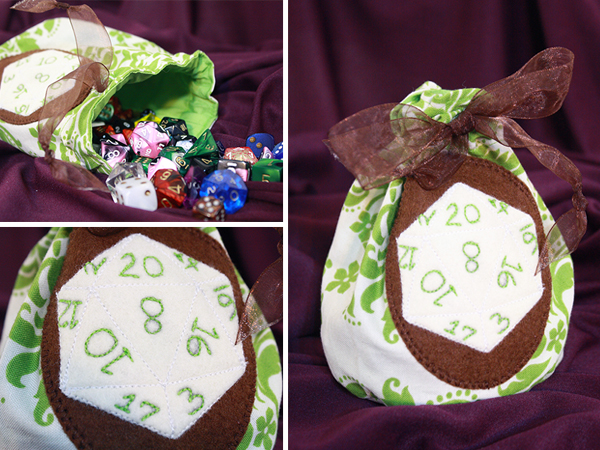 I also decided I wanted one of those wee zippered pouches that holds just a couple sets of dice, for travel purposes and also just because.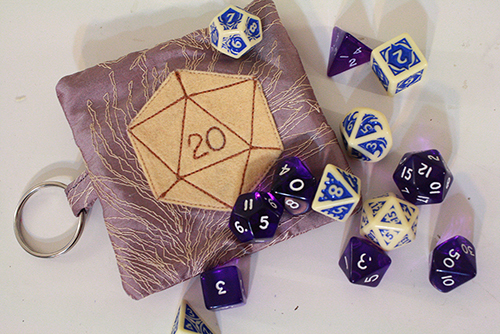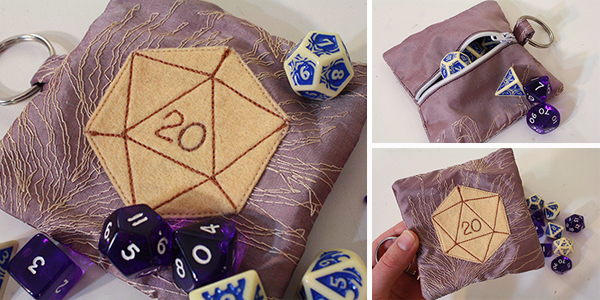 Want to make some dice bags of your own?
I've created a few tutorials for dice bags in various shapes and styles.
Most of the dice bags shown off in this post are a cylindrical, fully lined style with a single drawstring, and you can find the tutorial for those here.

And here's a tutorial for the same style of bag without the lining – it shows you how to do a hand sewn version, for those who don't have a sewing machine.
This tutorial shows the simple steps needed to make a rectangular bag that has a flat bottom and double drawstrings, like the Mario question mark bag in the post. You can also get the instructions for making templates and stencilling designs onto fabric here.

For a more complicated (but not that complicated) fully lined version of the above bag, use this tutorial, just make your bag in a smaller size. This particular tutorial also breaks down the basic steps of appliquéing felt shapes (in this case letters) onto fabric.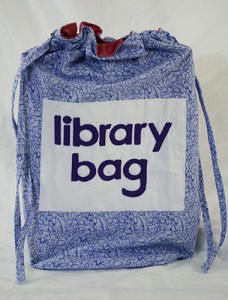 Or maybe you'd like a dice bag that looks like a penguin…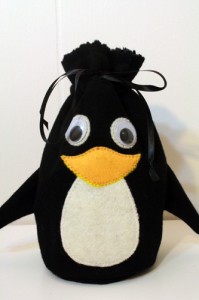 Decorating
Want to make a bleached design on your dice bag? Here's the tutorial for that technique. And right over here you can get instructions on using bleach and fabric paint to make you own galaxy fabric for dice bags or anything else.